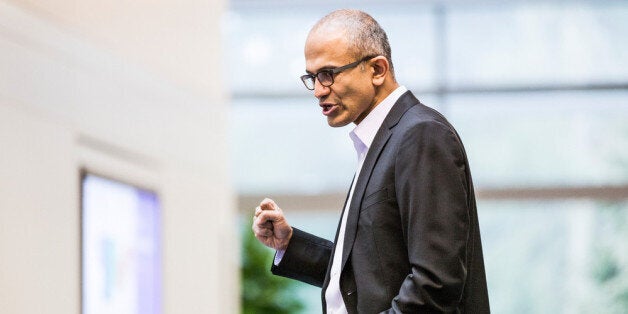 Microsoft just announced a new CEO. He's Satya Nadella, a 22-year Microsoft veteran, and he takes over from Steve Ballmer, who became CEO in January, 2000. It's unclear whether Nadella will make any radical changes at Microsoft. But there's one thing I'd love to see him do right away, and that is drop the nutso anti-Google "Scroogled" campaign that Microsoft has been running for the past two years. For good measure Nadella should boot Mark Penn, the political hatchet man and Ballmer appointee who orchestrated this idiotic crusade.
The Scroogled campaign has been silly, pointless and, worst of all, completely ineffective. It has made Microsoft look worse instead of better. It is by far the stupidest and most embarrassing marketing campaign I've ever seen in a career of covering technology.
Ballmer had a mixed run as CEO. He built a booming enterprise software business, and turned in record revenues and profits. But he also made some blunders, missing out on search, social networking, and mobile computing - three huge markets that were taken over by Google, Facebook, and Apple, respectively.
But Ballmer's biggest bad call may have been the creation of the Scroogled campaign. This anti-Google crusade has been going on for two years. It's directed by Penn, a Washington, DC political pollster whose prior claim to fame was running Hillary Clinton's botched 2008 presidential bid.
The Scroogled stuff resembles the kind of negative ads that political campaigns create to smear an opponent. That might work in politics, but not so much when you're selling consumer products and services.
Microsoft has run ads advising people that Gmail is unsafe because Google is reading their email. It has claimed that Google's search results are tainted by advertising money, and warned people that Android, Google's operating system for mobile devices, is riddled with malware. Last fall, Microsoft ran ads trying to scare people away from Google's Chromebooks. Microsoft even runs a site called Scroogled.com to house all of its anti-Google lunacy.
None of this has moved the needle for Microsoft. Bing still has relatively little share in search. Windows Phone 8 is an also-ran, while Android keeps gaining share. Microsoft's email system, which is now called Outlook.com but previously was called Hotmail, has no chance of catching Gmail.
The only thing that the Scroogled movement has accomplished is to draw attention to how badly Google is beating Microsoft in these markets. As Danny Sullivan of Marketing Land put it after viewing the anti-Chromebook ads: "Wow. How sad."
The ads are so bad that you feel uncomfortable watching them, the way you feel watching David Brent, the character played by Ricky Gervais in the original British version of The Office, who thinks he's entertaining but is really just awful.
To lead this boneheaded battle, Ballmer recruited Penn, the former CEO of the Burson-Marsteller PR agency who had advised Microsoft since the days of its antitrust battle with the Department of Justice. As one former Microsoft exec puts it, "He's been giving Microsoft tin-eared advice for years."
Ballmer made Penn executive vice president of advertising and strategy. But, significantly, Penn has never actually moved to Redmond, Wash., where Microsoft is headquartered, and instead has remained in Washington, DC.
Does Nadella share Ballmer's obsession with Google? He seems like a low-key and pragmatic guy. I'm hoping he realizes how terrible these ads make Microsoft look and will drop the whole thing. Instead of harping on Microsoft's competition, he should tout the virtues of Microsoft's products. Be positive. Be upbeat. Start fresh.
According to the former Microsoft executive, the company's entire marketing group needs an overhaul, mostly because Ballmer has always been Microsoft's de facto marketing boss. Others have held the top marketing title, but Ballmer was really running the show.
With Ballmer gone, Nadella will need to put someone in charge and let that person build a real marketing operation. Getting rid of Penn would be a good start.
I asked a Microsoft spokesman if there's any chance Nadella will drop the Scroogled thing. He said there's nothing to say on that subject right now.
Dan Lyons is a marketing fellow at HubSpot, a software company in Cambridge, Mass. He was previously the tech editor at Newsweek, a tech columnist at Forbes, and the creator of "The Secret Diary of Steve Jobs," written in the person of "Fake Steve Jobs."
Popular in the Community