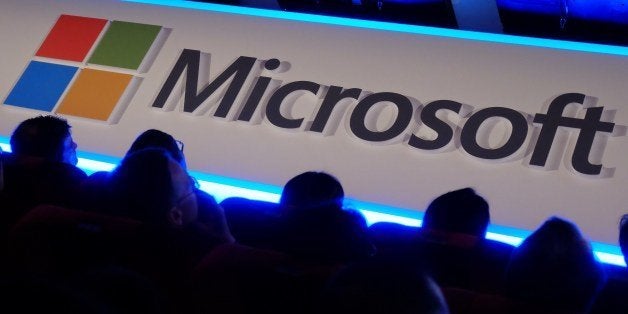 Where is Microsoft headed in the next three to five years? Will it continue to slog along, as it has been for the past several years, riding its PC legacy and expanding its footing in the cloud, while its market is increasingly defined by business users instead of consumers?
With Satya Nadella now at the wheel, it's clear that Microsoft is looking for a new direction. Nadella has famously said that the company is shifting to a "mobile-first, cloud-first" mentality, although so far the company only seems to be making headway in the latter.
To better understand where Microsoft is headed, it's important to look at the main problems it faces.
Microsoft's biggest, most glaring shortcoming is. of course, the fact that it hasn't yet figured out how to gain a foothold in the mobile market. At the present time, Microsoft's mobile market share amounts to just 3.5 percent. That's a dismal number, especially compared with Apple's 14.8 percent and Google/Android's 80.2 percent. Additionally, its Surface tablet has only been able to garner less than 3 percent of the tablet market. This makes Windows the only major operating system that doesn't have a viable mobile component. Why does this matter? As personal habits have shifted to a mobile-computing model, this is where the money is. About 53 percent of Apple's revenues last quarter came from iPhone sales. In general, the desktop and laptop markets have been in decline, as consumers are relying more on tablets. This doesn't mean laptops and desktops are being eliminated, but it does mean that a household that once would have bought two laptops now buys just one and uses a tablet for the second device. But there's also another reason that this is important: Having a strong mobile arm is important for keeping consumers within a brand's ecosystem. If I own a Microsoft PC but buy an iPhone, I'm more likely to buy an iPad over a Windows 8 tablet, and eventually, when it's time to buy a new laptop or desktop (assuming I don't just use a tablet instead), I'm also more at risk of leaving Windows to go with a Mac. Additionally, if I buy an Android phone or a Nexus tablet, I'm also more likely to try Google's ecosystem in other ways, like trying its Office rival product, Google Drive. Because Microsoft doesn't have a viable mobile platform, consumers must go elsewhere, to Apple or Google, and once they do, they're more likely to stay there.
There is one potential bright spot here for Microsoft. A new report by Gartner found that one of the fastest-growing devices today is the "premium ultramobile category," which consists mostly of the MacBook Air and Microsoft's Surface Pro -- although high-end ultrabooks by Lenovo, Dell, HP and Acer are also in this category. The research firm is forecasting premium ultramobile devices to grow by 50 percent this year and 70 percent next year. And by the end of 2015, 80 percent of all premium ultramobile devices on the market will be Microsoft's.
What should Microsoft do? Personally, I think Windows 8 is a solid platform, and the Nokia hardware itself is also excellent, so the problem isn't with the quality of its products; it's with getting people to take a chance on them. How does Microsoft do this? Cut prices on its mobile line, across the board. If Microsoft could offer deep discounts on smartphones and tablets on a par with Google and Amazon, they will gain traction in the marketplace. They could also leverage Office and Xbox to increase the value add for these devices; after all, a tablet or phone that offered free Office 365 or free Xbox game titles would be a real draw for consumers.
Another problem for Microsoft is that its ecosystem isn't standing up to the competition. Of course, Office 365 is the exception to this -- and it's a huge one, no doubt. But its Windows Store is about one-fifth the size of the App Store and Google Play, it doesn't have a viable rival to iTunes (unless you count Xbox Music), Google's Chrome browser surpassed Internet Explorer in total market share for the first time this month (and IE has lost roughly 50 percentage points since 2008), Bing remains a distant second to Google Search (18.7 percent versus 67.6 percent, respectively), and Microsoft only recently released a free online version of Office -- Microsoft Office Online -- in response to Google Drive. Having a robust ecosystem is critical to retaining customers and growing device sales, and Microsoft clearly has a long way to go here. On the bright side, Outlook.com gained the same number of users as Gmail within a few months of launching last year, and it remains popular. Its Office Online product has also been highly rated.
What should Microsoft do? Microsoft has to get more apps in its store, but it's a chicken-and-egg kind of problem: Developers don't want to build apps that there isn't demand for, and consumers don't want a phone that doesn't come with all their favorite apps. Microsoft has to find a way to incentivize developers. It could do so by paying app developers outright, offering higher margins on sales and offering consumers significant credit toward app purchases. Of course, by slashing prices on its mobile line to generate more sales, it will solve this problem more directly.
Is Microsoft out of touch with consumers? Over the past few years Microsoft has seen its influence waning, and it's also made a number of key mistakes. For instance, the company waited almost three and a half years after the first iPhone debuted before launching its own modern smartphone operating system, Windows Phone 7 (which failed miserably); it took two years to launch its first tablet after the iPad; it went all in with a new operating system for PCs as well as mobile, Windows 8, which uses a metro-tile interface that is best used with a touchscreen device, not a standard mouse and keyboard, as most consumers have; its latest iteration of the Xbox game console was positioned as an all-in-one entertainment unit for the living room instead of as a pure gaming device, was priced $100 higher than the PlayStation 4 and required a $60-per-year membership fee just to be able to use Netflix, Hulu and other apps; etc. Its product pricing continues to be out of step with consumers, as it's overpriced several key products -- Xbox One, Surface, Windows Phone and Office -- and then had to slash prices later.
What should Microsoft do? Again, a better pricing strategy is what's needed most of all. Microsoft has to stop taking the premium-model approach with many of its products -- phones, tablets, laptops, Xbox. Microsoft also needs to stop pushing the Windows 8 metro-tile interface as a universal solution for its mobile devices, laptops and PCs. On a mobile device it makes sense, but for traditional computers it's just not what consumers want right now.
Manufacturer Partnerships
One of the reasons that Microsoft came to dominate the PC market was that it licensed the Windows operating system to a wide array of third-party manufacturers like HP, Dell, Samsung, Lenovo, Acer, Asus, etc., which all flooded the market with cheap products. These are the same manufacturers that today are producing Windows 8 laptops, ultrabooks and tablets. Without this large group of manufacturers behind it, Microsoft would face even greater competition in the markets that matter. But it's a mixed blessing: With this entanglement of third-party companies, Microsoft doesn't have the ability to control the design, style, features, marketing and pricing of the majority of its Windows products. Microsoft has tried to overcome this by buying Nokia and producing its own branded tablet, the Surface, but in so doing it's run the risk of alienating its tablet partners, and, as a result, the Surface has always been priced considerably higher than third-party Windows 8 tablets. Overall, Microsoft's manufacturer partnerships are a net positive for the company, but this lack of control over its products makes it harder to control the brand and innovate with new features and designs.
What should Microsoft do? This is one area where there's not much that Microsoft can do. Its manufacturer partnerships are simply too important to risk. The company should discontinue its Surface line and focus instead on the Surface Pro, where it can charge a premium and the market is growing fast, and on the Nokia handsets, where it doesn't face as much partner competition.
REAL LIFE. REAL NEWS. REAL VOICES.
Help us tell more of the stories that matter from voices that too often remain unheard.