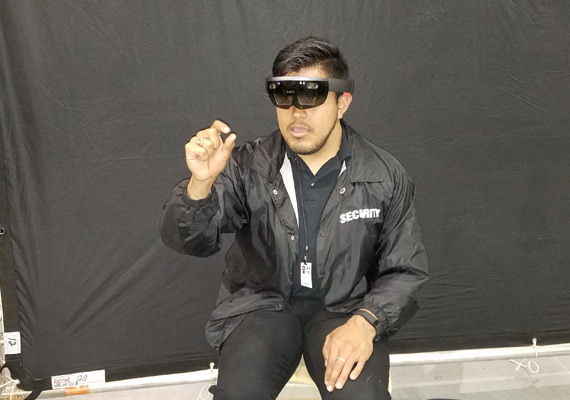 Actor Servando Magadan Jr. tries out the HoloLens in between shooting scenes. [Photo by Daryl Deino]
I have been reviewing tech products since 2006, but nothing that has ever come across my desk has excited me as much as Microsoft's HoloLens augmented reality glasses. Actually, the HoloLens is a full Windows 10 computer that produces holographic images when you attach it to your head and look through the lenses. The images are 3D, high resolution, and make you wish they were actually real.
I received them Friday morning and since I had to work on a television show, I didn't have enough time to play with them. So, I risked bringing them with me. There was a lot of down time, so after I played with them, I let others do the same. The "Oh my God!" screams came every time somebody put on the HoloLens. I recorded some of their actions, but can't post the video yet without their permission.
What makes the HoloLens different from something like the Oculus Rift or the Gear VR is that it doesn't place you inside some other low-resolution world. It adds a high-resolution world to your current world. Theoretically, you can take a long walk with the HoloLens and watch a movie on an augmented reality screen and not get killed by traffic. However, I don't recommend you do this.
I took a video at Starbucks to show you what goes on inside the HoloLens. Yes, the people there thought I was nuts, but who cares, right? They don't have the opportunity to interact with a ballerina, a young street dancer, a tiger, and an elephant while drinking coffee at their tables, do they. Then again, perhaps not everybody wants to do so when going to Starbucks.
The videos that the HoloLens takes are a little misleading, which leads into the only big problem with Microsoft's augmented reality device - the poor field of view. Picture the screen the size of an iPhone 6s Plus about a foot from your eyes. The images can only appear in that screen. If you turn your head a little and the hologram image goes outside of the screen, it clips off. In real life, if you turn your head, you would still be able to see the image from the corner of your peripheral vision.
However, the poor field of view may doesn't ruin the HoloLens experience. It may take away from some of it, but when you get used to the field of view, you understand where to look and how to size your images, thus helping to keep the experience as immersive as possible. Microsoft will certainly fix the field of view in future HoloLens devices (remember, the current one is a prototype and not the full consumer version), but they got everything else almost perfect. The tracking of the physical environment works very well, and the high resolution graphics, along with the immersive stereo sound, make the HoloLens a top-notch product. The device is also very comfortable to put on as well.
You can use the included clicker that Microsoft includes with the HoloLens, but it's a lot more fun using your hand and fingers. You snap your index finger and thumb together to select, you hold the fingers down for a couple seconds to scroll, and you make an upside down fist followed by rolling your fingers forward to launch the Start menu: It's similar to pressing the Windows button on a PC. The gestures work about 90 percent of the time, but the 10 percent of the time they don't work becomes very frustrating. Typing on the virtual keyboard with the thumb and index finger is frustrating. If you do a lot of typing on the HoloLens, you may want to invest in a Bluetooth keyboard.
The spatial sound is so good on the HoloLens that, at times, you don't want to put the headphones in. I was watching an episode of BoJack Horseman on Netflix with the HoloLens and noticed how real it sounded when you could hear a police car pull up besides the funniest character on the show. Mr. Peanutbutter. The sound wasn't just in stereo; it was like putting you in the middle of the action. This is also noticeable when playing the game RoboRaid, which probably offers the coolest video game experience you can ever have.
RoboRaid is a simple shooting game. However, the objects that you need to shoot actually come through your walls. Yes, you see craters formed on your physical walls. Then, alien robots release scorpions and other critters that come crawling through the walls and right at your body. You need to shoot them before they kill you. Show this game to any kid and they will love you forever.
Perhaps I am boring, but my favorite HoloLens experience is attaching a holographic movie screen to my wall and watching movies, such as Jurassic World, that I loaded through OneDrive, Microsoft's cloud storage. I guarantee you that movie theaters won't like this because it will put this type of business out within five years. My second favorite experience is using the HoloLens in a public place to see all the reactions. Microsoft's augmented reality device certainly isn't perfect, but it is definitely unlike anything you've seen in years.
REAL LIFE. REAL NEWS. REAL VOICES.
Help us tell more of the stories that matter from voices that too often remain unheard.