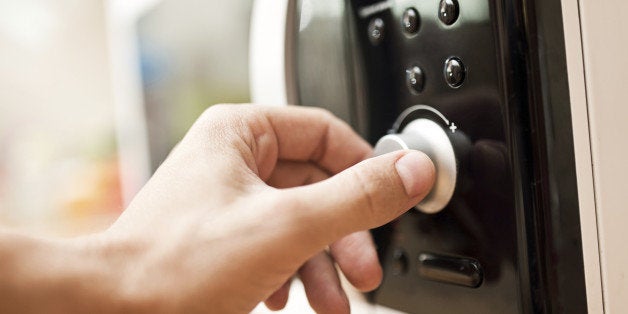 You know how when you want something heated up real quick, you put it in the microwave? You don't really have time to put it in the oven because you know it will take longer. You figure that the results will still be the same, but in a much quicker process. You know in your heart of hearts that there will be a slight difference in taste and texture, but you're willing to take that loss because by all means...putting it in the oven is just way too time consuming. Well, guess what? You can't treat your life like a microwave. You can't expect to get results instantly without going through a process. There will be times where you will touch the food and it is still cold. Stop it! It isn't ready yet. Trust that cooking time and give it a while to marinate. It isn't going to be done as quickly as you want. I know, you're hungry. We all are! But you must understand that when the food isn't done cooking, it isn't safe to eat.
We live in such a microwave society and we want, what we want, when we want it. It isn't that simple! Taking the time doing your due diligence will make you appreciate and value it more. Though it is easy to get caught in the comparison game, don't. Just because you and someone else have the same dish doesn't mean it will come out the same or even at the same time. They may have done more preparation for their meal that you know nothing about...your ingredients may differ from theirs, you just never know! However, it doesn't mean that your meal is less nutritious or not as flavorful as theirs. Everyone has their own acquired taste so it is all a matter of choice.
We tend to rush everything that we desire without letting it simmer long enough. Many people rush their want for a relationship without even giving themselves enough time to get to know the person. Not only that, they don't even know who they are themselves. You must take the time to be alone to figure things out and figure YOU out! How do you even know what you like and what makes you happy? You can't make anyone else happy without knowing yourself first. Don't stick your heart in the microwave expecting it to be warm instantly. I use this analogy because I notice how quickly many want their purpose and/or passion to come to pass. They feel is if time is running out and if it doesn't happen right when they feel it should, the discouragement arrives. They look at others and wonder, "Why is it happening for them and not me?" as if it is a competition. They base their stagnant results on what seems to be others fast and rewarding results. Everything happens in due time as long as you are following the formula for YOU! Though the microwave method can yield results instantly, God can yield results suddenly! Keep the pace, never give up, and make each and every day count!
Angie is an author, speaker, screenwriter, and mentor. She is known as the "girl-next-door mentor" because her witty, and candid speaking style. Her first book "Angieology: In My Words" got rave reviews and got her recognized by the renowned Les Brown who nicknamed her as 'Ms. Charisma'. The sky isn't even the limit for her as long as she is serving and doing what she loves. Angie can be contacted for any events or questions on her website www.angierenee.com