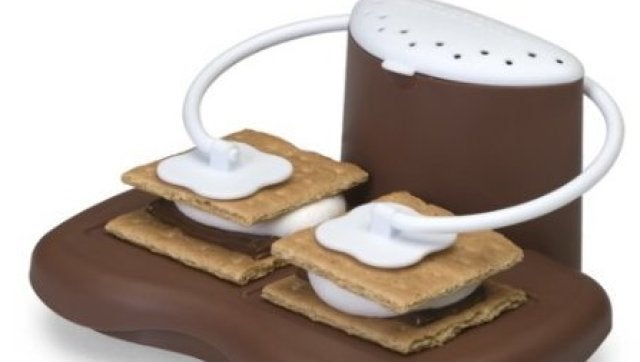 "Can you believe it? S'mores indoors! And I didn't even need a fire to make them."
Oh guys. We really can't resist a cheesy promotional video, which is exactly what we got when we stumbled upon this microwave s'mores maker. That's right guys, Progressive International has given you a fire-free solution to s'mores (just forget that stove-tops exist for a hot second and it will make more sense). Finally, we don't have to set our kitchen tables on fire every time we want s'mores!
At first, we were simply delighted by what a weird invention this thing is. Firstly, do we need a designated s'mores maker? Our hands are s'mores makers, right? Secondly, the little arms are just ridiculous. Thirdly, are we really still comfortable with inventing plastic things whose sole purpose is to go into a microwave? But then we saw this video and the poor woman they paid to get excited about the "water reservoir," and knew you guys had to see it.
In truth, an explosion-free s'more straight out of the microwave is something we'd never turn our noses up at. But maybe we'll find a way to do it that doesn't involve a cartoon robot giving our s'mores a hug.