Who needs restaurants or heck, even cooking utensils with inventions like this? A company called EatWave Vending has created a vending machine that actually microwaves your selection for you.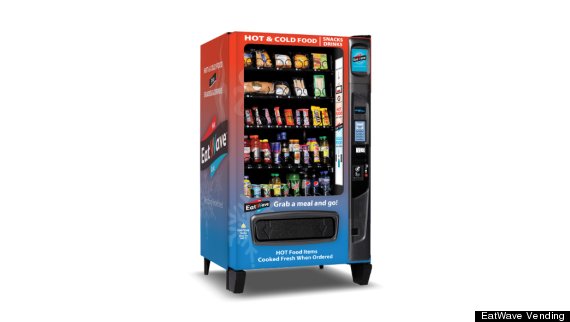 Let's forget for a moment that relying on a vending machine for hot meals is kind of sad, and think about the positives. In a release, EatWave Vending CEO Andrew Preston lays them out:
"EatWave allows vending operators and locations to conserve space and energy by replacing multiple vending machines with our single hot and cold design. ... EatWave is perfect for office break-rooms, hotels, schools, airports and other locations wanting to offer a complete meal for people on the go looking to grab a quick bite."
In addition to zapping offerings like burritos or sandwiches in a minute or less, the fully-automated machine is refrigerated and can serve up cold food and drinks. It's also capable of doling out the regular vending machine snack fare, meaning it can "serve a complete meal ALL from the same machine."
Vending machines that offer heated fare appear to have been around for awhile, but this is the first one we've encountered that combines hot and cold offerings.
Its patent is still pending, but Gizmodo writes that the machine could cost up to $12,000 when it hits the market.
Unconventional vending machines seem to be all the rage these days. In the last couple months, we've seen a pizza vending machine and a mashed potato vending machine from 7-Eleven... what's next?!
Are we evolving into a vending machine culture? Click through the below gallery for more weird vending machines.
PHOTO GALLERY
Weird Food Vending Machines
REAL LIFE. REAL NEWS. REAL VOICES.
Help us tell more of the stories that matter from voices that too often remain unheard.
BEFORE YOU GO