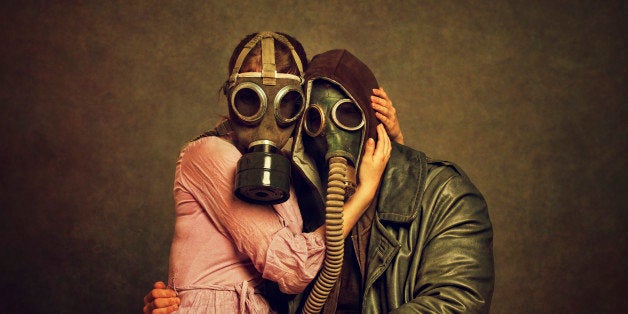 BOONSBORO -- Chuck Acker stocks enough food to feed his family of four for three months if disaster were to strike.
"It's common sense insurance," said Acker, of Frederick. "You buy insurance for your car, but do you plan on being in an accident?"
Acker is not alone. He sat behind a table at the Washington County Agricultural Education Center on Sunday, helping to sell Doctor T's Medical Survival Kits as part of the first Mid-Atlantic Preparedness and Survival Expo.
Acker runs the Survivalism and Preparedness of Maryland online group on Meetup.com. The group has about 80 members, he said.
"Nowadays, it's called preparedness. Twenty years ago, it was called survivalism," Acker said. "One hundred years ago, it was called life."
Several dozen people bared the drizzle to attend the final afternoon of the two-day event. Vendors displayed information about solar energy and products to help with natural healing and build survival kits, including water filtration devices and antibiotics. Project Appleseed volunteers offered information about marksmanship training. Doctor T's Medical Survival Kit, which included Prednisone, Tylenol and Cipro, retailed for $325. With sutures, the kit retailed for $375.
Triton Shelter Technologies displayed a $159,000 metal bunker, complete with a kitchen, bath and several beds. A flat-screen television hid a "bug-out bag," or a portable survival kit, stored in an alcove behind. While the bunker is meant to be buried six feet underground, it appeared as comfortable as a modern camper.
Kevin Kaempf walked through one of the pavilions at the center with his girlfriend, Sam Brown, to learn. The couple moved to Hagerstown from Frederick a year ago.
"You never know what you could run into in the city," Kaempf said.
Jay Blevins sat at a table with copies of his book "Survival and Emergency Preparedness Skills." The former police officer has appeared on the National Geographic Channel's hit show "Doomsday Preppers," as well as other programs including "The Today Show" and "The Steve Harvey Show."
He said events such as the terror attacks of Sept. 11, 2001, and Hurricane Sandy are reminders of the importance of being prepared for the unknown in uncertain times.
Food, water, protection and shelter are musts for planning ahead, Blevins said. That includes figuring out how to filter water and get food. Blevins recommended researching previous events that have occurred in one's region to know what kinds of events to prepare for.
But preppers, including Acker, Blevins and event organizer Richard Tydings, said television has only shown the extremes when it comes to preparing for the unknown.
"We don't talk about the zombie apocalypse," Blevins said.
Tydings, of Hagerstown, took seven months to plan the expo. He became interested in prepping after reading William R. Forstchen's 2009 novel "One Second After." Tydings said he has extra food and fuel on hand and he also gardens and owns chickens.
"Our infrastructure is fragile," Tydings said. "We are now completely dependent on the trucking industry, the oil industry, the coal industry to provide what we need," Tydings said.
Follow Courtney Mabeus on Twitter: @courtmabeus. ___
(c)2013 The Frederick News-Post (Frederick, Md.)
Distributed by MCT Information Services
REAL LIFE. REAL NEWS. REAL VOICES.
Help us tell more of the stories that matter from voices that too often remain unheard.
BEFORE YOU GO
PHOTO GALLERY
Mid-Atlantic Preparedness and Survival Expo