From the winding streets of Montmarte to cabaret-canvassed Pigalle, many of the world's most renowned talents inhabited the French capital. Here, an essential who's-who of the early Paris art scene.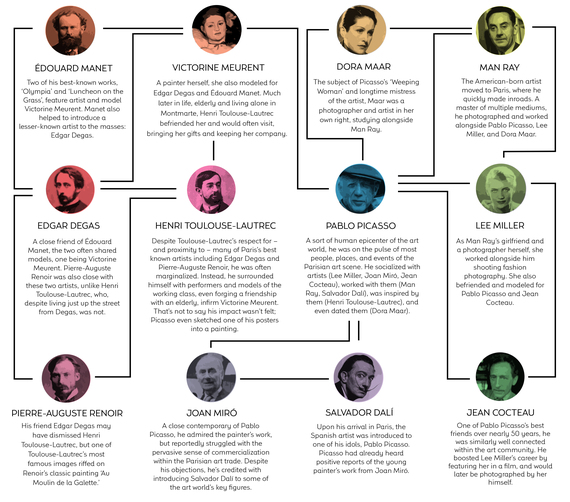 Much like the 1970s punk rock scene belonged to New York and Los Angeles was the birthplace of 1950s film noir, no locale is more synonymous with Modernism than Paris. Aspiring and established artists alike flocked from around the world to access the creative energy, visual innovation and flourishing social network the city offered.
Newly revitalized in the wake of the Belle Époque, Paris was a hotbed of culture. "It was a new city," explains Deborah Ripley, Director of Contemporary Art at Auctionata. "Pair that with the strong aesthetic tradition and artistic educational infrastructure Paris was known for, and you can understand why it attracted more innovative talent than ever before."
What may be most magical about the Parisian art world at the turn of the century, though, is that for such a thriving industry, it was infinitely unified. In fact, it's rare to come across two artists from this time and place who weren't somehow affiliated. Ripley credits the city's renowned Salon system:
These public critiques, designed to uphold specific stylistic ideals, unified those within a school of thought -- and, as norms were challenged, outliers who found their style outside the accepted parameters.
As the city approached its creative height and the Cubist, Impressionist, Fauvist and Expressionist movements flourished, their respective proponents banded together. These like-minded artistic communities were highly interactive, frequenting the same venues and neighborhoods, and even living within blocks of one another.
Inspired by the many connections found within Auctionata's dynamic Modern Masters sale, this visual map details the names and faces of the city's most influential players.
REAL LIFE. REAL NEWS. REAL VOICES.
Help us tell more of the stories that matter from voices that too often remain unheard.