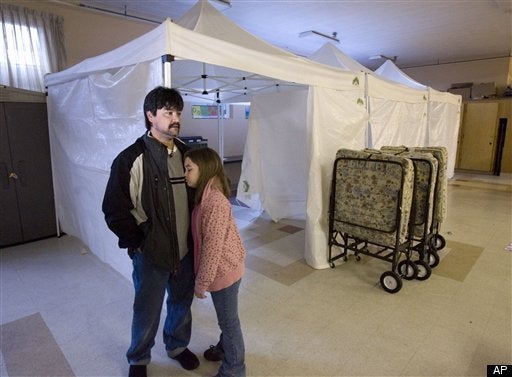 Correction: An earlier version of this story incorrectly stated that the Robertson family was living in a storage unit. Save The Family Arizona supplied the family with a small apartment for themselves -- and a storage unit for their possessions. At no point was the family living in the storage unit. Save the Family doesn't place families in storage units.
As part of the Huffington Post's efforts to bear witness to the effects of the current economic environment on ordinary Americans, we're rounding up some of the most compelling stories reported by local news organizations around the country.
Bridget and Ed Robertson were a normal a middle-class couple from greater Phoenix, Arizona. Then, within just weeks of each other they were both laid off from jobs they'd had for years. Neither could get anything new despite hundreds of applications. They couldn't make their car payments or pay their rent. Soon, they found themselves homeless.
The Robertsons and their daughter, Sarah, moved into a small shelter apartment supplied by a local community service organization, Save the Family Arizona, which kept them from going on the street. The apartment was too small for most of their belongings, which now sit in a 12- by 25-foot storage unit. To make matters worse, Ed had a stroke in January, flooding the family with debt, and Bridget's father passed away recently, compounding the Robertsons' stress and anxiety.
Something often overlooked about homelessness is how embarrassing it can be, how it hurts people's dignity. The Robertsons tell Karina Bland of the Arizona Republic about the shame and guilt that comes from waiting in line at the food bank, Sarah's fear that other kids at her school will find out where she lives, how she now has to stay close to home when playing because of the lack of safety of their new neighborhood. These are emotional battles that are as real as the physical problems.
"I miss feeling like a man," Ed says, choking back a sob. When he used to come home on Friday nights with a paycheck in his pocket, he felt like he was providing for his family. He'd have the guys over, and they'd sit around in the garage, talking and drinking cold beer.

"When you're getting unemployment, and things are being given to you, you're not earning it," he says. "I'm grateful, but I'm not earning it."
DeWitt, Nebraska, a little over an hour south of Lincoln, used to be the classic mid-century industrial town: A factory hiring hundreds of workers, farms on the outskirts growing corn and wheat, picket fences and flags flying. It was a veritable Norman Rockwell painting. But the plant closed and the jobs were shipped to China, leaving an empty building and a heartbroken town, report Leslie Reed and Aaron C James of the Omaha World-Herald.
Former factory workers now find themselves lost; what was once a stable and respectable living has disappeared, and picking up the pieces of a dissipated career is turning into anxiety. Workers try other jobs, some retire, and some seek to go back to school, but all options are equally vexing and none allow the remnants of a working generation to feel as comfortable -- or as in control -- as they once did.
Janis Turner of Beatrice and Anita Oltmans of DeWitt are among those back in school after decades in the work force.

Turner, a single mother who raised her four children on her Vise-Grip paychecks, is studying to become a licensed practical nurse.

Oltmans, who worked 15 years at the plant, is studying agribusiness and hopes to find a job in a veterinary clinic after she graduates in December 2010.

Both felt like fish out of water.

"I had hardly used a computer," Oltmans said. "I took an English comp class, and we had to send assignments in as e-mail. I didn't know how to do any of that."

In the factory, she knew what she was doing.
Fewer state funds means a decrease in state services which, for the state of Maine, means that fire investigators are being pushed to the limits on their arson investigations. Those investigations have increased as result of the recession and foreclosure crisis. The state government's money has come up short, and a number of potentially intentional fires are left unexamined. The State Fire Marshal's office has been short on funds after its reserves were cut off to help balance the state's budget, reports Mal Leary of the Bangor Daily News.
Arson can be a sad end to financial troubles, as people try to get insurance money by destroying their own homes. On the flip-side are the thousands of homeowners who cannot afford and do not acquire home insurance, taxes of which would go towards the Fire Marshall budget. As a result, citizens suffer from a mangled system.
"Our investigators are literally running from fire to fire," State Fire Marshal John Dean said Monday. "Anyone that listens to the news or reads the paper everyday knows the numbers are up."

He said one investigator in his office has more than 70 open cases, some going back to last year. Dean said it can take a long time to complete the investigation and analyze all the forensic evidence with 12 investigators to cover the state.

"It's not unusual to have 75 people to interview in a case," Dean said. "With no reserves, we can't use overtime, so the backlog of cases continues to grow."
Bob Jordan, of Newport Beach, California, spends his days driving around Orange County, picking up leftover food from grocery stores and restaurants to give to the less fortunate. His organization, Share Our Shelves, distributes food to homeless and financially struggling families who are worrying about keeping their bellies full. But more people made hungry by loss of jobs and a shrinking economy means that Share Our Selves has had to increase its supply and stretch its dollars to meet the demand, and the group is now distributing 40% more food than last year. Patrons come from all backgrounds, of all ages, and in all different types of clothes. Michael Miller of the Daily Pilot, followed Jordan around for a day, and provides a look into one individual committed to keeping his neighbors fed.
"It's not something that's going to serve them the whole week," Jordan said en route to his first stop.

"It's supplemental food. A lot of them are on food stamps and get most of their food that way."

At the same time, Jordan -- and Share Our Selves' other drivers, who make the rounds six days a week -- know that every bite counts. The nonprofit gives out about 300 bags of food every day to people who can't afford to buy it, and Jordan makes a point to refuse nothing.
Potatoes are the agricultural symbol of Idaho, but farmers there are worried that harsh economic times will affect their crops' demand and put fewer potatoes on dinner plates across the nation. Danielle Grant, of Eastern Idaho and Western Wyoming's Local News 8, reports that there is no shortage of field hands to help farms harvest, especially among migrant workers, whose home economies are hurt worse than our own.
"If you work here, you can just live. And out there [Mexico] you can't even make it too good, so that's why we come out here to work," explained Nicholas Camrgo, who comes to the states to work.

Plowing through the potatoes, tooling around on tractors or raking up the remains; they do whatever it takes to get the job done.

"It's kind of hard work especially when it's cold, raining, snowing but what can you do," Camrgo said. "Just keep on going?" asked Danielle. "Just keep on going," he laughs.
But demand is down as fewer Americans dine out. Still, many are glad to have a job, even if it doesn't last. "This year, it's people that have lost their job and they're desperate for some income even if it is just for a few weeks," said one farmer.
HuffPost readers: Seen a good local story? Heard about a heroic judge, neighbor, or doctor helping people stay in their homes? Tell us about it! Email jmhattem@gmail.com.
Calling all HuffPost superfans!
Sign up for membership to become a founding member and help shape HuffPost's next chapter