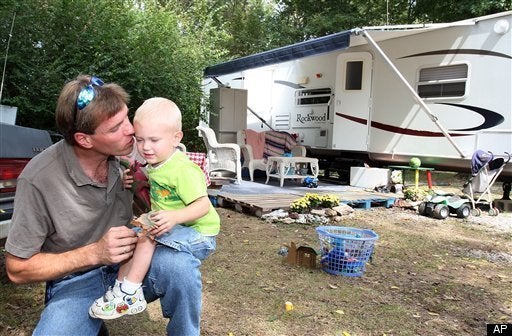 A unique feature of this recession is how damaging it has been to the nation's middle class, driving its members further and further away from the American Dream and, in some cases, directly into poverty.
President Obama, in his remarks to Senate Democrats on Wednesday, pointed out that the middle class was hurting even before the recession. "Part of the reason people are feeling anxious right now, it's not just because of this current crisis -- they've been going through this for 10 years. They've been working and not seeing a raise. Their costs have been going up, their spouses going to the workforce -- they work as hard as they can. They're barely keeping their heads above water. They're trying to figure out how to retire. They're seeing more and more of their costs on health care dumped in their lap. College tuition skyrockets.
"They are more and more vulnerable, and they have been for the last decade, treading water."
As part of our Bearing Witness 2.0 project, the Huffington Post is rounding up local stories of formerly middle-class families who are now struggling to stay afloat. If you or someone you know has a story to tell, please e-mail me at LBassett@huffingtonpost.com.
Last August, construction-worker Troy Renault, his wife Tammy, and their five children were living in a comfortable, three-bedroom home in Lebanon, Tennessee. Mike Osborne reports for Voice of America News that the family now resides in a donated trailer on a local campground, having downgraded from about 1900 square feet to about 215.
The Renault family's slide into homelessness started nearly two years ago when Troy lost his construction job. Troy Renault told Osborne that when the money got tight, the family started having to make some difficult choices. "You wind up starting to think to yourself, 'Okay. Do we go ahead and make the house payment and keep a roof over our head but have no lights and no water, or do you go ahead and keep those utilities on and forego the house payment, and hope that you can get it caught up?' And it just kept going where it got further and further behind until we wound up losing the home."
Tammy Renault says her family is getting a crash course in what it means, socially, to be labeled homeless. "It's being called names. It's being ridiculed. It's running into people that have seen you in your highest and are not even speaking to you anymore because they're too afraid for where you are and don't know what to say."
Single mother Rebecca Admire has been unemployed for 5 months, ever since being laid off from her job at the Family Guidance Center for Behavioral Healthcare in St. Joseph, Missouri, Kristin Hoppa reports for the St. Joseph News-Press.
Struggling to pay the rent and support her two children, Admire invited her cousin and her two children to move in. While the two mothers can now split the rent, having eight people in one house really jacks up utility costs.
"I cry every time a bill comes in the mail," Admire told Hoppa. "Every time."
In her two-bedroom house, plus the attic, her four children share one room. All children sleep in one bunk bed. She places two on the top bunk and two on the bottom.

"It's bad," Brandon Brown, 9, the oldest of Ms. Admire's children, said.

Life outside the bedroom is also a challenge. Brandon Jr. is unable to play in sports activities, which cost additional money.

"Sometimes kids at school talk about sports that I don't play," he said. "They ask questions, and I just don't talk."
For the first time in his life, a formerly self-employed construction worker can't afford to pay the heating bills that would keep him, his wife, and his three children warm throughout a brutal winter in Detroit, LINK reports Steve Neavling of the Detroit Free Press.
Unemployed and unable to find work, 42-year-old Jim Lowe received a shutoff notice at his home last week and says he's unable to pay the $174 that's overdue.
"It's definitely a wake-up call," Lowe told Neavling. "We're three months behind on all of our bills. I just pray this gets better soon."
State and local agencies estimate an unprecedented 150,000 metro Detroiters are at risk of having their heat shut off if they don't receive help paying their bills. The number of people seeking state assistance so far this winter jumped 30% over last year at this time, according to the state Department of Human Services.
Calling all HuffPost superfans!
Sign up for membership to become a founding member and help shape HuffPost's next chapter