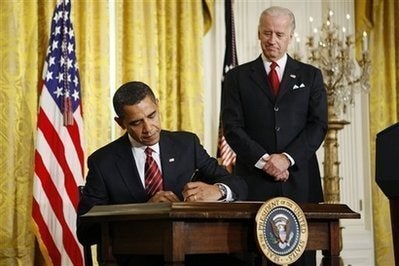 The Obama administration announced the creation of a White House Task Force on Middle Class Working Families on Friday during a ceremony demonstrating its commitment to the labor community and working class Americans.
The task force, to be chaired by Vice President Joe Biden, will be asked to help raise the living standards for working and middle income Americans. Representatives of labor, business, and advocacy communities will play consulting and advisory roles. In addition, Obama signed three executive orders on Friday, reversing directives issued during the Bush years that made it harder for employees of federal contractors to unionize.
"I believe we need to reverse many of the policies toward organized labor we've seen these last eight years, policies with which I have sharply disagreed," said the president. "I do not view the labor movement as part of the problem; to me, and to my administration, labor unions are a big part of the solution. We need to level the playing field for workers and the unions that represent their interests."
Below is more information on the Task Force, as sent from the White House:
The Vice President and members of the task force will work with a wide array of federal agencies that have responsibility for key issues facing middle class and working families, and expedite administrative reforms, propose Executive orders, and develop legislative and policy proposals that can be of special importance to working families.

The White House unveiled today the initial version of the Task Force's new website: www.AStrongMiddleClass.gov. Transparency is a key priority for the taskforce and any materials from meetings or reports produced will be made available to the public and on the website. The website will be updated with additional content as the Task Force gets underway.

President Obama has set the following goals for the task force:

* Expanding education and lifelong training opportunities
* Improving work and family balance
* Restoring labor standards, including workplace safety
* Helping to protect middle-class and working-family incomes
* Protecting retirement security

Members of the White House Task Force on Middle Class Working Families will include the Secretaries of Labor, Health and Human Services, Education, and Commerce, as well as the Directors of the National Economic Council, the Office of Management and Budget, the Domestic Policy Council, and the Chair of the Council of Economic Advisors.

The Middle Class Task Force's first official meeting will be on February 27, 2009 in Philadelphia, Pennsylvania. The topic of the first meeting will be: "Green Jobs: A Pathway to a Strong Middle Class."
Popular in the Community