Community and law enforcement relations have been strained in cities around the country since the national movement against police brutality took hold last summer. But one New York City church and its pastor are out to resolve some of that tension by honoring an NYPD detective during the upcoming Sunday service.
Middle Collegiate Church will present Detective Jaime Hernandez with its first "Keeper of the Peace" award on Sunday, followed by a performance of "Uniform Justice," a staged reading about community members and police officers seeking reconciliation in Memphis, Tennessee.
Hernandez has been patrolling in the church's neighborhood for 25 years and is a friendly face in the community, said Middle Collegiate's senior minister, the Rev. Dr. Jacqui Lewis. There's even a mural dedicated to him in New York's East Village.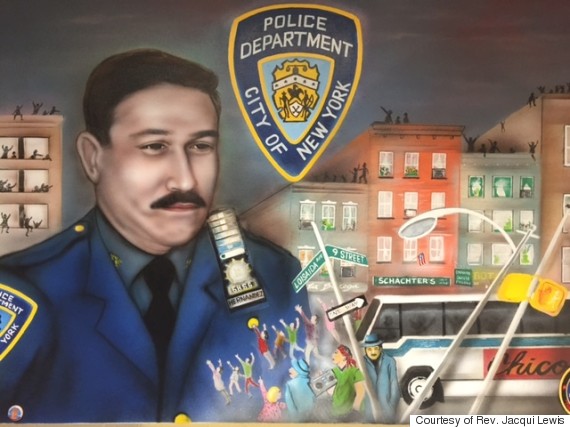 When a gas explosion leveled the building across the street from the church in March, Hernandez was there the following Sunday to make sure parishioners felt safe on their way to services.
"He gave me the biggest hug, and said, 'Rev. Jacqui, is there anything you need?'" Lewis told The Huffington Post.
The #BlackLivesMatter movement and related protests have prompted faith communities to play an active role in maintaining peaceful relations between law enforcement and community members, Lewis said. Faith leaders must take a stand against police brutality, she said, but simultaneously "celebrate what's good" and lift up what positive relations exist between police and community members.
"The warm relationship we have with him helps warm the relationship with all the precinct," she said. "There's no way we can heal what's broken in America between police and civilians without collaborating."
Hernandez was not authorized to speak to press when HuffPost reached out for comment, but Lewis quoted the detective as saying, "For as long as I can remember, Middle Church has been my partner. Middle Church makes the community feel homey."
Under Lewis's leadership, Middle Collegiate Church has been an ongoing site of racial justice awareness in recent years. In 2012, the church hosted a "hoodie Sunday" service, inviting congregants to wear hooded sweatshirts in honor of slain Florida teen Trayvon Martin.
Several other faith communities around the country have mounted efforts to resolve tension between police and civilians, many in response to the 2014 deaths of Michael Brown and Eric Garner. In September, police and faith leaders in Rochester, New York, initiated the "Clergy on Patrol" program, which paired up clergy members and police officers for foot patrols.
"The goal is to mend the mistrust certain neighborhoods have in the police by using the trust they have in the clergy as a bridge," Rochester press officer Jessica Alaimo told HuffPost in September.
Clergy can play an important role in speaking out against police brutality, but real change must happen on the institutional level, said Robert Gangi, the founder of Police Reform Organizing Project (PROP) and former executive director of the Correctional Association of New York.
"It's not that individual officers are mean-spirited or racist ... It's the policy of the department," Gangi told HuffPost on Friday. "That's what has to change to improve relationships between law enforcement and community."
Calling all HuffPost superfans!
Sign up for membership to become a founding member and help shape HuffPost's next chapter
BEFORE YOU GO
PHOTO GALLERY
Religious Good News