As protests continue across the Middle East and North Africa, a few tech-savvy individuals have crafted simple tools for tracking recent developments by tapping into social media platforms.
Visitors to this tweet-centric display can select one country at a time to view a national map and tweets tagged with the country's hashtag (#Bahrain for Bahrain, #Iran for Iran, and so on). Tweets appear one at a time every five seconds. Depending on tweeters' available geolocation information tweets may appear over different cities around a single country. The map includes tweets from around the world, as well, and is not limited to people on the ground. If, for example, a user in the U.K. tweets about Egypt and uses the hashtag "#Egypt," that tweet appears over Egypt's capital, Cairo.
A similar project by Twitter user @Arasmus maps the unfolding violence in Libya, where government forces have reportedly led bloody attacks on anti-Gaddafi protesters.
Using information garnered via "trusted accounts on Twitter," @Arasmus has constructed an interactive Google Map that plots the sites of reported (albeit, unconfirmed) violence. According to the L.A. Times, "users select icons on the map to separate reports of protests, police violence and death tolls." Details are also provided for each report.
Have a look at the mapping projects (below), then try them out for yourself. The Google Maps/Twitter Mashup can be found here, while the interactive guide to reported violence in Libya can be found here. Do you know of any other helpful tools for tracking the protests? Share your finds in the comments or email suggestions to technology@huffingtonpost.com.
'PROTEST TWEETS' MAPPED: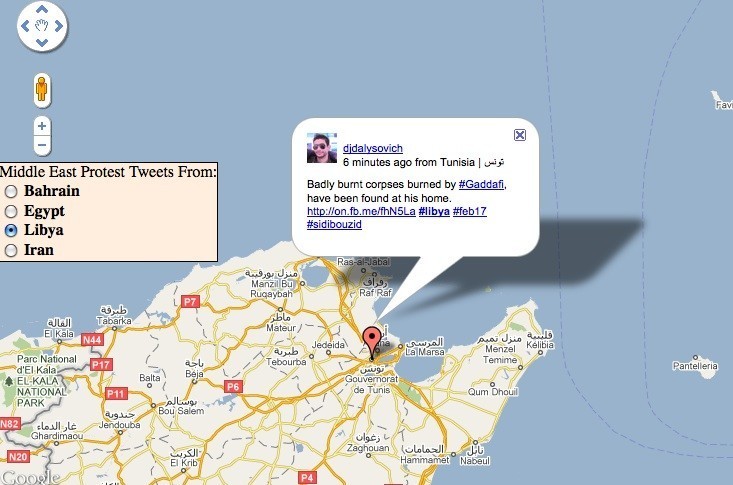 LIBYAN VIOLENCE MAPPED: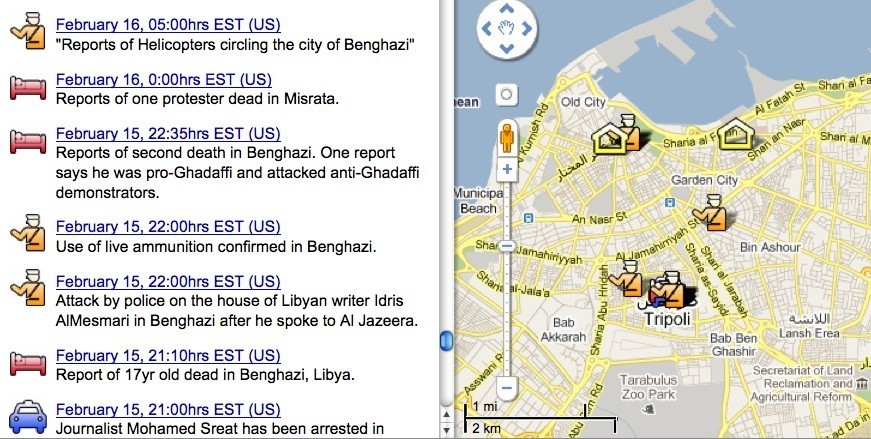 Calling all HuffPost superfans!
Sign up for membership to become a founding member and help shape HuffPost's next chapter