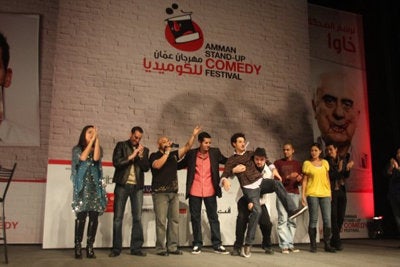 1. Do Arabs actually laugh? 2. Do Arabs understand jokes? 3. Don't they hate you because you are American?
Those are just a few of the actual questions I have heard when I tell people in the US that I'm performing stand up comedy in the Arab world. This week's historic Amman Stand Up Comedy Festival in Jordan - as well as the other recent shows I have performed in the Middle East - have answered those questions as follows: 1. Arabs do laugh (In fact, many are very funny themselves); 2. Arabs do understand the jokes in English; 3. No, they don't all hate us - in fact, a large number of Arabs actually love us.
I know that the Arab world isn't the usual stop for American comedians. I still haven't heard a comedian say: "This weekend I'm at the Chuckle Hut in Beirut." (In part because there is no chuckle Hut in Beirut or a comedy club anywhere in the region.) But a new phenomenon has emerged in the Middle East over the last year that no one could have predicted: Arabs love stand up comedy. Finally, it appears America is bringing something to the Arab world that they really like - in fact, they are paying to see it.
While there were a few stand up comedy shows in the region over the past few years, it wasn't until last year's "Axis of Evil Tour" that the Middle East saw a comedy explosion. (And yes, I use the word "explosion" with great hesitancy in an article about the Middle East, but it is the best way to describe the dramatic growth in comedy.) While there is no history of stand up comedy in the Arab world, You Tube and American TV shows airing in the region have brought our comedy there and its catching on fast.
To give you a sense of how much Arabs love stand up comedy, I recently performed in Beirut with Middle Eastern-American comedians Maz Jobrani and Ahmed Ahmed and we sold over 5,000 tickets. Just a few weeks ago I co-headlined a show with comedian Aron Kader in Cairo and over 4,000 people attended.
The material we perform is almost all in English and basically the exact jokes we tell in the comedy clubs in the US. (With a few local jokes thrown in as well.) The audiences in the Arab world - which are predominantly but not exclusively Muslim - have no problem laughing at themselves or jokes about relationships, politics, pop culture, or just standard US observational comedic material. Its been amazing to see these audiences laugh at the identical jokes we have told to US audiences. It makes you realize that we have a lot more in common than some would believe. (Or frankly more in common than some want us to believe.)
The Amman Festival came about after I had performed three sold out shows there this past August. The City's Mayor, Omar Maani, approached me about helping produce a festival in Amman. (I am also the co-creator/producer of the annual NY Arab-American Comedy Festival with my friend and fellow comedian Maysoon Zayid.)
The Mayor explained the City wanted to create the first stand up comedy festival ever in the Middle East to showcase comedic talent from around the world, to encourage more Jordanians to get involved in comedy and to show the world that Arabs love to laugh. (This last reason is especially important to me because lets be honest - when is the last time you saw an Arab on US television or film laughing - other than perhaps a sinister Arab terrorist -often played by an Indian guy - laughing devilishly as he describes his maniacal plans.)
Thus, was born the Amman Stand Up Comedy Festival - a not for profit Festival owned by the City of which I am serving as the Executive Producer. This inaugural festival runs from December 2-6, 2008 and features over 20 comedians from the US, Canada, Australia and Arab world. The comedians are not all of Arab heritage - but most are "brown" (Arab, Pakistani, Indian, Iranian) - with the closing night headliner being well known comedian Russell Peters. If the Festival becomes an annual tradition, we hope to include as many different backgrounds and comedic voices as possible.
One big part of the Festival, and of our recent shows in the region, has been to teach comedy to the locals. I feel as though I'm a comedy missionary. However, instead of religion, we are bringing comedy to this part of the world. We have held free comedy workshops and auditions to add some local talent to our recent shows. Its been amazing to see how much raw comedic talent there is in the Middle East.
We just completed the second night of the Festival here in Amman and its going great. (The second night was the only show in Arabic and it marked the first all Arabic stand up comedy show ever in the Middle East.) All the shows were sold out over a week in advance breaking another stereotype about Arabs, namely that they always wait to the last minute to buy tickets. Hopefully (Or "Inshallah" as Arabs say which means "God willing") the Festival will become an annual comedy event in the same way as the Montreal and Melbourne Comedy Festivals.
However, our goals are a little more challenging then simply putting on a funny show. We also want to change people's perceptions about Arabs and even show Arabs themselves that they can be funny. Maybe we can even attract American tourists to come to the region so they can find out first hand that the answer to their question is: Yes, Arabs do know how to laugh.
Related
Popular in the Community