"I declare myself a troublemaker," said Hossein Amirsadeghi on Friday morning as he took the floor to introduce the Art & Patronage Summit, a two-day conference on institution-building, collecting, and cultural change in the so-called "greater Middle East" held at the British Museum and the Royal College of Art. Amirsadeghi, the founding director of the summit and a prolific publisher, is not afraid to say it straight. Talking to room full to the brim with the who's who of the Middle Eastern patrons, curators, and museum directors, he went on about the "creative backwardness of the region." The greater Middle East hasn't produced anything of cultural significance in the last five hundred years, he claimed. Amirsadeghi shocked many in the assembly -- a curator practicing in the Gulf told ARTINFO UK how unacceptable his controversial view was -- but the self-styled provocateur doesn't mind ruffling a few feathers. "The summit is subversion dressed up as glamour," he told ARTINFO UK. "The purpose of that subversion is to hold people's throats intellectually, and get them to think: why are we so far behind the rest of the world?"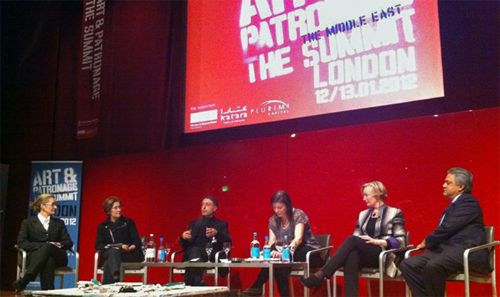 L to R: Arif Naqvi (ACAP), Christa Meindersma (Prince Claus Fund), Antonia Carver (Art Dubai), Oussama Rifahi (Arab Fund for Arts & Culture), Andrea Rose (British Council), Lisa K Erl (JPMorgan) / Courtesy Art & Patronage Summit

The first session, "Institution-building: New Perspectives, Common Practices, Future Goals," was moderated by the Serpentine Gallery's Hans Ulrich Obrist, who (as he often does) quoted Caribbean thinker Edouard Glissant's concept of mondialité (globality) and his idea for an institution as an archipelago, a network of nodes rather than the traditional monolith. "It's not about XL, or XXL," said Obrist, setting the tone for the discussion (and silently critiquing the major museum projects mushrooming in the region). Tate Modern director Chris Dercon followed up in his keynote speech: "such museums seem to have become prior to art." Dercon talked about "soft power," praising the role of small-scale institutions, those crucial "meeting places" that give "meaning to power." He called for a new institutional model, which would give free rain to what Okwui Enwezor calls "civic imagination" -- and which would be the "birthplaces of a new art field." "Perhaps it would be more interesting to fail to become an institution at all?," Dercon ventured before handing over to the speakers.
There was something unmistakably ironic in being told about the importance of grassroots organizations in the Middle East by the directors of two of Europe's most influential art institutions, particularly at the British Museum, epitome of the British cultural establishment. And the irony continued throughout most of the session's presentations, by Mona Khazinder, director of Paris's Institut du Monde Arabe, Richard Koshalek, director of the Hirshhorn Museum and Sculpture Garden in Washington, DC, and Barry Lord, co-president of Lord Cultural Resources Planning and Management Inc., who is currently overseeing the construction of the King Abdulaziz Center for World Culture in Dharhan, Saudi Arabia. But important questions were nonetheless brought to the table. Koshalek talked about his experience at LA MOCA, which first came into being as a provisional entity known as "Temporary Contemporary," and was conceived, he said, as an artist's studio. This "gorilla museum" started by cultivating an audience rather than getting on with the bricks and mortar and thinking later. Countries eager to set up their own institutions might find it a model worth looking at.
"Cultural change has everything to do with patrons," said museum planning guru Lord, who talked about radical transformations in the mindset of Gulf rulers. "Arab patrons have been taking command... [that] they have been taking command of contemporary art is the latest example of this cultural change." No one mentioned the possible difficulties coming with working in the Gulf's cultural and religious context, exemplified by, say, the last Sharjah Biennial's censorship scandal, which cost the until-then unanimously celebrated director Jack Persekian his job -- although Koshalek strongly emphasized the necessity to free institutions from their trustees' power. "Trustees are interested in control," he said, "they are not interested in vision."
William Wells, the co-founder and director of the not-for-profit Townhouse Gallery in Cairo, was the only speaker on the panel actually enacting at a local level the "soft power" celebrated by Dercon. In fact, so wide was the gap between him and the other participants that he started his presentation by joking: "I think I'm in the wrong panel." Wells then recalled having long resisted the very idea of the institution, which was for him, when he started Townhouse in 1998, something "about control and power," "a model I wanted to stay away from." He later admitted Townhouse's having now become an institution of sorts, but one unhampered by a weighty administration. "If you want something to happen in Townhouse tomorrow, we can make it happen." Having probably experienced it first hand, Wells was also the only one in this session to truly discuss the consequences of the Arab Spring. Townhouse grew in a country with a dictatorial regime, he said. Mubarak's fall "let us acknowledge who we are and what we are good at." Members of his audiences came forward. "Now we need to use your space," they said. "You promised us this." "And that's what we've had to do," Wells concluded.
Calling all HuffPost superfans!
Sign up for membership to become a founding member and help shape HuffPost's next chapter