"You were on your way to something. Don't stop." That kind of encouragement, greatly needed by a forlorn young woman, is the spirit that drives this exquisitely told romantic drama. It's one of the best black films to come along in years and its filmmaker, Ava DuVernay, became the first African American woman to win the Best Director Award at the Sundance Film Festival.
We've been fed a steady diet of Tyler Perry caricatures. Black actors have been relegated to second banana roles, subservient positions, gangsters, pimps, maids and losers in so many Hollywood films. And reality TV has desensitized and dehumanized us with high-pitch screaming housewives from wherever. On the big and little screen we are starved for real-to-the-touch black images. Characters and storylines that reflect us. Not distorted visions. Not self-loathing delusions.
Back in the day, twenty something-year-old Ruby (Emayatzy Corinealdi, Young and the Restless) was an ambitious med student. She married Derek (Omari Hardwick, Sparkle) and the two dreamed of a brighter future. Their hopes were dimmed the day police raided their home and arrested Derek for a serious crime. He was imprisoned, staring down eight years of hard time.
Ruby quits school to be with her man. Faithfully she takes the long bus ride through Compton, L.A., to visit him. She encourages Derek when he becomes despondent and wants to give up. She goes broke paying for a lawyer to regain his freedom. Her negative, temperamental mom Ruth (Lorraine Toussaint, Saving Grace) shows disdain and offers no support. Ruby feels alone. As if no one is watching over her. But there is. It's her bus driver (David Oyelowo, Red Tails). She's hardly noticed him, but he can't take his eyes off of her. Guardian angels have tunnel vision.
Writer/director Ava DuVernay (who began her film career as a public relations executive) started this project's journey with a simple vision: a woman riding on a bus, at dawn, "It was a mental image that stuck with me for a long while. I couldn't shake it." The purity of that notion remained as she developed the indelible characters, the heart-breaking relationships, parent/child conflict, betrayals and the emotional rescues that make her script so rewarding on so many levels.
Ruby is a vulnerable character, the product of a psychologically abusive mother. Yet somehow she remains altruistic. She weathers setbacks, regaining her focus. She's willing to sacrifice everything for her marriage. Almost immediately, you want nothing but the best for her. Derek feels like the guy around the corner who has made one fated mistake. Where but by fortune go most of us. The mother is that irritating taskmaster parent who both produces ambitious children, and then breaks them down with a glance. And Brian is the angel of mercy. All the characters play off each other perfectly.
DuVernay, in just her second feature film, exhibits the skills of a master filmmaker. She knows when to let the actors go, when to rein them in. She can choreograph a love scene, a mom/daughter confrontation or an intimate jailhouse conversation with amazing dexterity, setting an even tone that becomes increasingly affecting as the film progresses. No wrinkles. No questionable choices. She's made a classic, powerful character-driven film, in the vain of the timeless Nothing But A Man.
Emayatzy Corinealdi is a gorgeous looking woman with a smooth complexion that glistens in every shot. The camera loves the angles in her face. Her eyes. Her lips. Her chic, pixie haircut. Her performance is subtle, tender, determined. You think, in the back of your head, that Derek, as depicted by Hardwick, is streetwise but immature. As his seedier side shows, you begin to question his moral compass. Credit Hardwick's ability to layer on depth for the character's complexity. Toussaint as Ruth plays the mother from hell who can make you feel nervous and uncomfortable with one sigh. Which is the exact opposite of David Oyelowo's interpretation of Brian, who makes you feel safe, even when disaster lurks. No one over-acts. Everyone has mastered his or her role impeccably.
Kathryn Bostic's musical score lifts every scene. Spencer Averick's editing creates a perfect pace. Bradford Young's discerning eye and subtle cinematography makes so many scenes seem like picture postcards from Compton.
As an audience you can't ask for anything more from a writer, director, cast or technical crew. This is a simple, affecting love story that will stick with you. It takes you to a haunting place that is not nirvana or hell. As Ruby says: " We are somewhere in-between the forgotten and the foreseen." That's true. It's a world you might never want to leave.
Middle of Nowhere is absolutely poetic.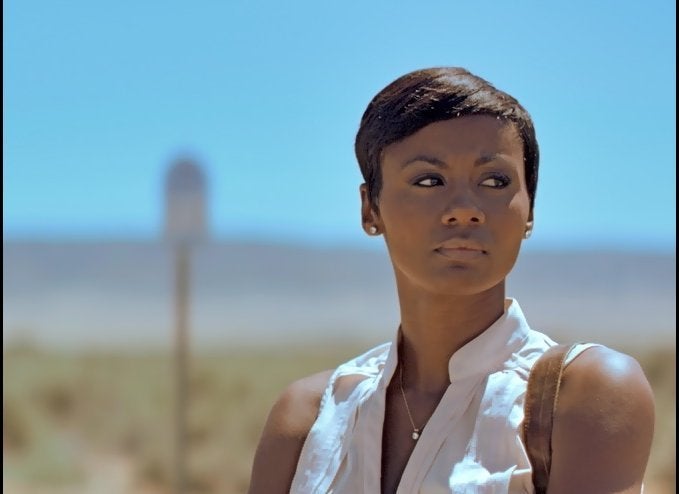 Middle of Nowhere
Popular in the Community