The Huffington Post is chronicling the experiences of the Darbis, a Syrian refugee family that settled in New Jersey almost one year ago. The "Meet the Darbis" series — which began in October — examines what life in America is like for a family that is starting over after fleeing war and persecution.
JERSEY CITY, New Jersey — Their school day ended like any other: Nabiha and Hajar Darbi, two Syrian refugee sisters who have lived in New Jersey for almost a year, boarded the bus to go home. Then the situation turned ugly.
Fellow middle school students — some of them immigrants themselves — began to taunt them. Some yelled at them in Spanish for being Muslims and Arabs. They demanded the girls give up their seats, recalled the sisters, who have a basic understanding of the language, which they study at school.
One boy photographed 12-year-old Hajar and Nabiha, 13, during that spring incident because they were wearing hijabs, or headscarves. A Latino girl sitting in the row behind them made fun of their accented English. She then stood up on her seat and hit them on their heads, the sisters told The Huffington Post in June.
The middle school years can be a difficult experience for any child. But Hajar and Nabiha have also had to flee the Syrian civil war, start over in a new country, adopt a new language and assimilate into a different culture while trying to maintain the identity they had already formed.
The Darbi sisters, along with their six-year-old brother and parents, were among the 1,682 Syrian refugees resettled across the United States from October 2014 to September 2015. Another 2,085 have since arrived in the country.
They were lucky enough to be placed in a school system that is dedicated to seeing them succeed. And while they've shared some of the same ups and downs of adapting to life here, their middle school experiences now appear to be on somewhat divergent paths inside and outside the classroom.
Same School, Different Paths
For Hajar, school represents a place where she can be herself and satisfy her academic and intellectual curiosity. Both of these attributes were on display when HuffPost accompanied the sisters to Franklin L. Williams middle school, also known as P.S. 7, in Jersey City in May.
Hajar's enthusiasm was so intense during first period, sixth grade language arts, that her hand shot up every time her teacher, Mary Ibrahim, asked the class to conjugate a verb in the past tense. She leapt from her chair when Ibrahim asked the students to play a group game about prepositions on the classroom's Smartboard.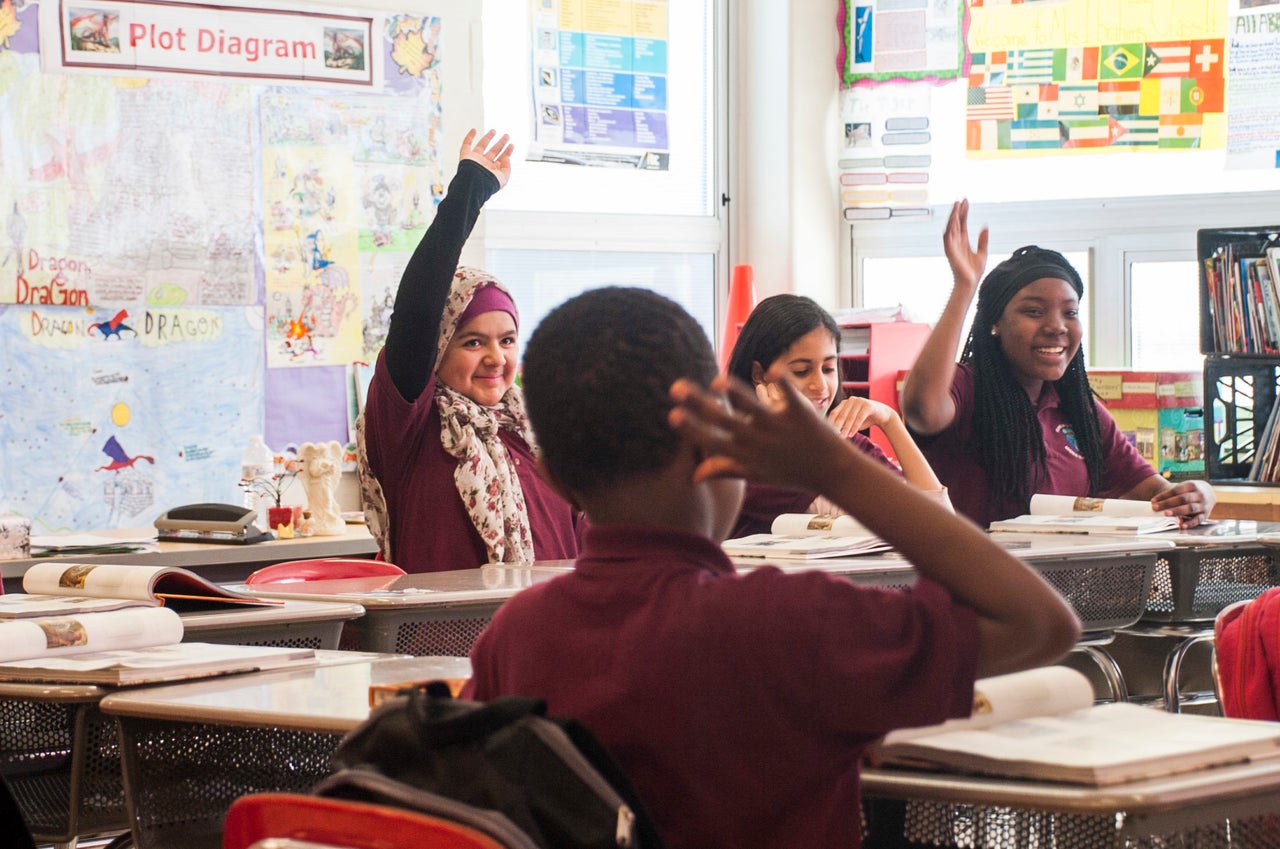 She even made the honor roll this year. When Fred Durst, a social studies teacher, gave her the good news in the school cafeteria, Hajar broke down in tears.
"I'm happy!" she assured him.
Her eagerness radiated outside of the classroom, too, as she bonded with the other girls in her English as a Second Language class — immigrants from Africa, the Caribbean, Egypt and India. They stood around the playground together during recess and then occupied several tables beside each other in the cafeteria, sharing food with one another and trading information about their respective cultures and backgrounds.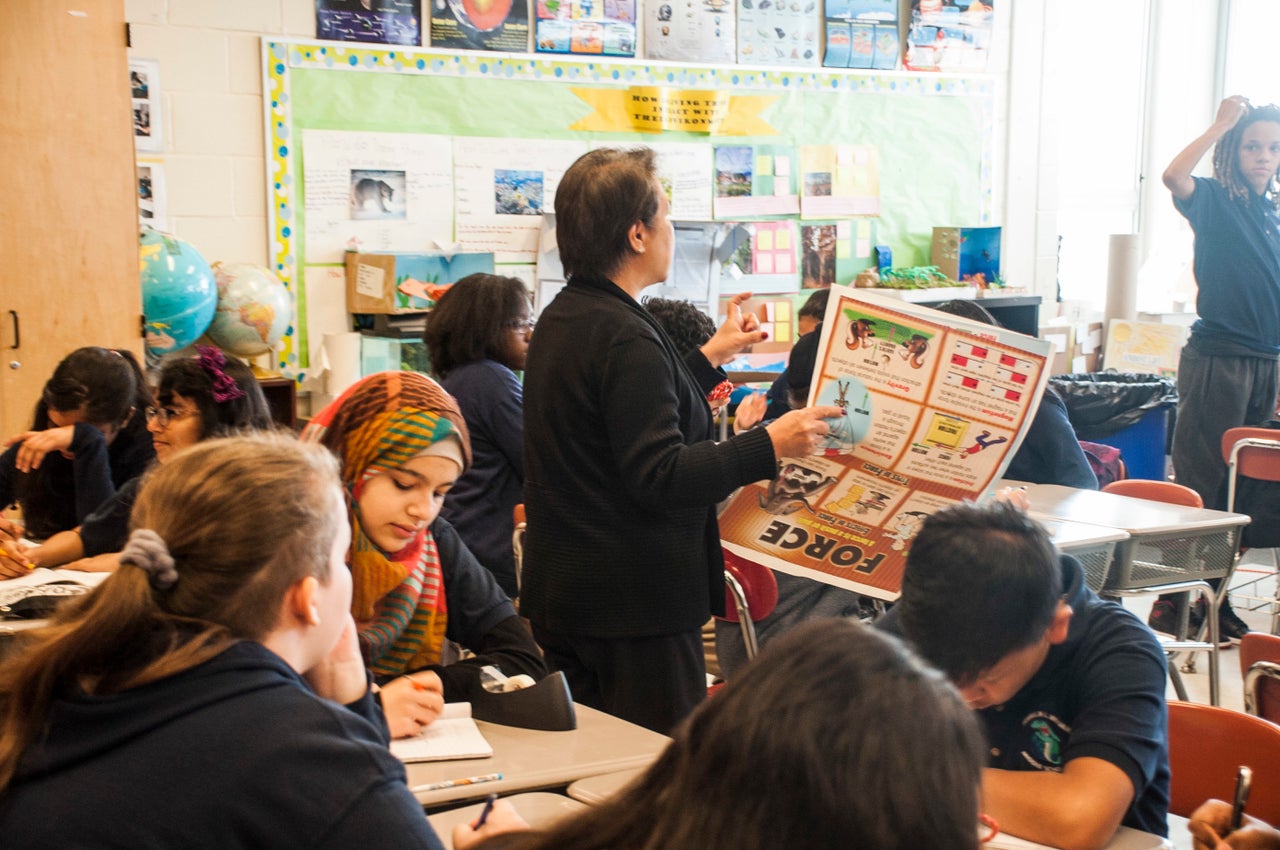 Down the hall, a different story unfolded. Her older sister, Nabiha, stared blankly at the board in her seventh grade science class. Her teacher, Cristina Micu, handed out orange ropes for a mechanical waves experiment and asked the students to split up into groups. Two people in each group were to hold either side of the rope and move it up and down.
Nabiha, known as Nana, stepped aside as the other students wiggled the rope around. It wasn't until Micu asked her to give it a try that she timidly participated.
Then Micu asked the students to write answers to questions on energy and waves in their notebooks. The page in Nabiha's notebook remained empty.
An Arabic-speaking classmate of Nabiha's periodically hovered over her to translate what the teacher was asking. It was only then that Nabiha managed to scribble something down.
Complicated scientific terms can be difficult for any student. Trying to learn these in a language that someone has yet to become comfortable makes it even worse. But Nabiha does love math and has a newfound interest in learning Spanish.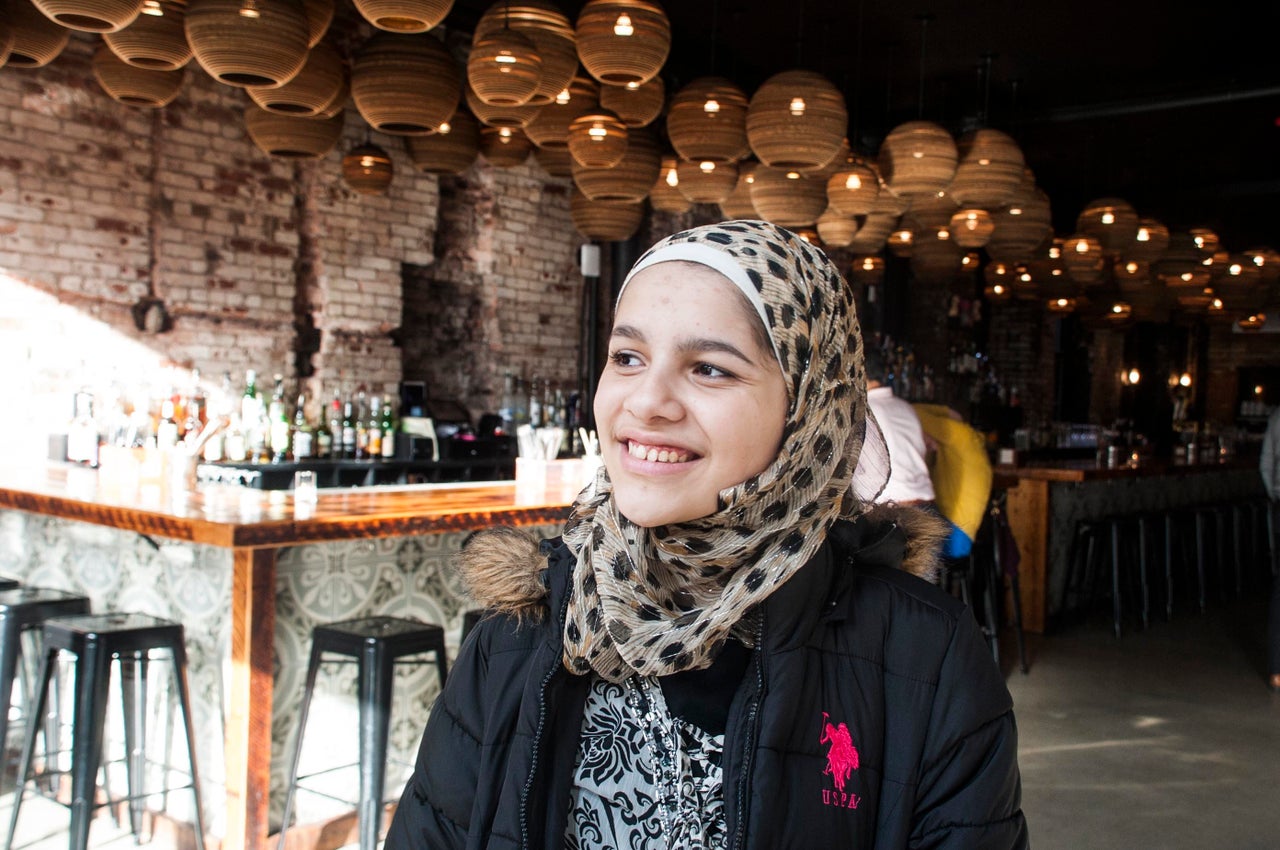 However, Nabiha's struggles extend to her personal life. She comes home from school and fills sketchbooks with drawings of female cartoon figures who are sad and crying.
"I don't know how to draw happy people," she said.
Past the caricatures are drawings of the Syrian regime flag and the opposition flag banner. Buried in the middle of the notebook is a poem, written in English.
"My country, I'll miss you/ when this war finish/ I'll go back to you," it reads.
Added on are the mood swings and personality shifts associated with any young woman's teenage years. Nabiha often retreats to her cell phone, getting lost in tunes played from YouTube like Selena Gomez's "Same Old Love."
She has begun experimenting with makeup, drawing dramatic lines under her dark eyes with black eyeliner and brushing gold sparkly eyeshadow across her pale lids. Her mother, Amira, had to ask her to tone it down and wash some of it off when the family invited over male guests.
Nurturing Environment
If the U.S. public school system were a lottery, the Darbi sisters have hit the jackpot.
P.S. 7 is the foreign language hub of the district, Principal Edwin Rivera told HuffPost. Out of 900 students in sixth through eighth grade, about two-thirds come from homes in which English is not the first language. The school has created programs to accommodate all of these students. It has purchased technology that allows much of the coursework to be translated into more than 40 languages, Rivera said.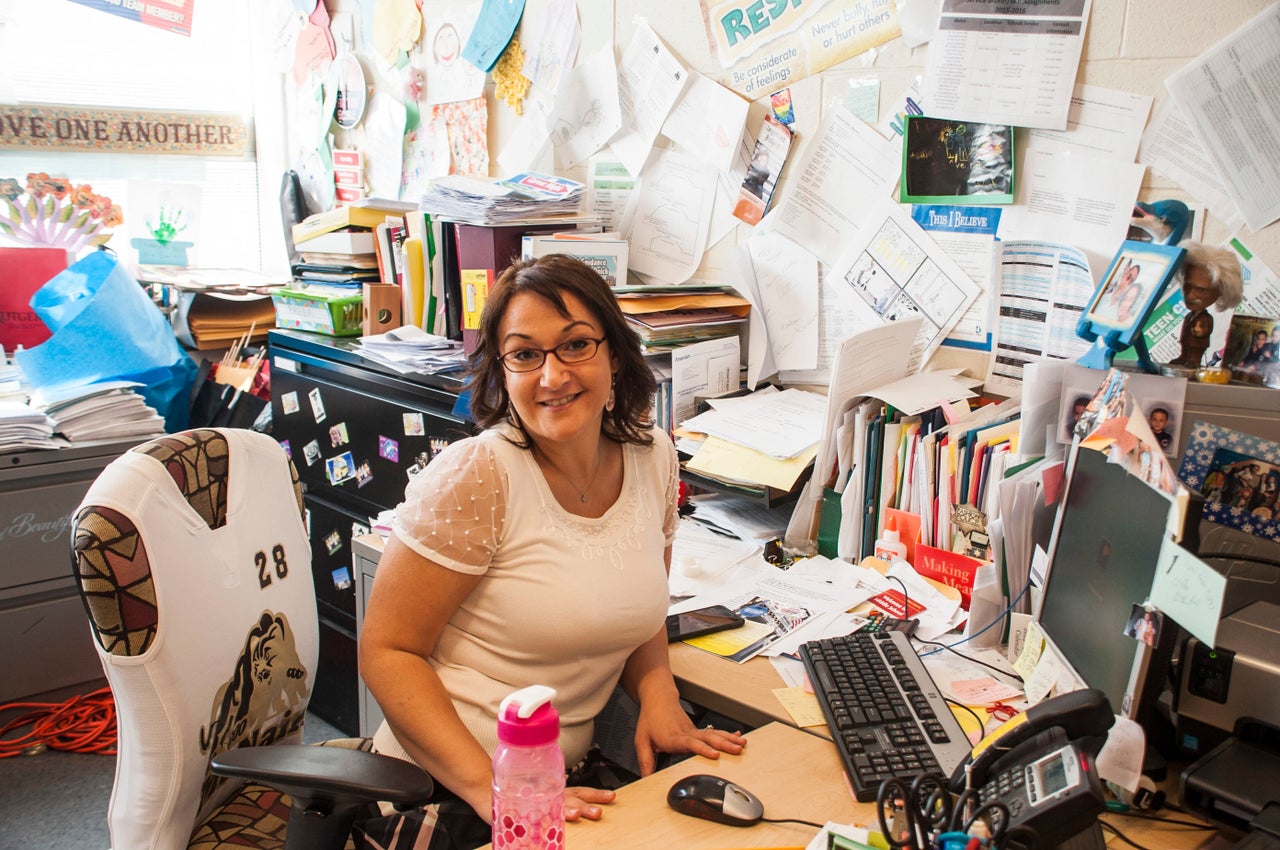 Conveniently for the Darbi children, the school has several Arabic-speaking staff members, including Maggie Sleman, the guidance counselor, who grew up in Egypt. She has helped the girls navigate what is happening at school.
The Darbis first showed up at school wearing knock-off Ugg fur boots in the September heat, Sleman recalled. They wore them even during gym class, upsetting the physical education teacher. So Sleman set out to find them some sneakers. Hajar's reaction to the new shoes still moves her, the counselor said.
The young girl had trouble processing the fact that someone had done something nice for her, Sleman said. "I knelt down to put them on she's just staring at me the whole entire time [in awe]," she added. "She looked at me and said, 'It's not about the gift, it's about the giver.'"
Bullying and Integration
The administration's attentiveness to the Darbi girls hasn't always prevented a certain cruelty that some of the other students have displayed toward them. The school bus incident was not the first time they were bullied.
Indeed, Sleman, who is also an anti-bullying specialist, said she allowed Hajar and Nabiha to eat lunch in her office for the first five months of the school year, to give the girls a safe space during breaks from class.
Thankfully the bullying has subsided since then. What happened on the bus may be have a reaction to other more typical American middle school situations -- male-female dynamics, interactions that would be unacceptable in some countries in the Middle East.
Nabiha got into a fight recently because people were picking on her younger sister, she said. A male student "was looking at Hajar the wrong way and so I gave him a dirty look back," she said. "But he kept bothering her, so I told the bus assistant."
Other students have taunted Hajar for having a crush on a boy, which caused her to seek help from teachers like Sleman.
But the current circumstances have not dimmed either girl's outlook on their futures.
"They're so adaptable," Sleman said.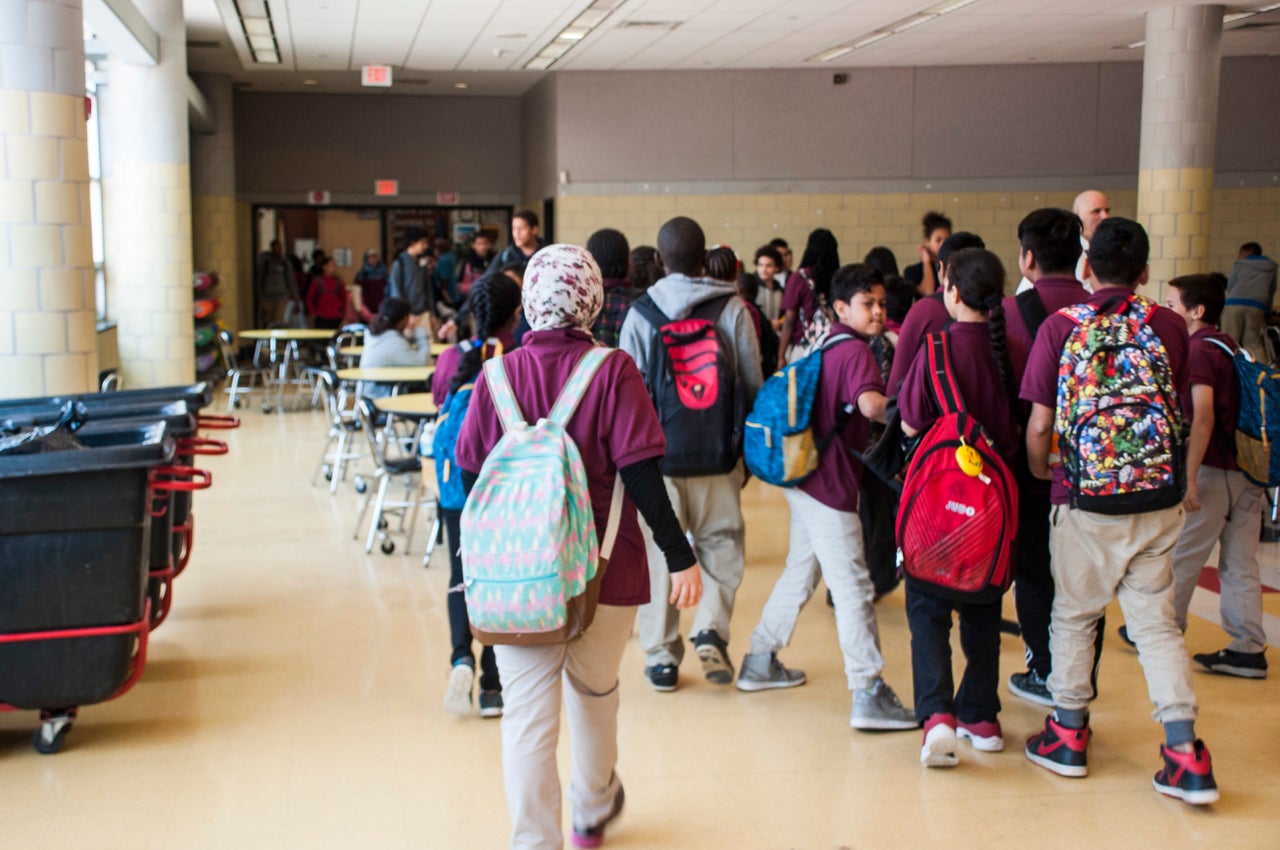 In the wake of the school bus incident, the sisters said they decided to alert some of their teachers.
Rivera brought the perpetrators' parents into school to apologize to the Darbi girls alongside their children.
The sisters' outlook for the future is filled with hope.
Hajar, true to her evident love of learning, said she wants to be a doctor when she grows up. Nabiha, already a poet, dreams of being a journalist. She recently discovered Snapchat and Kik, two apps that allow her to communicate with friends the world over.
They just need to learn that "it's OK to be different," Sleman said.
Read the previous installments in this series:
Related
Before You Go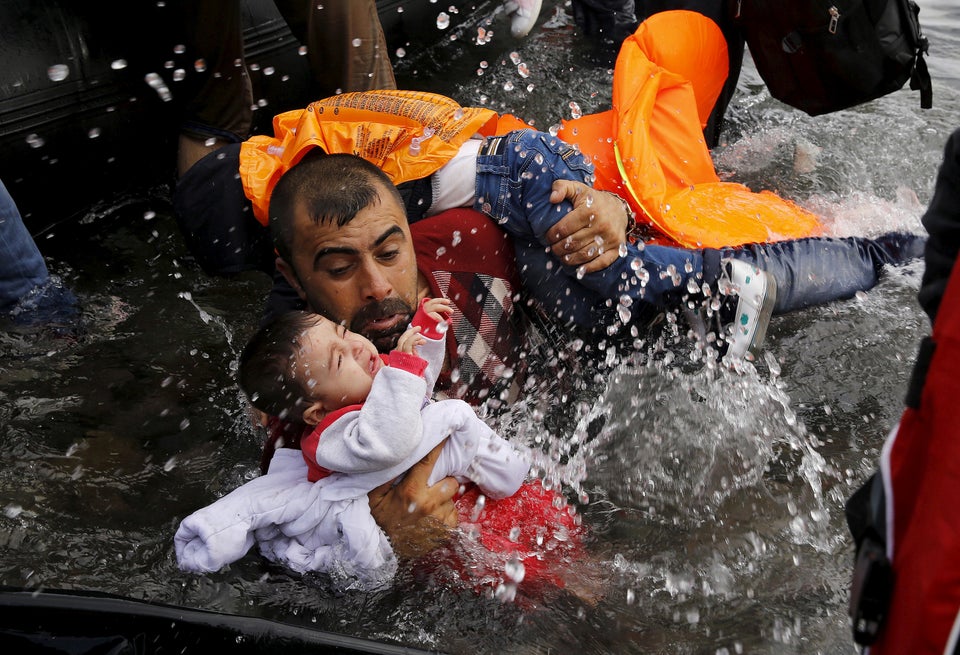 Refugee Children And Their Fathers
Popular in the Community