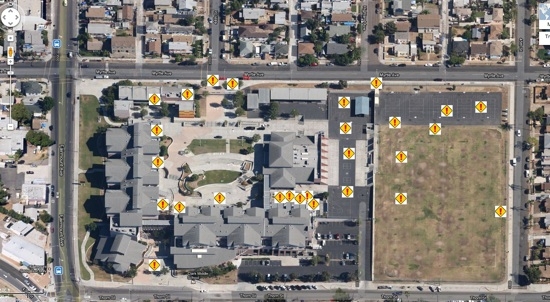 Photo Credit: PHOTOCITY

Middle school students in San Diego, CA made a map showing where they had seen bullying take place.
Bullying sure has gotten a lot of attention lately. From countless news stories of cyberbullying to the controversy over the movie "Bully," it seems like the issue is worse than ever. In the middle of this comes Photocity.
Photocity is a program of the AJA Project that aims to help stop bullying by raising awareness of it. Students of the program take photos of where they see bullying or other violence happening, and the location is mapped on a Google image that shows not only where the bullying happened, but a short description of what happened as well.
I spoke to 11 year old Photocity member Karina Palacios about how Photocity works. Palacios joined the program because she used to be bullied, and doesn't want it to happen to other people. She chose to take pictures of gang activity in her neighborhood, the Monroe Park area in the City Heights neighborhood of San Diego, and often snaps photos of gang signs.
At Palacios' school, bullying often happens during lunch or in class when teachers aren't looking. But as she notes, Photocity helps bullying in the classroom. She said that every wednesday, members would get sticky notes and write down bullying they had seen in school or by the school. Teachers said that they would give the notes to the principal. Then the principal would send staff to make these places more safe.
Believe it or not, it works. Palacios says that the incidents of bullying are down at her school and she no longer sees it everyday like she used to.
However, one type of bullying will be more difficult to stop. Bullying on social media sites is now commonplace, and Palacios says that she sees it every week. "Some people like trouble," she said.
But even if cyberbullying is a tough nut to crack, Photocity seems to be successfully stopping bullying in real life. Perhaps its goal is best stated in Palacios' words: Instead of expressing feelings with your mouth, express it with your pictures.
Originally published on Youthradio.org, the premier source for youth generated news throughout the globe.
Youth Radio/Youth Media International (YMI) is youth-driven converged media production company that delivers the best youth news, culture and undiscovered talent to a cross section of audiences. To read more youth news from around the globe and explore high quality audio and video features, visit Youthradio.org
Calling all HuffPost superfans!
Sign up for membership to become a founding member and help shape HuffPost's next chapter