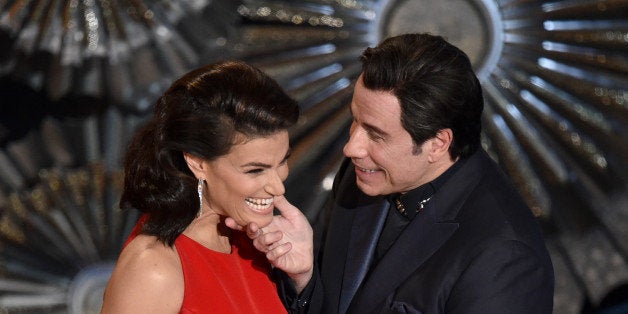 Middlebrow is a recap of the week in entertainment, celebrity and television news that provides a comprehensive look at the state of pop culture. From the rock bottom to highfalutin, Middlebrow is your accessible guidebook to the world of entertainment. Sign up to receive it in your inbox here.

What exactly is the space that John Travolta occupies in Hollywood? He's the second most famous member of Scientology, an aging sex symbol intent on pretending he is not old (or balding), who is marked by trauma and sexual speculation that has spanned decades. After the Oscars on Sunday, it seemed like he thinks of himself as the kind of beloved legend who can engage in wacky antics sans scrutiny (the best example of that sort of figure is Bill Murray). But we don't have enough space from Travolta's roller coaster of a career to watch him grabbing Scarlett Johansson and Idina Menzel while simply shaking our heads and saying, "Typical Travolta!" When did he become Hollywood's creepy uncle?
There is this idea, as The Independent pointed out in a 2014 interview pegged to "The Forger," that Scientology led to the "nadir" of his career. But really, Travolta has been associated with the church since before the height of his fame, and actually credits the religion with his rise. He joined in 1975, starred in "Saturday Night Fever" in 1977 and "Grease" in 1978. "I would say that Scientology put me into the big time," he said (via the Daily Mail).
All of that acts as an antithesis to the persona Travolta established onscreen at the start of his fame, specifically -- strategically? -- playing ladies' men in "Saturday Night Fever," "Grease," "Moment to Moment" and "Urban Cowboy." Moviegoers in the '70s had no reason to believe all those characters weren't an extension of Travolta himself, so everything he's done, in some way, has been a response to that.
But the Scientology and sexuality narratives are closely intertwined. With his role in "Hairspray," the discussion turned to the church's repressive tactics and how they may have affected Travolta. (In the new Scientology documentary "Going Clear," it's alleged that Travolta won't leave the church because of what it knows about his personal life.) It most certainly should not matter whether he is gay or straight, but Travolta's over-the-top Oscars antics read as performative masculinity. And if this photo isn't enough evidence for that, consider the fact that he claimed to not be able to remember Idina Menzel's name back in 2014, because he saw the distractingly "beautiful [and] sexy" Goldie Hawn beforehand.
What's more interesting is why this absurd (and sexist) behavior does not work for Travolta, while it might in the hands of other aging male celebrities. For explanation there, we look to his career trajectory. Travolta was one of the biggest stars in the world in the late '70s, before a nearly 18-year drop-off. He only returned to something even vaguely resembling his initial level of fame when Quentin Tarantino cast him as Vincent Vega in "Pulp Fiction," and on some level that felt kitsch. He was the comeback kid at the 1995 Oscars, but his role was a sort of novelty of pop culture: built upon a masculinity that was a play on his public perception and the nostalgia of his dance-heavy rise to fame.
The last time we were really talking about Travolta was with "Hairspray" back in 2007. Since then, his life has been racked with trauma -- the loss of his son was followed by an extremely dark period. "Life was no longer interesting to me, so it took a lot to get me better," he said during an interview at Theatre Royal Drury Lane in London. "I will forever be grateful to Scientology for supporting me. ... They didn't take a day off, working through different angles of the techniques to get through grief and loss, and to make me feel that finally I could get through a day."
The grip of Scientology on his life is massive, especially when you think about how quickly it spun Tom Cruise out of control and how much earlier Travolta went through the church's auditing process. That combined with the instability of Travolta's stardom and the grief he's seen over recent years make him into a decidedly tragic figure. There are objective reasons why grabbing various famous women would be a gross and rapidly meme-ified Oscar moment. Coming from Travolta it represents an eerie desperation that forces us to look at what nearly 40 years in and out of the spotlight has forced our long-lost Tony Manero to hide beneath his wig.
Before You Go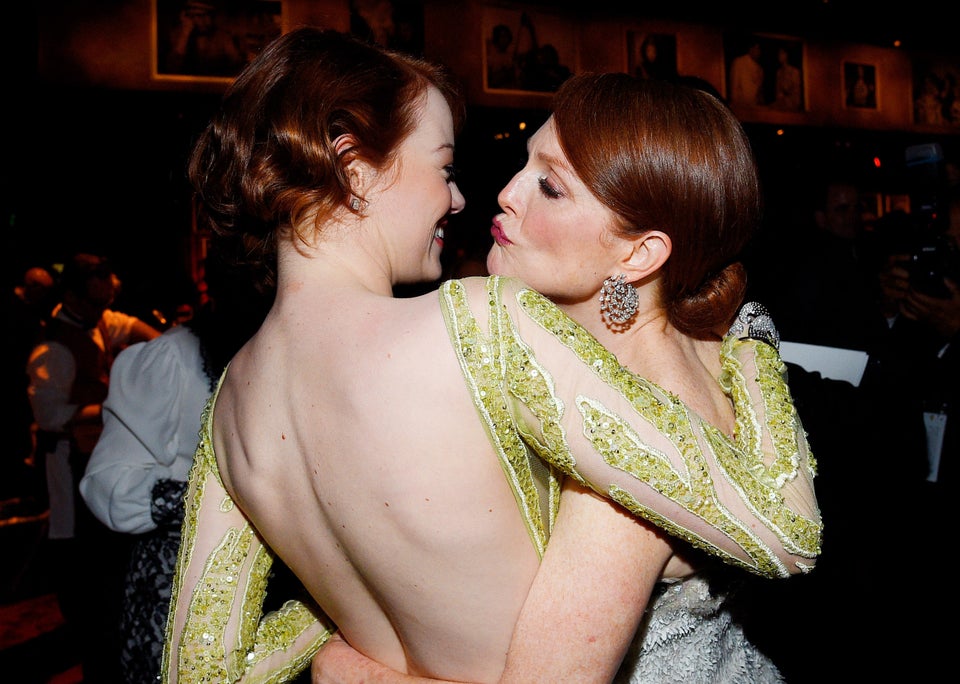 2015 Oscars After-Parties
Popular in the Community