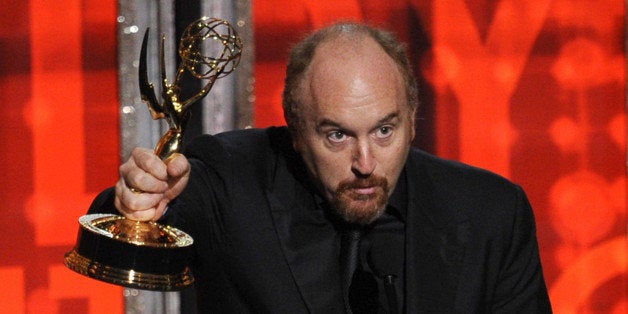 Middlebrow is a recap of the week in entertainment, celebrity and television news that provides a comprehensive look at the state of pop culture. From the rock bottom to highfalutin, Middlebrow is your accessible guidebook to the world of entertainment. Sign up to receive it in your inbox here.

This season of "Louie" has proved to be quite the button-pusher. Confronting violence against women, body-image issues and date rape, it sparked the expected backlash, but also managed to subvert our penchant for outrage. With its clever use of multi-part episodes, "Louie" was able to retroactively change the conversation as the season went on. There were plenty of overarching socio-political statements to be dissected as Season 4 drew to a close, but the key take home message was clear: We need to rethink the reactionary way we talk about cultural issues as they appear on television.
Over the course of this season, "Louie" has encountered this phenomenon by prodding controversial issues in multi-part episodes and with broader storyline pairings that later rectify the initial message. For example, we might not agree that part two of "Pamela" reformed the date rape arc, but it certainly deserved more careful consideration than the uproar churned out in response to part one. It's fair to argue that the (accidental) violence against women in "Model" was ineffectual as comedy, but it wouldn't be right to talk about that plot line until fully considering its juxtaposition with "So Did The Fat Lady," where it became clear C.K. had a bigger point to make about the way we treat different sorts of women.
As Matt Zoller Seitz noted over at Vulture, in a way, the "Louie" formatting has robbed the outrage cycle of its usual self-righteousness. This technical aspect of structure is cast in even sharper relief when compared with its obvious formatting foil: "Orange Is The New Black." Just as breaking continuity alters the conversation, dropping an entire season on the Internet at once robs viewers of the energy to create a larger discourse about individual plot points. Some sites have recapped individual episodes, but the conversation about specific character narratives has surrendered to broader conversations about Season 2 as a whole.
That's not to say that recaps are useless. There is value in close reading individual episodes that makes the experience of watching even more rigorous and exciting. What this season of "Louie" and the comparison to "OITNB" highlight is the reactionary way that we attack the issues, especially in dealing with something so episodic. When socio-political push pins pop up week to week, we tear them to bits like rabid dogs and then proceed to hunt and peck for a new thing to be pissed off by. As we get mired in backlash to the backlash, the poignancy of the conversation is quickly lost, and soon it seems as though there was no point in having it in the first place. Isn't there a smarter way to be talking about all this great TV?
Of course, if the whole of television was released in entire seasons, more likely than ushering in culture-shifting conversations, we'd realistically have to quit our jobs and subsist on a Seamless-only diet. Yet, in lieu of that kind of world-ending change, we can certainly think about the way "Louie" has challenged us with this season's clever arcs, the way that "Orange Is The New Black" has forced us to look past parts in favor of the whole. Any show worthy of discourse deserves pause to think about its greater impact. Waiting to consider entire seasons seems extreme, but at the very least, next time our buttons get pushed, we can try to avoid descending into reactionary rage spirals.
Popular in the Community