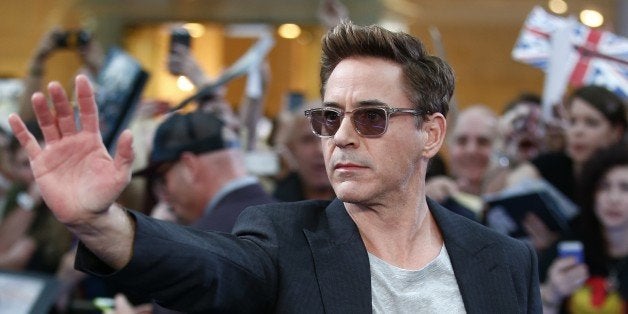 Downey has since gone on a sort of press tour, talking about the experience -- posting a picture with Diane Sawyer (captioned "a corrective experience with legitimate journalism") and telling Howard Stern he wishes he'd "left sooner."
This is not a plea to feel bad for Downey. There are a lot of people we can spend time feeling bad for and someone who has amassed a net worth of approximately $170 million dollars -- largely by dressing up in a red suit -- is not one of them. What's worth investigating is the underpinnings of celebrity culture which make it seem like we have a right to answers for these questions about actors' pasts.
Robery Downey Jr. is not a politician. He's not going to run anything besides the fictional Stark Industries. Yes, an interview pegged to a movie's release should be more than just a commercial for the movie. It's valid to ask about themes the film promotes, probe ways in which they might affect an audience (an area where Guru-Murthy perhaps wrongfully experienced pushback from Quentin Tarantino) or to inquire about the state of the female superhero and women in film in general. But there's really no need to dig deep into personal things that happened roughly seven years ago.
Rather troubling about this trend is the "why" behind the push for information about celebrities. What do we do when we drag the skeletons out of their walk-in closets? There are plenty of prominent men (and, yes, let's be real, it's mostly men) in Hollywood who have been accused of things that should interfere with the ability to maintain status as a public figure. The continued willingness to support these figures reveals that the effort to investigate actors' past is not anything so valorous as ensuring we've selected the correct individuals to idolize. It's all as base as tabloid gossip.
Downey's past was harmful to him and him alone. This bloodlust for information is not rooted in a desire to uncover role models in Hollywood. It's a darker impulse to tar and feather, more mob mentality than anything remotely resembling a sense of ethics. Guru-Murthy is not totally to blame either. Really, he's just an extension of a strange obsession with tearing apart celebrity. And, in spite of his attempts to defend his efforts, that's not journalism. That's bullshit.
Middlebrow is a recap of the week in entertainment, celebrity and television news that provides a comprehensive look at the state of pop culture. From the rock bottom to highfalutin, Middlebrow is your accessible guidebook to the world of entertainment. Sign up to receive it in your inbox here.
Calling all HuffPost superfans!
Sign up for membership to become a founding member and help shape HuffPost's next chapter
BEFORE YOU GO
PHOTO GALLERY
Robert Downey Jr.