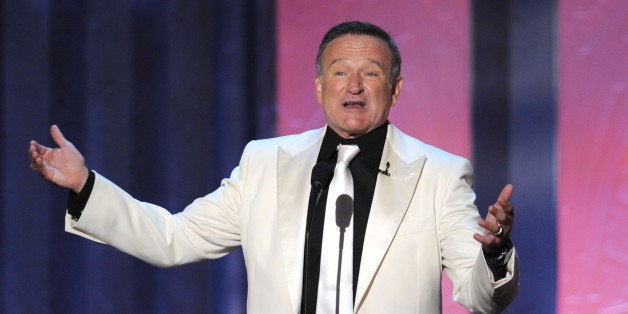 Middlebrow is a recap of the week in entertainment, celebrity and television news that provides a comprehensive look at the state of pop culture. From the rock bottom to highfalutin, Middlebrow is your accessible guidebook to the world of entertainment. Sign up to receive it in your inbox here.

When we talk about cultural nostalgia -- something we probably do too much -- we're talking about the art we interacted with during our formative years. There are particular moments and movies or television shows that shape us almost as much as real life did. With Robin Williams, those moments feel limitless.
Love of Williams, of course, extends further. The generation before the current millennials has close ties to Williams' Mork or his stunning turn as radio disc jockey Adrian Cronauer in "Good Morning, Vietnam" -- both roles that 20-somethings can't connect to in the same way. As Slate's Forrest Wickman put it, "whole generations will remember him differently." There's something less tangible than a certain line on Williams' IMDb page that which makes this feel like such an incredible loss. That this is an equally devastating blow to Gen X as it is to millennials is a fact of Williams' inescapability.
Think about any film that's special to you. Maybe it has excellent cinematography or a story that really hits home. Likely, though, it fits in a realm that brings you back to a certain time in your life. It's a piece of work that has become wholly conflated with everything that was happening for you before your timeline became more flat. That's the real power of nostalgia. It's not just the collective experience of sharing in something funny or great, but the personal pull back to an otherwise closed off portion of the person you've since become. In more ways than one (and through far more movies than one), Williams was and will continue to be the pinnacle of the nostalgia, which has brought us immeasurable joy.
REAL LIFE. REAL NEWS. REAL VOICES.
Help us tell more of the stories that matter from voices that too often remain unheard.
BEFORE YOU GO
PHOTO GALLERY
Robin Williams' Most Memorable Movies