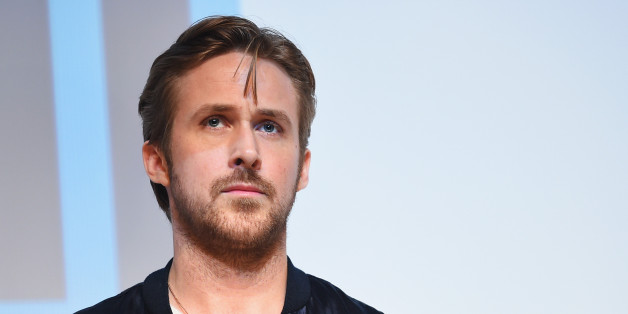 ♪ ♫ ♪ ♫ Note: Please listen to the "Drive" soundtrack, specifically Kavinsky's "Nightcall," in order to feel appropriately edgy and brooding while you read. ♫ ♪ ♫ ♪
Ryan Gosling's public image is like a YouTube mashup of Noah and Allie -- fueled by obsessive fandom, based on a role he played 10 years ago and occasionally set to a smooth jazz rendering of "My Heart Will Go On." Indeed, it's been a over decade since Gosling was willing to be a bird for Rachel McAdams. And his choices since, from "Blue Valentine" to "Drive," have been tailored to distinguish him from the traditional dreamy male lead.
Now, he's (temporarily) "quit acting," and wrote and directed a dark anti-misogynistic fairy tale, "Lost River," but his filmmaking efforts are still relatively invisible compared to this idea of him as "that guy from 'The Notebook'" (and Tumblrs likening him to puppies found within the first page of his Google search results). Let's face it: Ryan Gosling was never the movie star we made him out to be.
It's strange, the way we latch on to a single idea of a celebrity and refuse to negotiate with their attempts to differentiate themselves from that image.
In 2009, Gosling paused his acting career to bring us rock duo Dead Man's Bones, more commonly known as his attempt to skewer the very concept of the leading man, complete with eerie child choruses and a performance in a puppet theater. By 2010, Gosling was leading the tragic "Blue Valentine" and (pseudo-) Robert Durst biopic "All Good Things" (with his only real misstep marked by "Crazy Stupid Love"). For the former, he and co-star Michelle Williams spent the time between their courtship and breakup scenes modeling the life they might have lived in a Pennsylvania house with their movie daughter. Although, that methodological effort is apparently less exciting than the fact that Gosling actually built the kitchen table Noah makes for Allie in "The Notebook" (and then dated McAdams in real life for four years).
Gosling's entire ethos is built on an idea of what might have been.
"He's a meta movie star, doing serious work behind a leading-man mask," Alex Pappademas wrote for The New York Times around the release of "The Ides of March" and "Drive." Pappadamas compared Gosling to Clooney, an actor who built a perception of leading-man qualities, then pursued roles out of the mainstream, unaffected by their potential to flop. Yet, Gosling never built the sort of legacy Clooney is supposedly resting on. For a while, he was famous because he seemed like he might be our next Clooney or Cruise. But we have yet to procure that next-generation leading man. Gosling's entire ethos is built on an idea of what might have been.
Some of the reviews of the twisted, experimental "Lost River" recoil at the fact that such non-traditional thoughts could live inside Gosling's handsome head: "Is Ryan Gosling's Lost River Crazy Brilliant or Just Plain Crazy?" Richard Corliss headlined his review for Time. Well, it isn't profitable: so far, "Lost River" has grossed $38,964.
Gosling does things like interact with the "Hey, Girl" meme, seemingly in an attempt to dismantle his persona. Yet, unlike James Franco, whose efforts build upon the mythos, Gosling's attempts to refute his publicized identity seem to hit an impenetrable Noah Calhoun forcefield. At this point, he's not rallying against "The Notebook," but trying to build a new career in its looming shadow. With each feminist quote shared on a hunky Gosling photo, that 10-year-old perception of him grows ever stronger. Despite his efforts to pursue creative efforts like "Lost River," "The Notebook" craze isn't over. It still isn't over.
Middlebrow is a recap of the week in entertainment, celebrity and television news that provides a comprehensive look at the state of pop culture. From the rock bottom to highfalutin, Middlebrow is your accessible guidebook to the world of entertainment. Sign up to receive it in your inbox here.
Follow Lauren Duca on Twitter: @laurenduca
REAL LIFE. REAL NEWS. REAL VOICES.
Help us tell more of the stories that matter from voices that too often remain unheard.
BEFORE YOU GO
PHOTO GALLERY
Ryan Gosling dans tous ses états