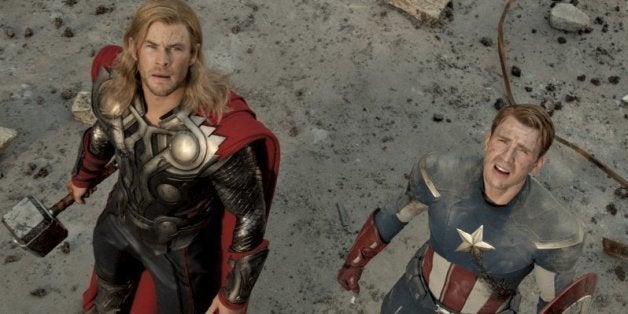 Middlebrow is a recap of the week in entertainment, celebrity and television news that provides a comprehensive look at the state of pop culture. From the rock bottom to highfalutin, Middlebrow is your accessible guidebook to the world of entertainment. Sign up to receive it in your inbox here.

The progressive importance of Black Panther is right there in the name, and attaching Chadwick Boseman is a power move on Marvel's part. Captain Marvel, while a bit less well known to those of us who have never attended Comic-Con, is also a significant choice. Over the years, the name has represented a variety of heroes, though since 2012 it has come to be associated most closely with Carol Danvers: a woman with the powers of super strength, flight and feminism. Captain Marvel was written by Kelly Sue DeConnick, and most certainly won't be a "fighting f--k toy" in the way of the term coined by Professor Caroline Heldman in "Miss Representation."
Yes, these are big wins from a liberal nerd's perspective -- black and female superheroes running the show and not just supporting the white main dude (or dudes, as in "Batman V. Superman"). Although even outside of the superhero genre, black- and female-led non-niche films are a big deal. Consider the fact that only 15 percent of the top films in 2013 had women in the lead. According to SAG, black actors play just 13 percent of all film roles, a number which has actually fallen from 15 percent in the early 2000s. It is important for black and female audiences to see people who look like them in major parts, especially ones that are not stereotypical supporting roles.
This reality is all the more empowering when those visible black and female characters are superheroes. There's obvious power in those representations. Beyond that, they are endowed with a special significance from the way the genre handles otherness. Superheroes are marginalized as a result of being different. Even when revered, they are automatically understood (or, rather, misunderstood) as outsiders. This is an automatic facet of the genre, most clearly seen through the civil rights metaphor of X-Men (the most interesting reading being that Magneto's strategy for the mutants handling of humans is representative of Malcolm X, whereas Professor X is Martin Luther King Jr.).
It's easy for that to get lost in all the things crashing into other things, but there's beauty in the way all superheroes who spend time on Earth must come to not only accept but embrace the (literal) power of their otherness. The lack of black- and female-led films that riddles the film industry is especially troubling in a genre that is actually about being different. As tough as this cruel world might be on straight white males, it's about time we saw the struggle of marginalization overcome by those who know the meaning of otherness even without superpowers.
REAL LIFE. REAL NEWS. REAL VOICES.
Help us tell more of the stories that matter from voices that too often remain unheard.
BEFORE YOU GO
PHOTO GALLERY
'The Avengers': Character Rankings