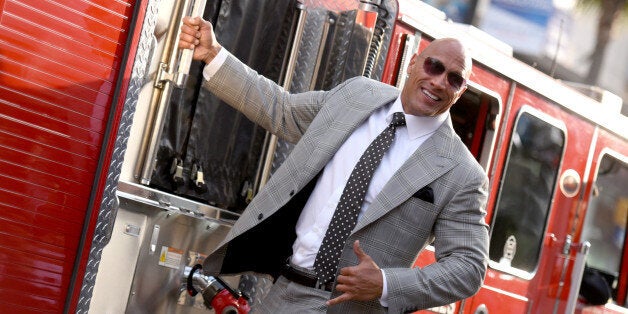 To really look at the rise of The Rock, we need to go back to the days when he was Dewey Johnson, a newly signed University of Miami Football player, raising his eyebrow at the camera (and probably thinking: "Just wait until I am Hollywood's biggest star approximately 25 years from now!") He branded it as "The People's Eyebrow" once he moved on to WWE, but we're getting ahead of ourselves. Before his football career ended with ruptured disks and he moved onto wrestling, the man who would become our Rock always knew how to command an audience.
It wasn't until 1996 that Johnson made his WWE debut. Then he was known as Rocky Maivia and, as he had put it, those early days were an "epic failure." What he needed to find his success was a rebranding.
Then came "The Mummy Returns." His time onscreen as The Scorpion King back in 2001 laid the groundwork for his ascent to the Blockbuster King he has become a decade and a half later. It was clear then that he had the kind of magnetism we require of our movie stars, that charisma you can't make up or learn. And instead of trying to move into a new Serious Actor space with that role, he was doing it in tandem with the job that awarded him fame in the first place, embracing his presence as an oily body in belted underwear rather than dispelling it.
At some point, between "The Other Guys" and "Fast & Furious 6," The Rock's aggressively simplistic readings gave way to an onscreen presence that is (likely unintentionally) a commentary on itself. In the age of the disposable action hero, The Rock is a breath of unserious fresh air. It's as if by being onscreen, he's poking a constant elbow at the genre most accurately identified as Bigger & Better Action Crap. He's evolved into the perfect combination of intensity and absurdity, making us feel like we're in on the joke. His gift to us is just enough self-awareness to genuinely enjoy films with less intellectual value than a box of Yodels.
Middlebrow is a recap of the week in entertainment, celebrity and television news that provides a comprehensive look at the state of pop culture. From the rock bottom to highfalutin, Middlebrow is your accessible guidebook to the world of entertainment. Sign up to receive it in your inbox here.
Correction: A previous version of this piece identified "Furious 7" as the highest grossing film of all time," which, LOL, is only slightly less absurd than the fact that it is the third highest grossing film of all time.
Popular in the Community