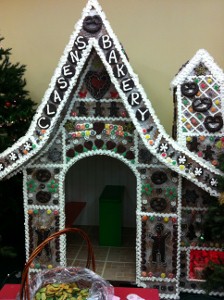 Whenever I'm sad or sick I still want my mom. Over the years I've often wondered if this need for mom will dissipate as I grow older. Yet it hasn't, and I'm convinced that on some level we all go on wanting our mothers in times of need for our entire lives, no matter how far away we live and no matter how different we are. In search of a change in my life, my dog Yoda and I embarked on our road trip over 2 months ago. The road has brought me tears, lessons, exciting new experiences, new friends, adventures I never imagined possible, and, just in time for Thanksgiving, it brought me Mom.
Although my parents moved to Pardeeville, Wisconsin a few years ago, I will forever consider Middleton, Wisconsin home. This is why my visit to Wisconsin included time in Middleton. Middleton is known as The Good Neighbor City. It's a fitting tagline for this city. The people in Middleton are friendly, solid, salt of the earth people. Middleton was ranked the #4 best place to live in 2009 CNN's Money Magazine, and the #1 best place to live in 2007. When I moved there in the 3rd grade, we were one of the first houses in our development. In fact, my sisters and I would play in the surrounding cornfields and collect Indian arrowheads. Now those cornfields are long gone and have been replaced by a sprawling housing development. Although it makes me a bit nostalgic to think how small the city once was, I must admit feeling a bit of pride that my hometown, Middleton, is the fastest growing area in the Madison metropolitan area and has one of the Midwest's strongest job markets.
Middleton offers shopping, an award winning community trail system, concerts, historic buildings, outstanding schools, the Pheasant Branch Conservancy, the national headquarters of American Girl and a 3-day festival each August appropriately named The Good Neighbor Festival. However, like every visit home to my mom, my visit to Middleton revolved around food.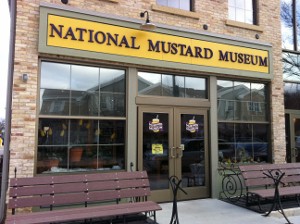 For me, it's always been mustard over ketchup, so I was thrilled to learn that Middleton is now home to The National Mustard Museum. The museum holds the world's largest collection of mustards and mustard memorabilia. The permanent collection has more than 5,600 different mustards from over 60 countries...who knew mustard was so global? I received a tour of the museum from the hysterical and wildly creative curator and CMO (chief mustard officer), Barry Levenson.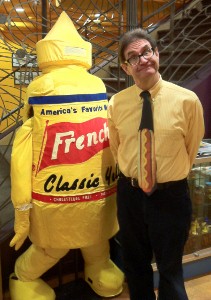 Levenson has authored children's books about mustard, founded his humorous mustard college named Poupon U, created the museum's MustardPiece Theatre and produced an interactive Food Whiz game (I performed miserably, even on the "easy" setting). Stop in the gift shop's tasting bar, and you can sample mustards with names such as Singing Pig Wine Garlic Mustard, That's-a-Nice Sicilian Olive Mustard and Saucy Mama Backyard Brat Mustard. My personal favorite has always been the Sprecher Root Beer Mustard which always sends me back to the days when Mom would make me root beer floats.
After having my fill of mustard, I continued on to Clasen's European Bakery. Clasen's, located in the heart of Middleton, was founded by a German family over 50 years ago. I was greeted by a huge 10-foot tall real gingerbread house that looked so fresh and mouth-watering that I was tempted to break off a piece to sample when no one was looking (I didn't). Specializing in old world recipes, the bakery offers breads, cakes, pastries, confections, and my all-time favorite: Door County cherry streusel.
Down the street one can also visit the Capital Brewery, which, having been established 25 years ago, is one of the country's oldest lager breweries. In 1991 the brewery was ranked #1 in the United States and #7 in the world in the Beverage Testing Institute's World Beer Championships. The brewery produces 15-19 different German-style lagers each year. In the summer up to 1200 people gather a night to enjoy live music and an outdoor beer garden. The brewery also offers year-round tours on Fridays and Saturdays.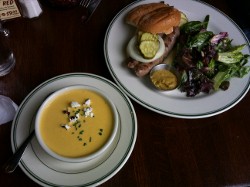 Downtown Madison is only 10 minutes away, so I met my sister's family for lunch at The Old Fashioned, a restaurant serving a Wisconsin-inspired menu and is located on the beautiful Capital square. Madison's Capital is the Nation's only State Capital built on an isthmus, between Lake Mendota and Lake Monona. It was a treat to be seated at a window with a view of probably the most beautiful Capital I've ever seen. In true Wisconsin style, our lunch consisted of Sheboygan's Grand Champion Miesfeld Market double bratwurst, house-made fresh Wisconsin beer battered cheese curds and Wisconsin beer cheese soup garnished with popcorn. I left happy, but with a bit of a belly-ache from the rich food.
In the mood for a true Wisconsin dessert and not able to choose between two of my favorites, I used the excuse of being the world's coolest aunt to insist that we double up on dessert and have both of my favorites on the same day. First, we visited Michael's Frozen Custard.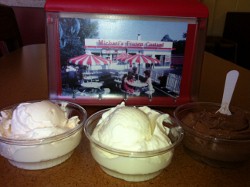 Founded in 1986, it was just voted #1 ice-cream/custard in Madison by Madison Magazine. Frozen custard differs from ice cream in that it contains egg yolks in addition to cream and sugar. Frozen custard has a dense and creamy texture which is so rich that it's almost like eating frozen butter cream frosting. I heard someone say once that "frozen custard is where God gets his ice-cream." Seriously folks, it's that good.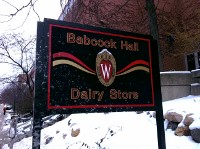 We finished our day of eating with a Wisconsin hallmark: the University of Wisconsin's Babcock Hall ice cream. The University has been making and selling its highly acclaimed gourmet ice cream for over 90 years. We visited the campus Babcock Hall Dairy Plant for our scoops, but it can also be found at the Memorial Union on Lake Mendota. My personal favorites are Chocolate Peanut Butter and their patented Orange Custard Chocolate Chip.
When I left Wisconsin to continue on my road trip, I had to laugh at how I ate my way through my visit. After two weeks home, I swear my pants fit a bit more snug. That's okay, because both the delicious Wisconsin cuisine and the hugs from my mom were food for this weary traveler's soul.