The much anticipated May jobs numbers were underwhelming but better than lowered expectations. All eyes are on the Fed and its likely response to the economic conditions. Will the Fed continue extraordinary monetary policy support? The counter balance remains that the Federal government will continue to withdraw support by policy and as a result of sequestration. The already belabored economy is caught in the crossfire of the same ideological debate that has derailed our political process. Is the government the solution or the problem? History and economics tell us the likely answer, none of the above. Our politics scream, one of the above. Over 300 million of us are left to suffer lackluster performance while we wait out an exaggerated ideological debate heavy on grandstanding and light on policy acumen.
Headline unemployment (U3) is now 7.6 percent, up from 7.5 percent in April. The broad measure of unemployment (U6) including discouraged workers and involuntary part time employees, sits at 13.8 percent, down form 13.9 percent in April 2013. Wage increases continue to be non-existent and this continues to be the buried lead story of the U.S. economy.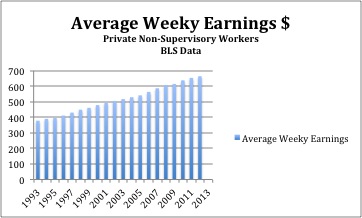 In May 2013 nonfarm payrolls increased by a net 175,000 jobs or 6,000 more jobs than a consensus estimate of 169,000. Labor force participation rates, the portion of the potential labor force that is actively employed or looking for work, remains very low at 63.5. Over 37 percent of the unemployed have been out of work for more than 27 weeks. The average non-supervisory workweek remains short at 33.8 hours. This data serves as a reminder of the millions who are involuntarily part-time and the continued weakness in labor markets. The rebounds we have seen in autos and housing will eventually require these multi-year trends to reverse. Ultimately, either the macro economy will have to gap upward or the recent run-up in asset prices will reverse.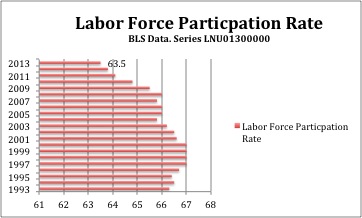 The other notable data release this week has been under discussed and is worthy of serious consideration. On 05 June we got first quarter 2013 productivity reporting from the BLS. Hourly compensation was historically weak in 1Q2013, the lowest report in over 60 years of data. We continue to see, in the jobs and productivity reports, that labor markets, wages and benefits are week. This contributes to a majority sense of the economy as underperforming and raises serious questions about consumer and housing market rebound sustainability.
Unit labor costs in nonfarm businesses fell 4.3 percent in the first quarter of 2013, the combined effect of a 3.8 percent decrease in hourly compensation and the 0.5 percent increase in productivity. The decline in hourly compensation is the largest in the series, which begins in 1947. However, over the last four quarters hourly compensation increased 2.0 percent and unit labor costs rose 1.1 percent. Productivity and Costs First Quarter 2013 BLS 05 June 2013
Related
Popular in the Community