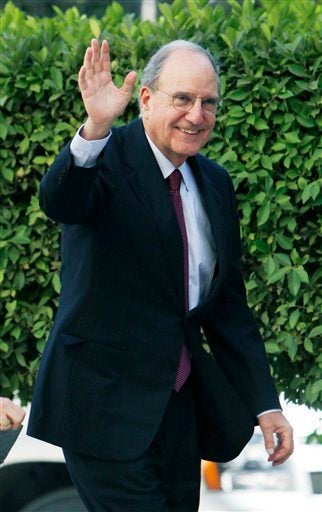 WASHINGTON -- The only surprising thing about the resignation of George Mitchell as President Barack Obama's special Mideast envoy is that it took so long.
Veteran observers of the Israeli-Palestinian conflict said Mitchell has been all but invisible recently, as the Arab Spring uprisings and the establishment of a Palestinian unity government that includes Hamas overtook prospects for renewed peace talks. While Mitchell said he was stepping down for personal reasons, it appeared that the former Democratic senator from Maine and legendary negotiator who helped bring peace to Northern Ireland may have met his match in the Middle East.
"He hit a brick wall," said Daniel Levy, a veteran Israeli peace negotiator who is now at the New America Foundation. "Or maybe he thought he was tilting at windmills."
"He quit because he failed and he failed because he received a mission impossible from President Obama," wrote Shlomo Avineri, a political scientist at Hebrew University in Jerusalem, in an email to The Huffington Post.
"He seems to have checked out as much as a year before actually resigning," said Nathan Brown, an Arab politics expert at George Washington University, in a note to HuffPost. "Mitchell's appointment was a signal of a high level commitment on the part of the new administration, but his mission never found any traction."
In announcing Mitchell's resignation in a statement, Obama called him "a tireless advocate for peace" whose "deep commitment to resolving conflict and advancing democracy has contributed immeasurably to the goal of two states living side by side in peace and security."
The president said Mitchell, 77, had always intended to "put in a couple of years, and I'm so glad he did." He added, "[w]e remain committed to peace in the Middle East and to building on George's hard work and progress toward achieving this goal."
Neither Obama nor Secretary of State Hillary Clinton in her written statement mentioned any concrete achievements by Mitchell other than, as she put it, "his commitment to pursue a comprehensive peace in the Middle East."
Maen Rashid Areikat, the Palestinian envoy in Washington, offered kind words for Mitchell.
"He was a man of integrity. He always tried to be even-handed. He listened to all the parties," he said. "But we are also realists. We know maybe he wanted to achieve and do more than what was achieved. … He might have thought things would have moved faster."
Areikat added that he hopes the administration will "not waver in its efforts" to bring about an agreement between the two sides.
Mitchell's deputy, David Hale, will serve as acting Mideast envoy. There was no mention when -- or if -- a permanent replacement would be named.
Mitchell's departure comes before a critical week, during which the administration will be heavily focused on the Middle East. His last day is May 20, the same that Israeli Prime Minister Benjamin Netanyahu is due to meet at the White House with the president.
Obama is set to speak at the State Department next Thursday about developments across the region as the Arab Spring uprisings mature into an uncertain summer. The speech will be bookended by a visit on Tuesday to the White House by Jordan's King Abdullah and on Friday by Netanyahu.
Both the American and Israeli leaders had hoped to unveil new proposals to help thaw a peace process now in the deep freeze. Now, few anticipate either will have much to show.
Obama is expected to focus on the peaceful movement for democracy across the region, that the administration argues has made al Qaeda as irrelevant as its now dead leader, Osama bin Laden.
Netanyahu will address a joint session of Congress, but he is unlikely to offer concessions on West Bank settlements or other core issues: The Fatah-Hamas deal has dampened Israeli enthusiasm to jump-start the peace process, as has President Mahmoud Abbas' intention to appeal to the United Nations General Assembly in September to unilaterally recognize a state of Palestine.
Mitchell's decision to leave now "tells us there is a recognition that there is precious little prospect of getting a negotiated effort relaunched because Mitchell is the guy -- if you've get a negotiation going -- that you want. He's probably the guy you want in the room," Levy said.
As Levy wrote in Foreign Policy: "Sen. Mitchell was prone to remind audiences that in his last stint as a peace envoy, working on Northern Ireland, he had '700 days of failure and one day of success.' Resignation day marked Sen. Mitchell's 842nd day on the Middle East peace beat, but this time around there were no 'days of success.'"
Aaron David Miller, a former Middle East peace negotiator, said Mitchell should not be blamed for failing to break the stalemate. He said 80 percent of the blame rests with the "inability and unwillingness" of Netanyahu and Abbas to bridge the gaps on the key issues of settlements, refugees, borders and Jerusalem. The other 20 percent, he said, rests with the Obama administration "that decided to come out louder, harder and faster than almost any of its predecessors before understanding what the situation was -- what it would take to get negotiations going."
Miller said Mitchell was "bureaucratically handicapped" by the White House and especially Clinton, who he said either didn't or wasn't allowed to be more hands-on in bringing the parties together. "I worked for six secretaries of state. Nobody subcontracted out this issue," he said.
Haim Malka, deputy director of the Middle East program at the Center for Strategic and International Studies, said Mitchell "faced a monumental task because the Israeli-Palestinian conflict has essentially become a political problem rather than a diplomatic problem."
Levy agreed that the White House must change its approach to the issue.
"This is a heavy lifting exercise, and it's not politically cost-free," he said. "If they are not willing to pay the political cost of trying to resolve it –- which means not always being Israel's lawyer -- then maybe they need to let others in to play a greater role."
Mitchell was no stranger to the Middle East. In late 2000, he was picked to head a fact-finding mission on the Palestinian intifada. The Mitchell report, released 10 years ago last month, called for an end to violence, a freeze on Israeli settlements and a return to negotiations. The same issues are still being discussed today.
Related
Popular in the Community