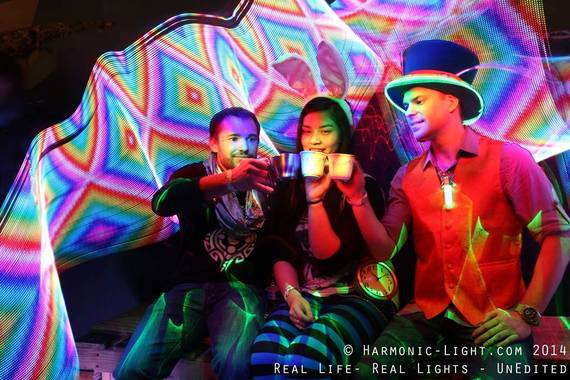 On Saturday, December 20th, Hold:Space presented a Midnight Tea Party with musical acts Pumpkin, Tara Brooks, Cameron St. Denis, LampShady, Leorosa, Coyoti and many more. As this event was Alice in Wonderland themed, there were Queens of Hearts, white rabbits, tweedle dees and dums, and Mad Hatters roaming the premises. And what would a mad tea party be without tea? Just a mad party. If you brought your own cup, the tea was free and you received $5 off of admission.
Deep in the heart of the City of Angels, I traversed through concrete canyons to reach the mouth of the Rabbit Hole which swallowed me into a belly full of adventures. This underground musical gathering was populated by several familiar faces of the music festival and Burning Man community. Drenched in a smattering of lights, art, colors, textiles, crystals and scents, this event possessed all the charm of a warehouse party with the organization of a music festival.
In typical festival fashion, there was no shortage of aerial acrobatics, LED hula hoops, and fire dancers. Vivacious vendors were peppered throughout this Wonderland, showcasing their handmade and handpicked items. Mostly Minerals, a traveling LA-based rock shop, displayed a rainbow of rare and eye-catching gemstones that sparkled from across the room. There were jewelry crafters, fabric wizards, and oil shamans, sharing their knowledge and gifts with all who inquired and even with those who didn't.
Midnight Tea Party was a perfect display of the nuances of electronic dance music. The artists performing for this event were carefully curated creating a rippling soundscape that was always flowing and never stagnant. DJ and producer, Nicholas "Pumpkin" Alvarado, is like electricity charging the pulse of the entire dancefloor. His song choices are always on point and speak of his vast and eclectic musical knowledge. Mixing funky beats, heavy bass and soulful sounds, it is no wonder why Pumpkin has such a large and loyal fan base. On a different side of the sound spectrum, Tara Brooks' finds her groove in techno and deep house, where she feeds our feet with beats. Between her haunting and ethereal melodies and hard-hitting drops, Tara is a Techno-color dream come true.
Unlike most standard venues, the DJ is not on an elevated stage, but rather ground level. From the dancefloor, you cannot tell where the crowd ends and DJ begins. This eye-level performance is a reinforcement of community. We are all one and respect each other as such. Because of this, there is plenty of stage space for acrobats and performers. The angelic Madison Orange, hooptress extraordinaire, was dazzling as per usual. Two lyra (a suspended hula hoop) dancers dressed as Tweedle Dee and Tweedle Dum spun through the air effortlessly. Fire spinners, emblazoned and eccentric, heated up our atmospheres. Reid Godshaw of Harmonic Light, was bringing out our inner rainbows with his unique style of long-exposure photography. To be captured by Reid is an honor as he doesn't just photograph our faces, he photographs our souls.
This hidden gem truly transcends the Los Angeles party scene, as it is a place of creative expression, freedom, and most of all, community. It is jam-packed with open-minded, forward-thinking individuals who party with a purpose. I, me, my is transformed into us, we, ours. A community who dances together, stays together.

Calling all HuffPost superfans!
Sign up for membership to become a founding member and help shape HuffPost's next chapter