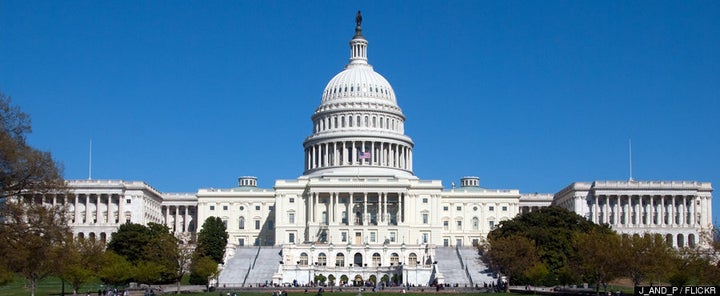 While the evidence rests mostly on new automated polls in two states, Republican hopes of gaining control of the U.S. Senate brightened yesterday with results pointing to tougher than expected battles shaping up for the Democrats in Wisconsin and West Virginia. The new polls move Wisconsin to our "lean Republican" category and add West Virginia to a list of toss-ups that also includes Illinois, Nevada and California. Republicans can win control of the Senate by sweeping all four.
Within a few hours of my update yesterday, which highlighted a new Rasmussen survey in West Virginia showing Democrat Joe Manchin leading Republican John Raese by seven percentage points (50% to 43%), Public Policy Polling (PPP) released another automated survey there showing the Democrat trailing by 3 (43% to 46%). Whether you prefer our trend estimate or a simple average of the two surveys, the bottom line is the same: On the basis of these two recent polls, the race merits "toss-up" status.
In Wisconsin, a new PPP survey paints a picture that even the survey sponsor Daily Kos characterized as "uber-ugly" for the Democrats. It shows Democratic Senator Russ Feingold trailing Republican Ron Johnson by eleven points (52% to 41%), a slightly larger margin than measured by a Rasmussen automated survey a week ago (51% to 44%). Our trend estimate splits the difference these two results, the only two public polls released in Wisconsin so far in September, pushing the state into our "lean Republican" classification.
Democrats pushed back yesterday, sharing with TPM results on an internal poll conducted before last week's primary showing "Feingold ahead, by 48%-41% among all voters and 47%-43% among those definite to vote."
Incidentally, one reader took me to task last week, appropriately, for not noting PPP's status as a firm that polls for local Democrat candidates (though they have not disclosed doing work for candidates for U.S. Senate and Governor). That said, their results in West Virginia and Wisconsin tend to counter the notion that the Democratic firm produces results biased toward the Democrats.
A batch of new automated surveys released yesterday by Rasmussen Reports and their subsidiary Pulse Opinion Research (for Fox News) generally confirm other polling in the Senate races in California, Ohio, Pennsylvania, Nevada and New York.
The new Fox/Pulse survey in Nevada has Republican Sharon Angle up by a single, non-significant percentage point (46% to 45%), generally confirming what other recent polls suggest is a slight tightening in the race. Our standard trend estimate, which gives greater weight to the surveys conducted earlier in the month, shows Reid leading by a single percentage point (46.3% to 45.3%). Our more sensitive estimate (shown below), which gives greater weight to the most recent surveys, has it dead even (44.9% to 44.9%).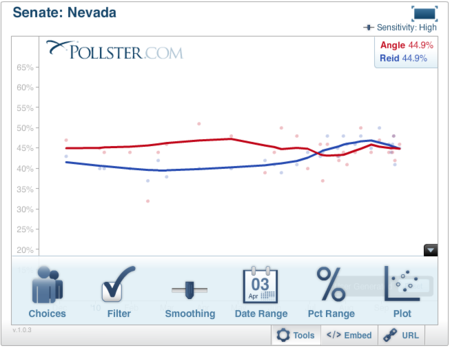 In Alaska, Rasmussen was first out of the box with a poll testing a three-way race with incumbent Senator Lisa Murkowski running as a write-in candidate. They show Republican nominee Joe Miller with 42%, Murkowski with 27% and Democrat Scott McAdams with 25% of likely voters. While the Rasmussen release did not include the specific language of their vote preference question, they did provide this curious description:
Polling for write-in campaigns is always challenging, so results should be interpreted with caution. For this survey, Rasmussen Reports asked respondents about a choice between Miller and McAdams without mentioning Murkowski. That is the choice voters will see when they enter the voting booth. However, when response options were offered to survey respondents, Murkowski's name was mentioned.
They only provided results for a three-way contest, so this reference must be to the structure of their question. Presumably, they first mentioned that Miller and McAdams were the names on the ballot, then offered Miller, McAdams and Murkowski as choices. For more on how pollsters will measure vote preference in Alaska, see my Monday update.
California's race for Governor provided yesterday's ray of hope for Democrats, where a new PPP poll showed Democrat Jerry Brown leading Republican Meg Whitman by five points (47% to 42%) while a new Fox/Pulse survey has the race dead even (at 45% for each). Those results are a slight improvement over five other surveys conducted in late August and early September by Rasmussen, Pulse, SurveyUSA and CNN/Time.
Our standard trend estimate, which gives greater weight to the earlier surveys, shows Whitman leading by just under three points (47.1% to 44.2%). Our more sensitive estimate, which gives greater weight to this week's polls puts Whitman ahead by slightly less than two (47.0% to 45.1%). Either way, the polling puts the California Governor's race in our toss-up category.
And this just in: Quinnipiac University released two new polls early this morning, including a eyebrow raising result in the New York Governor's race where they show Democrat Andrew Cuomo leading Republican Carl Paladino by just six percentage points (49% to 43%). Previous surveys conducted over the summer had shown Cuomo leading Paladino by 30 or more percentage points.
Popular in the Community