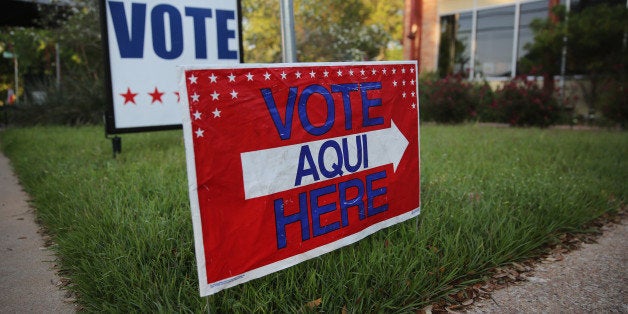 The Democrats just took their midterm examination, and they failed miserably. Confronting an electoral map in which they had to defend several Senate seats in red states, Democrats rolled out a timid midterm strategy built around avoiding white voter backlash, rather than mobilizing the base of Latino, African American, and young voters that had propelled them to victory in 2008 and 2012. At the center of this ill-conceived strategy was the president's decision to delay executive action to provide relief to millions of immigrants facing deportation -- despite polling showing that such action would have galvanized Hispanic voters.

The end result? The Democrats seriously damaged their brand with Latinos, a constituency that has been pivotal to their recent electoral successes -- and still managed to lose the Senate and nearly every major battleground election across the country.

The Democrats' misguided midterm strategy was designed in large part to help incumbents facing tough re-election bids in conservative Southern states, such as Sens. Kay Hagan, Mary Landrieu, and Mark Pryor. These three made a vocal and blatantly political appeal to the president to refrain from taking administrative action on immigration. They even went so far as to sign on to a Republican-led Senate measure aimed at blocking the president from using his executive authority to provide deportation relief -- a deeply personal slap in the face to Latino voters, a majority of whom know someone who is undocumented.

Having pulled the rug out from under the Hispanic community on executive action, Democrats did a moribund job of mobilizing Latino voters. According to an election eve poll, less than a quarter of Latinos who voted in the midterms say they were contacted by Democrats this election cycle.

Even Democratic candidates with a strong record on Latino issues failed to engage Hispanic voters. Colorado Senator Mark Udall, a vocal opponent of the president's decision to delay action on immigration, made little effort to trumpet his support for immigration reform, campaigning almost exclusively on reproductive rights issues. Less than half (46 percent) of Latino voters in Colorado -- who make up 15 percent of the electorate -- were aware that Senator Udall supported comprehensive immigration reform. In an election year in which immigration was hands down the top priority for Latino voters, that is an astonishing failure to communicate.

The Democrats' deliberate strategy of sidestepping Latino voters cost them dearly. Almost all of the Democrats who were supposed to benefit from the delay in executive action lost -- including Hagan, who won just 63 percent of the Latino vote in North Carolina, nine points less than Obama in 2012. According to the election eve poll, less than half of Latinos who voted this year -- and just one-third of registered Latinos who sat out -- think the Democratic Party truly cares about the Hispanic community.

The lessons of the election for the Democrats are clear: do not take the Hispanic community for granted. Lean in and embrace, rather than avoid, Hispanic priorities. To win, Democrats must focus on expanding the electorate, not worry about backlash from Republican base voters. And that means mobilizing Latino voters and championing their issues.

If they don't, Republicans can continue to win by attrition -- or by making their own inroads with Latinos. Consider Governor Brian Sandoval in Nevada, who more than tripled his share of the Latino vote in 2014 after supporting a driver's license bill for undocumented immigrants and Medicaid expansion -- two key Hispanic priorities. While he undoubtedly benefited from the lack of a strong challenger, Sandoval gained Latino votes by embracing issues they care about.

The 2016 elections are around the corner. If Democrats desire to retake the Senate in an election year that will include races in several states with large Hispanic populations, including Arizona, California, Colorado, Florida, Illinois, and Nevada, they must regain the confidence of Latino voters. Recruiting candidates with a strong record of support for Hispanic issues will be critical.

But the first big test for the party is right before them. The president must act boldly and swiftly to fulfill his promise of bringing relief to the millions facing family separation -- and Democrats in Congress must support him. Executive action on immigration is good policy, but as the 2014 elections made painfully clear to Democrats, it is also good politics. For in 2016, the road to the Presidency will once again run through Latino neighborhoods.
-Loren McArthur, NCLR Action Fund Contributor
Coming Soon: Midterm Lessons for Republicans.
Popular in the Community