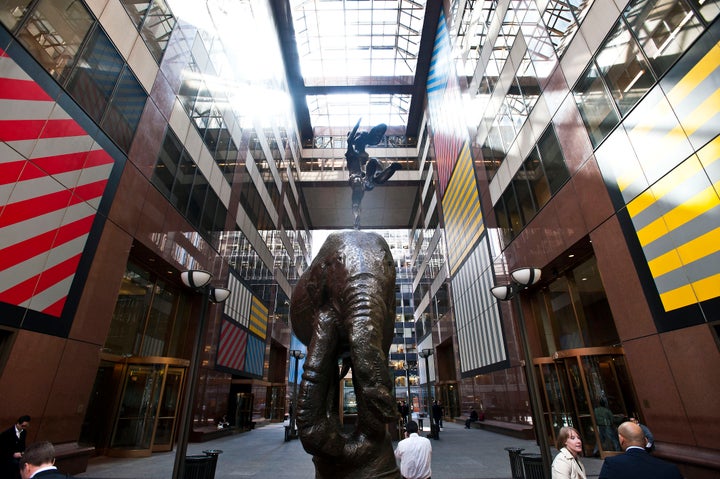 Tourists dawdle along the sidewalks, office workers try to brush by and cars crawl through the streets. Sometimes it seems like Midtown Manhattan has no place to breathe. But what if a magic corridor were to open up?
Well, it already has. A hidden path of sorts snakes between the towers from West 57th Street to West 51st Street, midway between Sixth and Seventh Avenues. It exists because a 1961 zoning resolution let private developers build even higher if they contributed plazas and parks for public use. And for these six blocks, city planners managed to align six privately owned public arcades and plazas.
The resulting corridor lies under the radar for most passersby. Signage is muted, and anyone trying to walk the whole route must cross the six streets that intersect it.
But now New York City is proposing a dramatic intervention for those interrupting streets: raised crosswalks. The street would be somewhat elevated for motorists but not for pedestrians, according to Seth Solomonow, a spokesman for New York City Transportation Commissioner Janette Sadik-Khan. Raj Mann, who chairs Manhattan Community Board 5's transportation committee, said the slightly raised crosswalks would serve as cues for pedestrians looking to cross the street. Plus, their height would serve to "calm" traffic, he said. Stop signs would signal to drivers to slow down.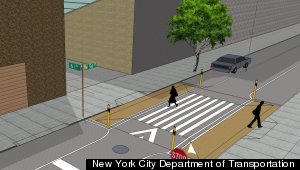 An illustration of a raised crosswalk
The idea bubbled up from the community. Advocacy group Friends of Privately Owned Public Space conferred with the West 54th-55th Street Block Association before making a presentation to Community Board 5 last year. By May 2011, the community board's transportation committee had asked the city to study ways to improve "the visibility and safe utilization of these urban plazas" by "identifying them with clear but unobtrusive pedestrian-oriented signage" and "creating controlled and clearly-marked pedestrian crossings."
To the surprise of these community players, by last week the city's Department of Transportation had not only studied the idea but also worked up its own proposal.
"Across the city we're making changes to enhance the valuable public pedestrian space we already have," Sadik-Khan said in a statement last week. "A lot of people don't know that these places exist, hidden within buildings. In particular this is a kind of a secret pedestrian avenue that's like 6th-and-a-half-Avenue for pedestrians, and this would really energize these places with foot traffic."
On March 26, Community Board 5's transportation committee gave a tentative thumbs up to the city's plan, recommending that the full board consider the proposal on April 12. If the plan goes forward, city officials must report back in a few months so adjustments can be made. There's "a lot of enthusiasm," said Mann, who personally favors the project, while allowing that there are "still some concerns about the impact on traffic circulation."
"In a way, the hard work has been done," said Brian Nesin, founder of Friends of Privately Owned Public Space. "The city created public easements through these six buildings in midtown. The work that [the Department of Transportation] is proposing should be easy and inexpensive," he said. "In a way it seems like a no-brainer."
Cars already stop at the avenues, so the extra stop signs shouldn't present "a major impasse," he said.
"Pending full board approval, this could be implemented in June," Solomonow said.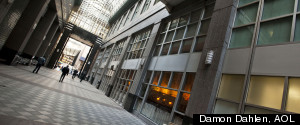 A through-block galleria from 54th Street to 53rd Street
While more than 500 privately owned public spaces in the city exist, urban planner Jerold Kayden wrote in his 2000 book "Publicly Owned Public Space" that this set of six amounts to the city's "longest, most successful mid-block pedestrian network." Now it just might become even easier to visit.
Take your own tour (or view our slideshow below) and be the judge. Aside from stretching your legs, you'll find dining options and perches for brown-bagging it, see art and glimpse the sky.
PHOTO GALLERY
Midtown Mid-Block Crossings
Pedestrian Stroll, West 57th Street to West 51st Street

1. Begin at 142 W. 57th Street, a few doors down from the Russian Tea Room, and enter a corridor called A Public Way of the Metropolitan Tower. The sign on the brick plaza in front declares, "This plaza is open to the public 24 hours and is accessible to the physically handicapped. This plaza design contains 4 trees, 196 lin/feet seating, 6 sidewalk trees on 57th Street, 5 sidewalk trees on 56th Street." Most of the public spaces bear solemn and highly detailed declarations like this.

The passageway through the Metropolitan Tower, a residential and commercial structure of black glass, is open 8 a.m. to 7 p.m. The decor is sparse -- just 160 small TV sets embedded in one black wall. This past Sunday, most of them were tuned to a baseball game, a NASCAR race or MSNBC. Exit at 135 W. 56th Street.

Cross 56th Street.

2. At 156 W. 56th Street, walk through the public access to 55th Street inside the pinkish Cityspire condominium building. The two-story-high space of marble construction has a gray, pink, silver and black color scheme evoking an Art Deco vibe. Framed posters advertise arts events at the New York City Center next door.

Cross 55th Street.

3. Directly across the street, enter the public access from 55th Street to 54th, open 7 a.m. to 11 p.m. The walls are yellow brick; piles of bricks currently left at the site indicate that more construction is planned. Toward 54th Street, three planters of shrubbery echo the sculpted greenery fronting the London Hotel next door. Exit at 151 W. 54th Street.

Cross 54th Street.

4. Enter a cheery multistory glass-topped arcade, the through-block galleria inside 1325 Avenue of the Americas. The harmonious geometric design becomes evident, the more one gazes around -- at the separate panes of glass in the skylight, the wall sconces, the balcony, the glass panels on one wall, the silver stripes embellishing the black entryways, the brickwork and checkered pattern on the floors. Plenty of café tables and woven chairs are sprinkled throughout. A banner announces takeout from Remi's to the east, while windows on the west wall offer glimpses inside the restaurant with its extensive colorful mural. The galleria is open 8 a.m. to 7 p.m. every day.

Cross 53rd Street.

5. Inside this through-block galleria, one finds the entrance to the loggia at Moda, an alfresco restaurant and bar at the Flatotel. There are also seats for those bringing their own lunch. The canopy above is sloping glass with slats that echo the lines on the flooring near 52nd Street. Festive white lights provide illumination. Toward the exit at 135 W. 52nd Street, bright blue and green tiles cover the walls.

Cross 52nd Street.

6. Enter the 787 Seventh Avenue Plaza of the AXA Equitable Building, decorated with six Sol LeWitt murals titled "Wall Drawing: Bands of Lines in Four Colors and Four Directions, Separated by Gray Bands" (1984-85). (The contrasting stripes are in yellow, turquoise and red.) Along with plenty of public seating and large planters, two Barry Flanagan bronze sculptures, "Young Elephant" and "Hare on Bell," grace the plaza. A sign warns "no feeding of birds" and "no placement of tents, tarps, sleeping bags," among other prohibitions.

An elegant glass-covered escalator, sometimes lighted in the evening, leads to the Rockefeller Center Concourse and the Athletic & Swim Club. Inside the atrium next door hangs Roy Lichtenstein's exuberant "Mural with Blue Brushstroke." Exit at 151 West 51st Street; Le Bernadin lies to the west and Europa Café, serving takeout food, is to the east.
CORRECTION: This story has been updated to reflect the correct title of Barry Flanagan's sculpture "Hare on Bell."
REAL LIFE. REAL NEWS. REAL VOICES.
Help us tell more of the stories that matter from voices that too often remain unheard.