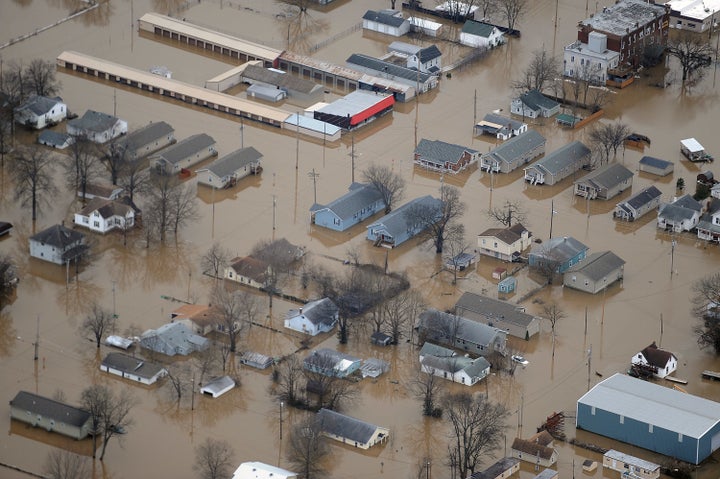 Super-charged by El Niño, the storm dumped unprecedented amounts of rain in the region that caused the Mississippi River and its tributaries to swell to record levels. And now, scientists say there's much more to the story.
It wasn't just torrential downpours that caused the flooding, according to a new study published in this month's issue of the Journal of Earth Science. Rather, the disaster may have been man-made.
The study suggests that floodplains lining the Mississippi and Meramac rivers in Missouri have been shrinking for decades, due to construction projects along the banks that have transformed farmland into levees, landfills, shopping centers and suburban neighborhoods.
All of this development has constricted the river channels, which now can't absorb as much rain as they once could, Dr. Robert Criss, the study's lead author and professor of Earth and Planetary Sciences at Washington University in St. Louis, told The Huffington Post. During heavy rain, the choked river channels can cause flooding like what we saw in December.
"I think the human causes [of flooding], at least in the midwest, vastly overwhelm the natural problems," Criss said.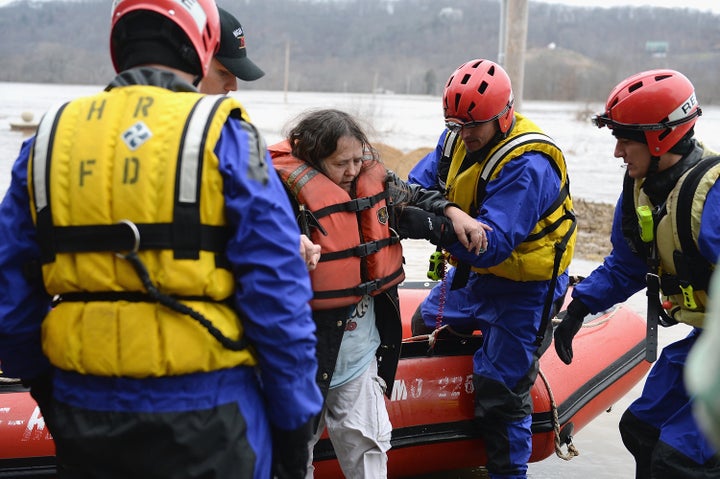 Criss and his co-author, Dr. Mingming Luo, a researcher at the China University of Geosciences in Wuhan, China, compared the December flood to a similar El Niño-related flood in the same midwest area in 1982.
The researchers discovered that the December flood's highest point at Valley Park, Missouri -- a city south of St. Louis on the Meremac River -- was 3 feet higher than it had been in 1982.
The river channel at Valley Park appeared to be much narrower than it used to be and is full of barriers. Several major construction projects along the Meremac River, including the erection of a three mile-long levee, have reduced the size of the floodplain at Valley Park by 65 percent, according to the researchers.
"We think we can control rivers and change everything, but it's a fool's game."
A seminal 1973 study of the Mississippi River showed that levees, even though they're designed to keep water out, can make flooding a lot worse.
Also, a study published last week in the journal Environmental Science and Policy found that the construction of levees along the upper Mississippi River provides some local areas with greater flood protection, but results in higher flood levels and increased flood risk in other areas.
Why? Normally, when a river floods, the water spreads out gradually. But levees can hold the river, and all of its energy, back. So when a levee breaks, it releases all of that energy and the water rushes out in torrents.
When water gets over or through a levee, "that's a dam break," Criss said. "It ruins the fields, scours the topsoil, knocks silos over, crushes houses and barns."
Preventing the kind of flooding that nearly swamped Valley Park, Criss said, will require reinstating zoning laws that prohibit overdevelopment along floodplains. It may also require approaching river management with greater humility.
"We think we can control rivers and change everything," he said. "But it's a fool's game."
Deadly Flooding In Midwest
Related
Popular in the Community