 A dozen midwives gathered in a small room at the Rabia Balkhi Hospital in Kabul. As working women in an Afghanistan emerging from the restrictions of the Taliban era, they realized they needed to band together if they were going to succeed. This inaugural meeting of the Afghan Midwives Association (AMA) took place in 2004, and the organization's growth in the years since is matched only by their success in saving the lives of women and newborns. Now, more than 2,000 strong, the association is a living, working testament to U.S. investment in promoting both education and health care for girls and women in Afghanistan.
This is "girl power" squared and the Afghan midwives have a vital role to play in ensuring that the country's gains in women's health, rights and empowerment continue in the coming decade -- as U.S. forces and others prepare to depart. In a recent editorial, the New York Times raised concerns that the "modest but encouraging gains" for Afghan women in the past decade will erode "without a strong commitment to preserve and advance them from Afghan leaders, Washington and other international partners." The editorial went on to recognize "one bright spot" in the ongoing discussion over Afghanistan's future: "More Afghan women seem to have found their voice and have not been timid about advocating for their own rights."
Indeed, this must be a bright spot for the Afghan women who, up until recent years, had been restricted to their homes under the harsh, unrelenting and punishing Taliban rule -- and who, fearful for their safety, typically gave birth at home, without a skilled provider and had the second highest maternal death rate in the world.
Certainly, the midwives educated through an ambitious effort led by the Afghan Ministry of Public Health, with funding from the U.S. Agency for International Development (USAID) and technical support from our organization, Jhpiego, and partners, represent more than "one bright spot." They are beacons of light across Afghanistan, bringing skilled health care and life-saving measures to women and newborns in all corners of this mountainous nation, from the suburbs of Kabul to the villages of Badakshan in the north. Today, as a result of strong collaboration between the Afghan Health Ministry and several donor-funded initiatives, an estimated 3,269 new midwives have graduated from 29 accredited, community-based schools in Afghanistan. This is up from only 467 practicing midwives in 2002, and one functioning midwifery school, in a country of 35 million people.
As the USAID-funded Health Services Support Project ends, access to health care for Afghan women and their children has changed significantly. Average use of prenatal care has climbed to nearly 40 percent in provinces with midwifery school graduates, compared to 26 percent in provinces that lack such graduates; the proportion of births attended by skilled providers increased from 19 percent in 2005 to 32.4 percent in 2011, according to the most recent statistics available; and 14,389 trained community health workers are complementing midwifery services and delivering family planning services to women who have recently given birth.
Also today, young women in almost every Afghan province have an opportunity to attend midwifery school, join a respected profession, become wage-earners and provide for their families. Jhpiego and its partners -- Futures International, Save the Children and local organizations -- worked to overcome cultural and traditional barriers to educating women. We did this, together, by including communities in the process of selecting and educating midwifery students and integrating gender sensitivity within the delivery of the basic package of health services. Families had to be convinced that it is safe and acceptable to send their girls away from home to be schooled. Child day care was provided in all schools so mothers could attend a residential program that focused on building clinical skills, a culture of humanistic care and emergency obstetric care.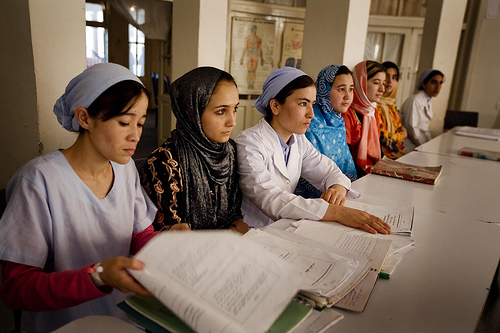 These successes have prompted other countries in the region to look toward Afghanistan for lessons learned in expanding a qualified, professional midwifery workforce to increase access to skilled care at birth and reduce childbirth-related deaths.
At the helm of these efforts in Afghanistan are the AMA, headed by Sabera Turkmani, and its sister association, the Organization of Afghan Midwives (OAM). The latter, led by Saleha Hamnawozada, is a nonprofit focused on implementing programs in support of midwives and toward a stronger AMA.
Sitting in the OAM office in Kabul, colorful quilts displayed on the walls, Sabera and Saleha reflect on the immense progress that the midwifery profession has made in the last decade. When Sabera returned to Kabul in 2002 after the exit of the Taliban, she inquired within the Ministry of Public Health about the location of the Midwifery Department -- and was directed to the Nursing Department. "Now, midwifery is well known at all levels: from the policy to the community [level]. People know the role of a midwife and what she contributes," says Sabera.
"Midwives are the pillars of our health system," said one Ministry of Public Health employee quoted in a recent evaluation of the midwifery education system.
Adds AMA president Sabera: "There is a queue of people who want to be a midwife." At age 40, Zaghrona Sabet was among them. Eager for an education and a career, this mother of four enrolled in a midwifery school last year: "In Afghanistan, all people respect the doctors and midwives who wear the white coat."
Popular in the Community