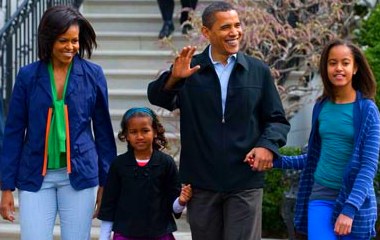 Their vegetable plot is only a throw-back to Eleanor Roosevelt's exemplary 'victory garden.' So to date the Obamas' most noticeable change to their new home outside has been to install a de-luxe swing-set near the President's office,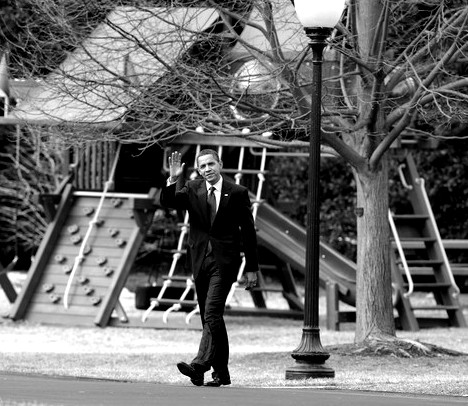 that allows him to watch their young daughters at play.
Despite an eventful history and rooms filled with the most marvelous antiques and works of art, the White House is hardly some mere museum. Collectively, having observed so many touching events occur here: impish "John John"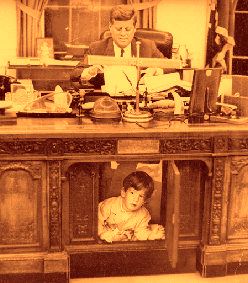 peering from below his father's desk, "Luci" cutting her towering wedding cake, Nancy dancing with Sinatra, or Chelsea smiling girlishly as she watched her folks gazing at each other, the White House feels as close as we have to a family home for our entire nation. This has a lot to do with why we are all wondering what on earth the Obamas might do to make a lasting impression here. What with, the collapsed economy, and a committed curatorial committee, outside of their offices and the family quarters, the Obamas aren't liable to do a drastic makeover, at least, not right now. All the same, one would love to know, when invited upstairs for a drink, what kind of environment is Senator Arlen Specter likely to encounter?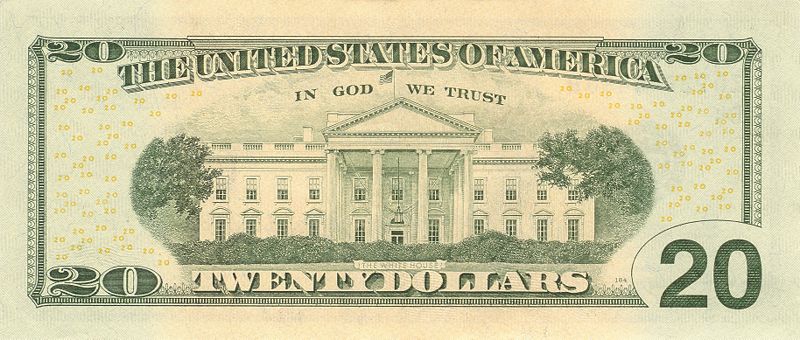 Familiar to almost everyone as an all-American architectural icon, the White House in fact has undergone countless extraordinary changes since its completion just over two centuries ago. Little about it would be recognizable to our first president, who never lived here. Washington died in 1799, a year before the White House was first occupied. Nonetheless, he still managed to put his personal stamp on what he insisted be modestly designated, "the President's House".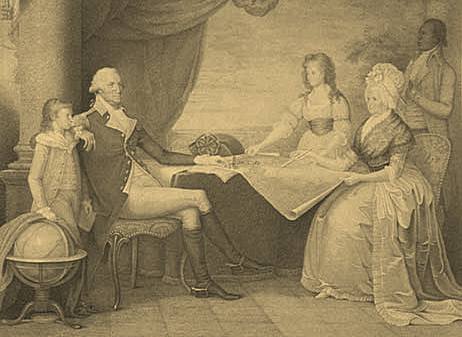 As a cost-cutting measure the politically astute Commander-in-Chief instructed architect James Hoban to eliminate an originally planned third story. Since Washington's reduction made the living quarters for any president with a family impossibly cramped, eventually, almost a century and a half later, an extra floor was added.
Gutted by a fire started by British troops during the War of 1812, the structure's blackened sandstone exterior walls first got their distinguishing coat of white paint after the house was rebuilt. Its imposing two-story-high Ionic porticoes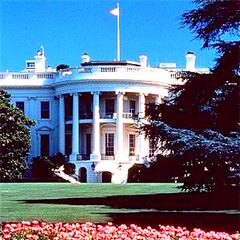 next appeared. Semi-elliptical, the North Portico was completed in1824 and the South Portico, on the façade, in 1829.
Much as in an English country house, or even far more lavish European palaces, 'State Rooms' on the main floor of the White House were meant mostly for official entertaining and meetings. The oval Blue Room at the building's center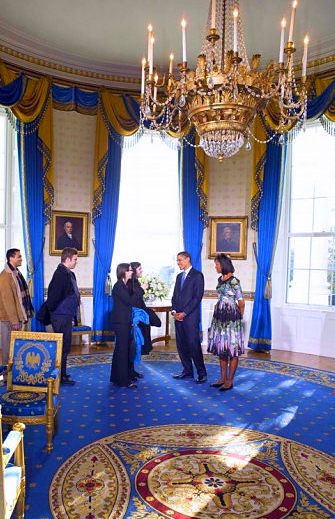 The Blue Room unusually adapted for dinning
is still used, as a rule, for receiving guests. Two lofty drawing rooms, the Red Room and the Green Room flank it.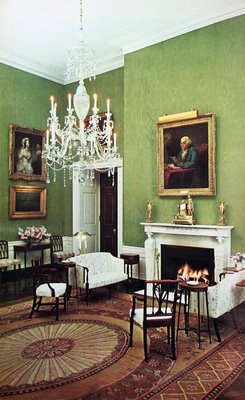 They in turn lead into the grand East Room and the State Dining Room. Each of these spaces is linked along a traverse hall, separated from the principal entrance by a screen of marble Tuscan columns.
Decorated by Louis Comfort Tiffany in the 1880's, at the start of the Theodore Roosevelt administration, augmented by floral displays and strings of electric lights the East Room was used for a gala state dinner.
With all its interiors incrementally altered into a showplace of ornate Victoriana, Theodore Roosevelt's White House renovations of 1902-1904 were billed as a "restoration". Indeed his New York architects, McKim, Mead & White, did return a Neo-Classical flavor to the White House décor. Only it wasn't the delicate English-derived, 18th century Neo-Classicism of the Federal Period, but the considerably richer Beaux-Arts Classicism characteristic of their own time and associated with France that they favored instead.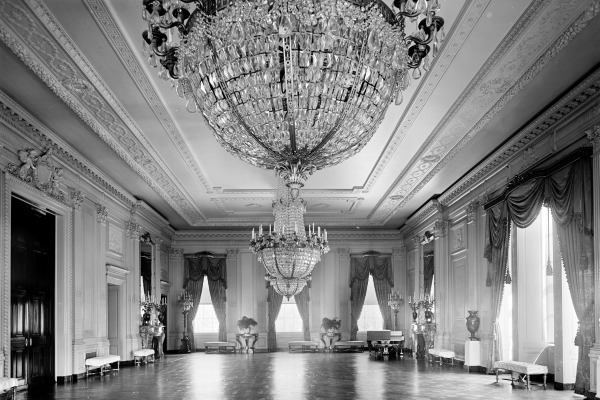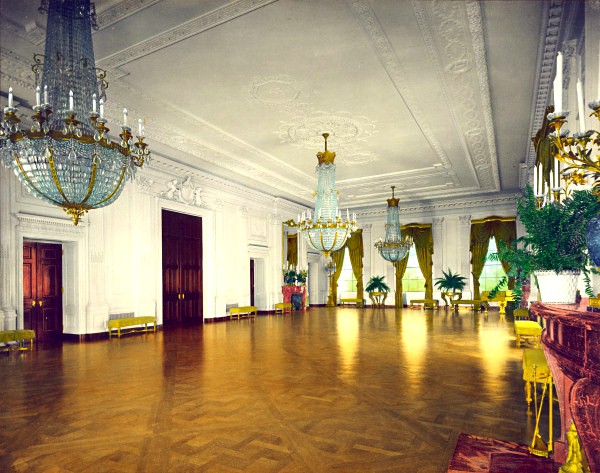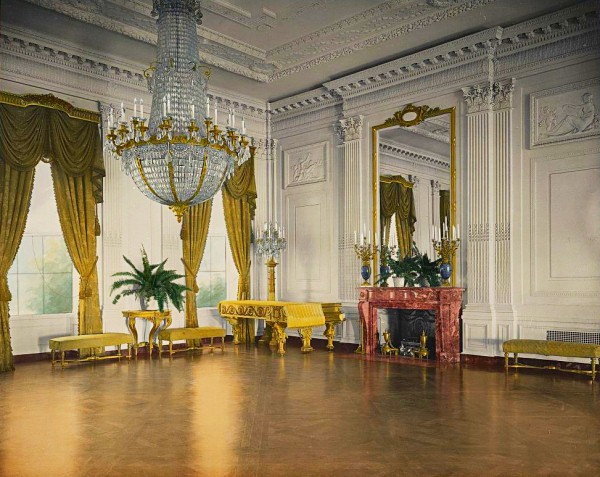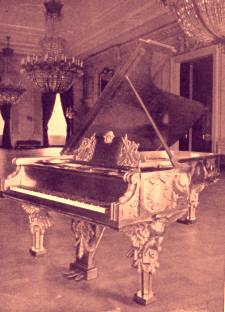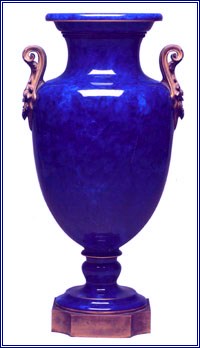 A gift from the Steinway Co. the East Room piano was specially made with the inside of its lid painted by Thomas W. Dewing
One of a pair, this Serves urn was presented to President McKinley by the Premier of France in 1898.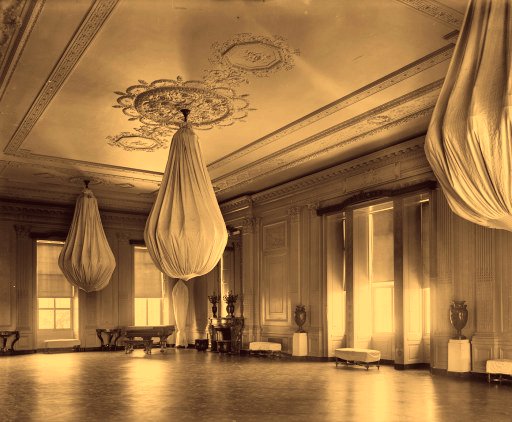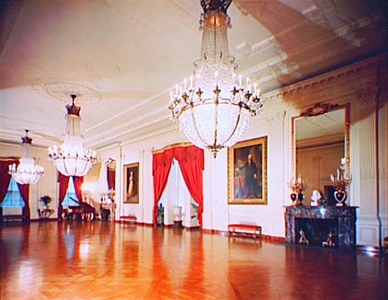 Once, as during this concert by Truman for the Kennedys, seen in the top image, curtains were always drawn for an evening party. No more!
One of the elite's favorite design firms, it comes as no surprise that McKim, Mead & White introduced at the White House the same sort of luxurious atmosphere and opulence that they'd given to mansions for multi-millionaires, like Frederick Vanderbilt. Carved stone planters, based on ancient Roman sarcophagi, tapestries, potted palms, animal-head trophies and at least one room warmly paneled in lustrous hardwood were all deemed de rigueur.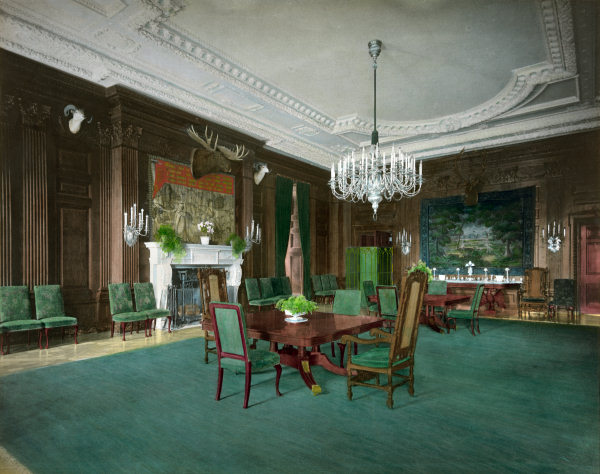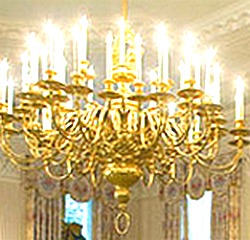 Supplied by Edward F. Caldwell & Co, the State Dining Room's sterling silver sconces and chandelier were gilded for Mrs. Kennedy, to better harmonize with the famous White House collection of silver-gilt serving vessels and flatware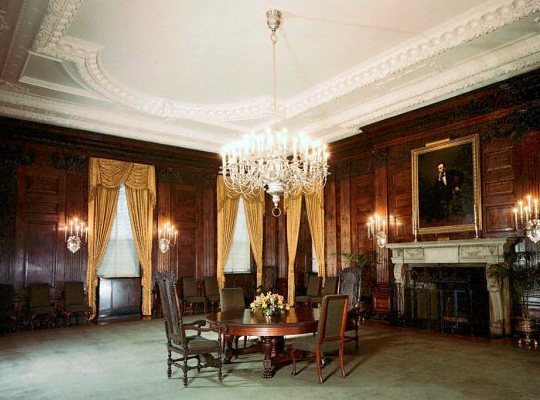 Too soon, occasioned by the discovery that the entire edifice was riddled with rot and dilapidation from hard use, McKim, Mead & White's efforts were also grossly tampered with. In 1948, when a leg of his daughter Margret's piano pierced a hole through the floor into the crumbling ceiling of the room below, President Truman ordered that the entire house be totally rebuilt! As odd as it seems, the White House was painstakingly disassembled, room by room, and all the pieces numbered and stored.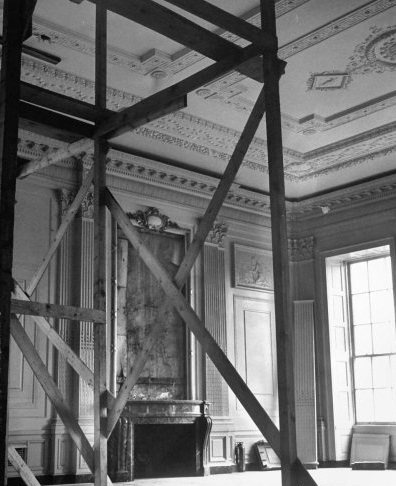 Buttressed by an internal steel framework, new floors were laid and an additional top story was built.
Unfortunately, aesthetic understanding had evolved by 1948. Now, most authorities decried the 'low taste level' of the privileged and their architects of fifty years before. They also regarded any oak-paneled room, not as elegant or ceremonious, but only as depressingly dark.
That's why the State Dining Room was painted a minty-green color, while the carefully salvaged plaster embellishments taken from the ceiling here and in the East Room, at first intended to be reinstalled, were casually discarded.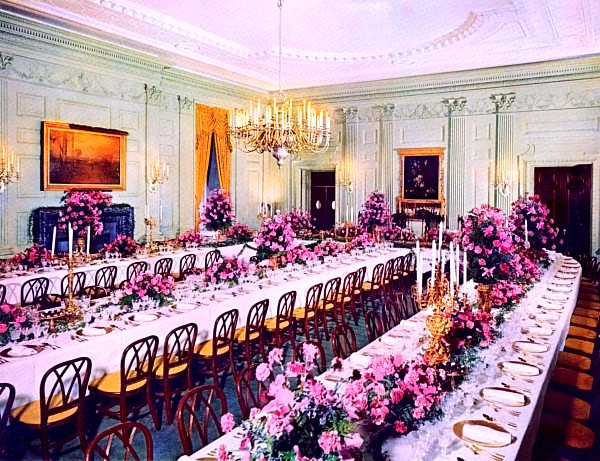 Disdaining Roosevelt's ideas as much as President Roosevelt had despised Louis Tiffany's Victorian White House 'improvements', Truman's architects tried to simplify whatever they could, whenever they could. Tapestries and high backed, throne-like William and Mary chairs were out. At the close of Truman's term, with nary a word of protest, the State Dining Room's baronial limestone mantelpiece and its elaborate wrought-iron andirons, were even shipped off to lend executive authenticity to his Presidential Library.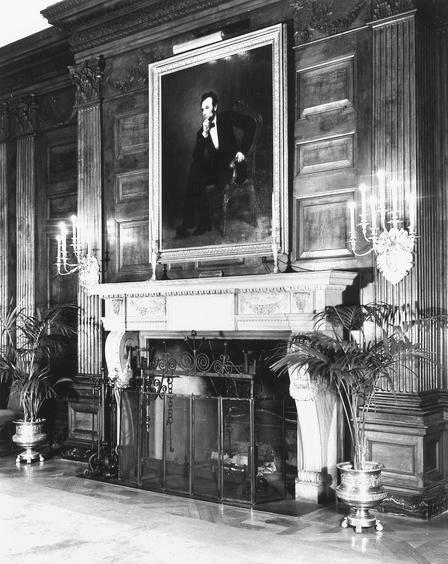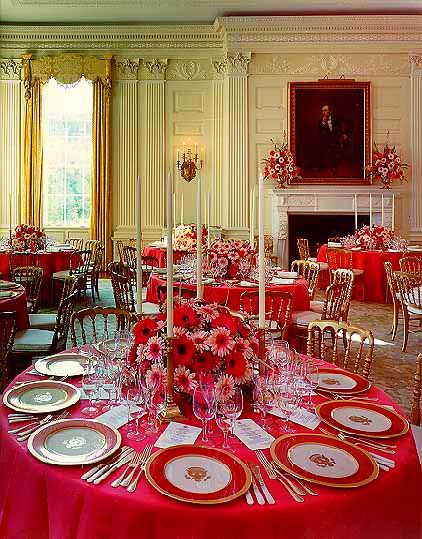 First Lady Jackie Kennedy was responsible for having a reproduction of the State Dining Room's massive chimneypiece installed
Much of the work to realize their design had been sub-contracted by McKim, Mead & White, among some of America's foremost craftsmen. This included commissioning the noted New York jewelers, Edward F. Caldwell & Co. to provide lighting fixtures.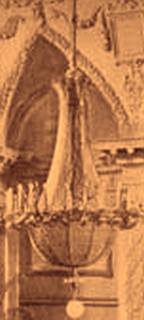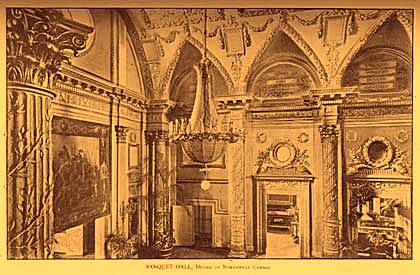 Modeled after hanging lights produced by the Caldwell firm for McKim, Mead & White's New York Building, at the World Colombian Exposition in 1893, the East Room's three massive electric chandeliers were actually fabricated by Christoph Palme & Co., of Parchen, in Bohemia (Austria-Hungary). Composed from cut glass and gilded brass, each consisted of over 6,000 pieces of glass and weighed in excess of 1,200 pounds.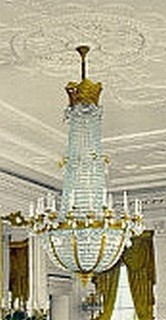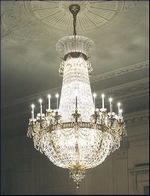 Barely a year after they were hung in 1902, the chandeliers were taken down. Somehow or another, perhaps out of feeling that bigger was often better, these architects were always having to scale down various details. "The diameter of the lower portion of the East Room fixtures was reduced in size". They were shortened and modified again during the Truman renovation of 1948-1952.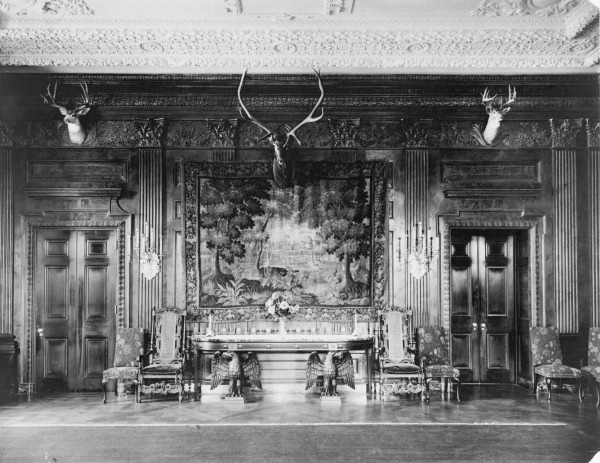 The Clintons deserve much of the credit for partly restoring the high point of Theodore Roosevelt's "restoration". A. H. Davenport & Co.'s great serving tables for the State Dining Room, supported by eagles, were stripped of gilding, and white paint, (applied at the behest of Jacqueline Kennedy), to reveal superbly carved mahogany. In the East Room the Numidian marble dado, marbleized with white and gray paint was also stripped. So were the four matching mantelpieces given a painted gray-veined white marble finish at Mrs. Kennedy's direction. In a vast improvement, they have regained their natural color, reminiscent of old port wine.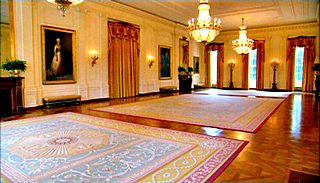 Might not the Obamas follow this example and reinstate the few missing, but easily and inexpensively replaced elements, that would complete these two exceptional examples from the oeuvre of one of America's most celebrated architectural firms? And, while they were at it, what more perfect tribute to the Kennedys could there be than a restoration of Jacqueline Kennedy's incomparable Blue Room? It was an unlikely collaboration between the First Lady, her intimate friend Jayne Wrightsman, the doyen of New York decorators, Mrs. Henry Parish and legendary Stéphane Boudin of the premiere Parisian design house, Jansen. It's been praised by James Archer Abbott, who ranks among the world's leading scholars concerning the decorative arts and White House history, in no uncertain terms as,
" the most dramatic of the White House interiors ...representing an unrivaled understanding of period design vocabularies...the Blue Room has yet to be equaled by succeeding decorators and historians...let alone other imitators..."
In 1980, the former first lady remembered it with fond deference as,
The Blue Room chandelier selected by this team, still upstairs in the Yellow Room, was in better proportion to this space than the similar replacement. In this, and in every other way, the Kennedy Blue Room was highly superior to what's here now.
Whatever else they might bring in by way of more diverse furnishings, more modern painting and sculpture, technological conveniences or other innovations, the Obamas could do little that would be as fine as putting back some of the past glories of 'the People's House'. Let their legacy be the restoration of true glories like McKim, Mead & White's dignified State Dining Room, lined in mellowed quarter-sawn oak, their sparkling white and gold East Room, with the requisite coupe de rouge or Jacqueline Kennedy's brilliantly evocative Blue Room. Even now these masterpieces that were taken away needlessly and with little concern for history, can be affordably offered as a gift to people tomorrow from people today, from us!