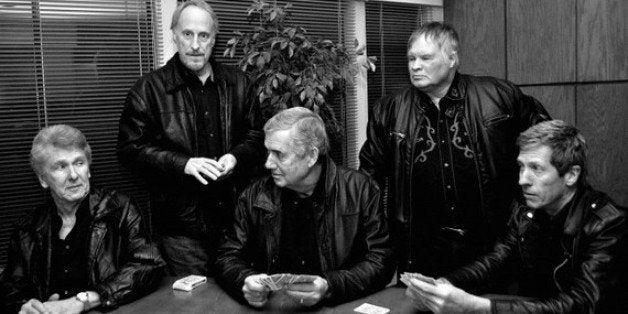 If there is ever a contest to declare The Great American Rock Band, past or present, The Sonics should be high in the running. True, The Beach Boys or R.E.M. or Nirvana are better known and had greater immediate impact, but The Sonics -- in the best American tradition -- turned their weaknesses into strengths and in so doing created an entire new aesthetic for recognizing rock at its best.
It just took awhile for the nation -- the world, actually -- to catch up with them. The Tacoma, Washington-originated garage rock band is touring behind its first new album in almost 50 years, "This Is the Sonics." Three of the current lineup's five members -- guitarist Larry Parypa, lead singer/keyboardist Gerry Roslie and saxophonist Rob Lind -- are original Sonics. With them are bassist Freddie Dennis and drummer Dusty Watson.
It wasn't until the punk and post-punk generation realized, in hindsight, that the 1960s-era DIY band -- teenagers inspired by the rebellious attitude of The Rolling Stones, The Yardbirds and Bob Dylan -- were one of rock's most impassioned, unpretentiously authentic and rousing. The Sonics were one of the wildest and most raw garage rock bands around.
Their music belatedly penetrated mass culture. The band's nasty, snarling rock version of R&B singer Richard Berry's "Have Love Will Travel," recorded in 1965 for its debut album, became familiar in recent years thanks to its use in commercials for Land Rover, BMW and Anthony Bourdain's Parts Unknown TV show, as well as through a notable cover version by The Black Keys. As a result, "Have Love Will Travel" is now giving another of the late Berry's compositions -- "Louie Louie" -- competition for being his most famous.
Parypa, the band's founding guitarist, recalls -- with the circumspection of a 68-year-old -- how much trepidation the teenage Sonics had about their craft back in the early- and mid-1960s.
"Our feeling was we weren't legitimate because we couldn't play quality rock & roll with great finesse and understanding of the music," he says. "When we would play with some local band that maybe had horns and were good musicians, Gerry and I always felt like maybe we shouldn't be there.
"We were not doing anything with the quality they did. So we had to do it the only way we could, which was very primitive-sounding. Since we were not all that great, we pounded our instruments. Everybody just put everything they had into playing."
Told that many rock historians believe The Sonics, in their inspired amateurism, came up with something more memorable than all their more competent contemporaries did, Parypa says, "I don't know if it's better, but it certainly was a different approach to rock & roll."
At the dawn on the 1960s, Tacoma especially was a cauldron for instrumental bands, largely because one local group, The Wailers, had produced a moderate national hit called "Tall Cool One" in 1959, while another, The Ventures, had a chart-topper with 1960's "Walk Don't Run."
"I got into it because my uncle played guitar and brought it over to our house once," Parypa says of his entry into the rock & roll world as a youngster. "When I heard it go through an amplifier, the sound was just mind-numbing for me. I just loved it."
The Sonics started as an instrumental band. An early version included Parypa's brother, and their music-loving mother sometimes played rhythm guitar. But as the lineup evolved and musical trends changed, vocals were added. Roslie began singing for the band in 1964, and that changed everything.
"He had so much emotion," Parypa says. "The singing and all the trills. So we wanted to utilize his great vocals. Over time, we did no instrumentals and just featured 'Gerry Roslie Screams.' "
In the Pacific Northwest, where new local bands like The Kingsmen and Paul Revere & the Raiders were enjoying popularity, The Sonics got signed to a label called, amusingly, Etiquette Records. Three members of The Wailers founded Etiquette, which put out two albums, 1965's Here Are the Sonics and 1966's Boom, that are at the heart of The Sonics' mystique.
Raw and loud, recorded hurriedly and without restraint, their originals had a lyrical sense of danger, darkness and outright weirdness to go with their tumultuous sonic assault. Titles like "Strychnine," "Psycho" and "He's Waiting" (about the devil) were unforgettable -- at least for the comparatively few nationally who heard them at the time.
"We were not pretty," Parypa says. "Instead of talking about losing your girlfriend, we were singing about taking strychnine."
But all things must pass. In 1967, the band switched to another label and made Introducing the Sonics, an album Parypa says everyone hated. (He says another studio album from 1980 bearing the band's name is inauthentic.) The members moved on to other things after that album, save for a short reunion set in Seattle in the early 1970s.
It wasn't until a New York promoter got them to headline a garage rock festival called Cavestomp! in 2007 that they realized what they had been missing. Dates in Europe followed. The band has played occasionally since then, but the current tour and new album mark The Sonics most thorough attempt at national exposure since ... ever?
The new album was recorded in mono for The Sonics' own label, Revox, by Jim Diamond, who played with The Dirtbombs and has worked in the studio with a slew of contemporary garage-rock favorites, including Gore Gore Girls, The Mooney Suzuki and The White Stripes. The album has that same raucous, pounding edge as their Etiquette releases. There are several originals, including an unstoppable rave-up called "Bad Betty," and vitality-injected covers of older songs, including a revved-up version of The Kinks' "The Hard Way." It's an impressive return.
"Many musicians who have stuck with music and developed and evolved over the last 50 years wouldn't know how to go back and pretend they're 16," Parypa says. "But it was easier for us. We didn't allow ourselves to become good.
"So here we are just hacking away, the same as we did back then."
(This story originally appeared in Cincinnati CityBeat in advance of an April performance at that city's Woodward Theater. The photo was provided by The Sonics and is by Merri Sutton.)
Related
Popular in the Community