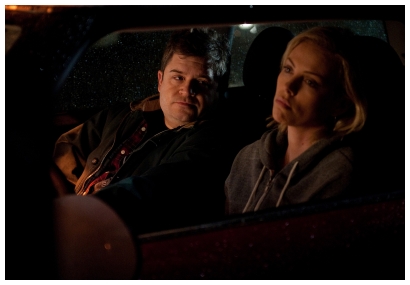 Bless screenwriter Diablo Cody and director Jason Reitman their twisted, little hearts. In a season rife with people bettering themselves through moody introspection, they introduce us to Mavis Gary (Charlize Theron), author of young adult novels and a woman who looks within and comes away with all the wrong lessons.
Young Adult isn't season-specific, but it does serve as a healthy counterbalance to all that holiday growth and belonging. In it, Mavis -- who generally lives on a diet of Diet Coke breakfasts and hard-liquor suppers -- decides on a whim to go back to her hometown, to the bemusement of former high school nerd Matt (Patton Oswalt) and the befuddlement of her one-time sweetheart (Patrick Wilson), for whom she has returned to rekindle their romance, despite the fact that he's now happily married and recently become a father. It's going to take more than an Andy Williams holiday marathon to smooth out this homecoming.
Click on the player to hear the Jason Reitman press conference.
Popular in the Community