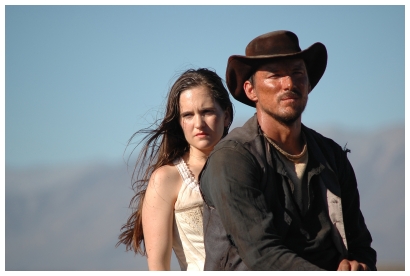 New Zealand couple Mike Wallis and Inge Rademeyer faced a choice: buy a house together, or use the money to make their first film. Rather than take a gamble on a dodgy proposition with, at best, 50/50 odds, they decided to do the sensible thing and plow their savings into Good for Nothing (hey, have you been tracking the real estate market recently?). The result: the first "Pavlova" western (named after a much-beloved NZ dessert) about a beautiful heiress (Rademeyer) kidnapped by a ruthless, murdering cowboy (Cohen Holloway) for the purposes of ravishment. An inept posse and the cowboy's own erectile dysfunction will get in the way of those plans; meanwhile, on the run, both abductor and his victim may discover things about each other and themselves that have been too long suppressed.
With Wallis directing, writing, and producing and Rademeyer as star and fellow producer, Good for Nothing takes advantage of its much-vaunted New Zealand locales for some Sergio Leone/John Ford impact, and throws in some impertinent, Kiwi attitude for kicks. It's a new chapter in the anti-romance of the old West, and almost enough to make ol' Clint crack a smile (we said almost).
Click the player button to hear my interview with Mike Wallis and Inge Rademeyer, or the title to download.
Popular in the Community