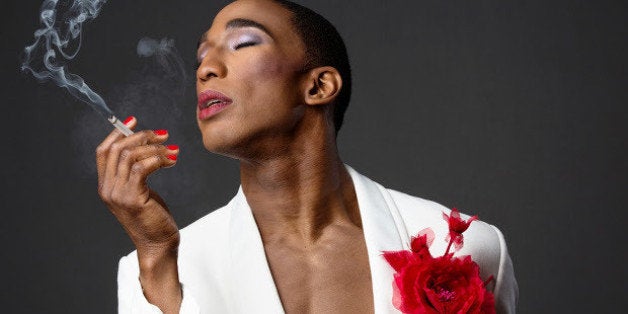 Depicting the glitzy yet all-too-brief life of disco's most legendary out performer, "Mighty Real: A Fabulous Sylvester Musical" is giving Manhattan theatergoers new incentive to dust off their boogie shoes.
The off-Broadway musical, which opened Sept. 12, begins with a simple premise: Sylvester, who died in 1988 at the age of 41, returns from beyond the grave to New York's Theatre at St. Clement's, where he'll perform one final concert in the present day.
"I had so much to say," the late star (played by Broadway veteran Anthony Wayne) notes at the show's outset, "and not enough time to say it."
Ninety minutes of the grooviest, gutsiest and fiercest disco anthems anyone with a taste for mirrorball nostalgia will appreciate soon follow. From the moment he appears in a sequined top, platform heels and a floor-length fur coat, Wayne embodies the starring role with a boulder-crunching zeal that echoes Hugh Jackman's Tony-winning turn as Peter Allen in "The Boy from Oz."
A less-than-perfect match physically, Wayne shimmies and sashays through 12 of Sylvester's biggest hits, from "You Make Me Feel (Mighty Real)" and "Do You Wanna Funk," capturing the glam essence of the star, who paved the way for the likes of Boy George and Adam Lambert, as well as his trademark falsetto.
Check out the official trailer for "Mighty Real: A Fabulous Sylvester Musical," then scroll down to keep reading.
Similarly impressive are Anastacia McCleskey and Jacqueline B. Arnold, who deservedly steal many of the show's latter scenes as Izora Armstead and Martha Wash of the Weather Girls, the "It's Raining Men" duo who began their careers alongside Sylvester as Two Tons O' Fun.
As Sylvester, Wayne shares poignant anecdotes about the singer's struggle for acceptance in between musical numbers, but "Mighty Real" loses steam when it strives to generate sympathy for its hot subject. Wayne, who also serves as co-director and wrote the show's book, glosses over some of the disheartening aspects of Sylvester's life, from an adolescent experience with sexual abuse to the death of his longtime partner due to complications from AIDS, making many of the show's dramatic points feel puddle-deep. While Sylvester was known as a prominent activist in the latter years of his career, the star's own battle with HIV/AIDS is reduced to a footnote here.
Interestingly, "Mighty Real" also overlooks Sylvester's waning commercial success in the mid-1980s, when disco gave way to the synthesized beats of Michael Jackson and Madonna, even though it provides a tidy conclusion for Armstead and Wash.
Perhaps Wayne and co-director Kendrell Bowman, who also designed costumes, aimed to keep "Mighty Real" in the glossy, jovial vein of most jukebox bio-musicals. As a gender-bending, openly gay black performer in the 1970s, Sylvester was unquestionably a pioneering star; when the show asks us to see the "Queen of Disco" as an inspirational or a tragic figure, it falls short.
Still, like "Mamma Mia!" across town, this show is dynamite disco fun for audiences who want to sing and dance along to the hits. Although anyone seeking an exhaustively researched play-by-play of the star's life would be better off waiting for a documentary, "Mighty Real: A Fabulous Sylvester Musical" succeeds as a collection of infectious performances by a truly gifted cast.
"Mighty Real: A Fabulous Sylvester Musical" plays at the Theatre at St. Clement's in New York through Oct. 5. For more information and tickets, head here.

Before You Go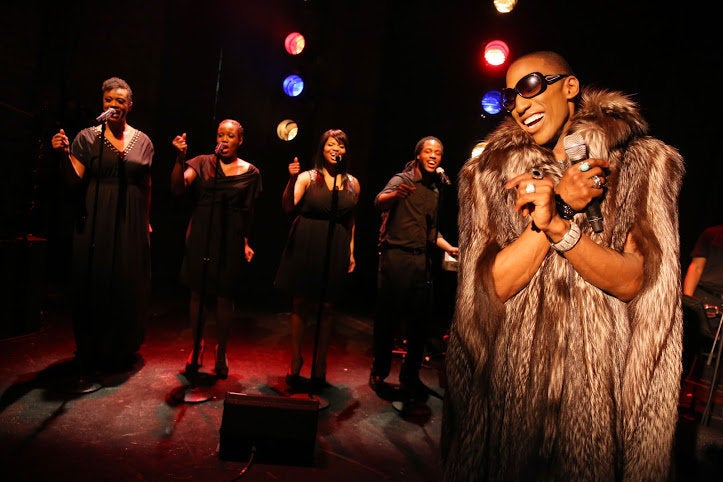 "Mighty Real: A Fabulous Sylvester Musical"
Popular in the Community