"It was hell," Wayne told The Huffington Post in an interview. Still, he said the success of the show, which has played to enthusiastic audiences in New York, San Francisco and Washington D.C., has made their efforts worthwhile: "It's like a pregnancy. You go through the cramps, the contractions…but once [the baby] is here, you forget about everything."
"Mighty Real," which opened Off-Broadway in 2014, dramatizes the glitzy, all-too-brief life of Sylvester, the disco world's most legendary out-and-proud performer, using 90 minutes of his classic dance anthems. The role of Sylvester, who died in 1988 at the age of 41 after battling HIV/AIDS, is a seamless fit for Wayne, a Broadway veteran who also wrote the show's book and serves as co-director. Bowman, meanwhile, co-directed and designed the costumes, including replicas of Sylvester's signature fur coats and sequined tops. 
Now "Mighty Real" is heading south to Atlanta for a one-night-only performance at the Variety Playhouse Sept. 5, coinciding with the city's Black Pride festivities. Both Wayne and Bowman hope the ever-evolving show's Georgia performance brings them one step closer to a Broadway bow, which they hope will take place in 2016 with an expanded book and song list, but with the original Off-Broadway creative team in place.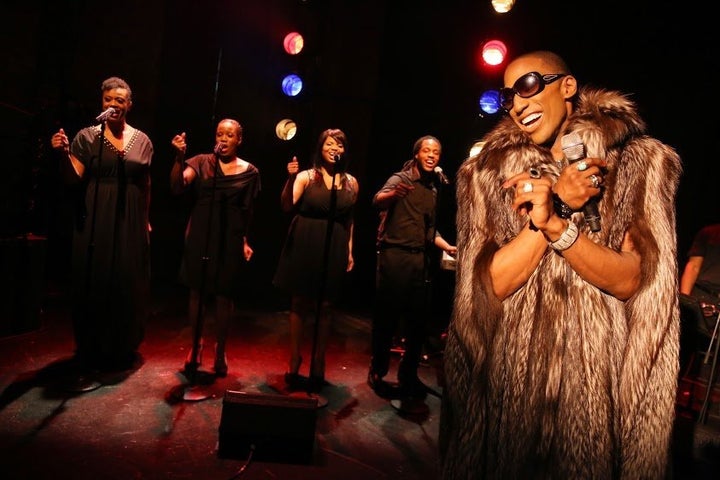 From "Kinky Boots" to "Fun Home," queer themes have been a hot commodity on Broadway as of late. But Bowman and Wayne see their passion project as unique in that it portrays the real-life story of a gay icon as written and performed by gay men.
 "We still keep the Broadway-isms: the songs, the dance, the costumes, the music, the glitter," Wayne said. "But this is a real, true story, and it's been a long time since we've had someone from within our own community to tell our story, rather than an executive who just says, 'This is a great thing we can make money off of.'"
The show hasn't lacked in celebrity endorsement, either, finding fans in the likes of Missy Elliott and Naomi Campbell. Meanwhile, Wayne is set to collaborate with Vogue's Andre Leon Talley in refreshing the show's costumes for Broadway.
Bowman, for his part, said introducing audiences to the life of the late "Queen of Disco," whose work has influenced the likes of Boy George and Adam Lambert, makes him "feel good as a person."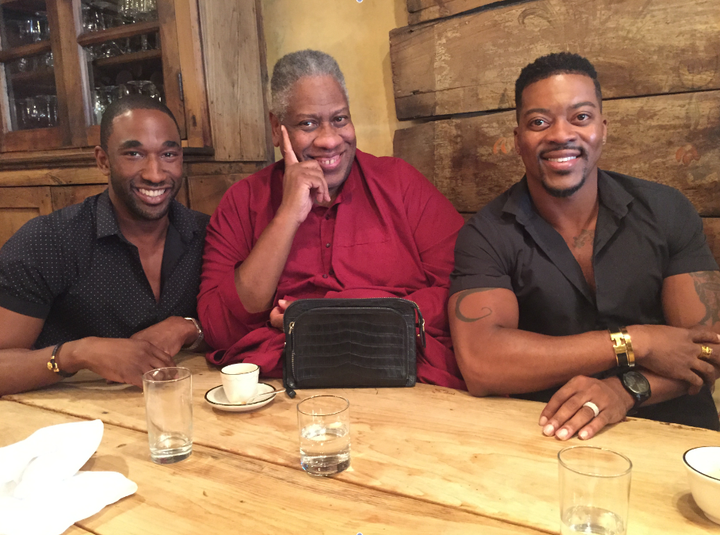 "It's almost like giving back to a charity," he said. "When we tell people what show we're doing, they light up. For me to see older people in the audience who lived through the HIV/AIDS epidemic, and we can bring joy, hope and happiness into their lives for 90 minutes…it makes me feel like all the hard work we're doing is worth it."
Meanwhile, Wayne said playing the role of Sylvester for over two years has made him "evolve both as a person as well as an actor."
"In the '70s, here was this man in the music industry who was living his life very proudly and not trying to hide who he was," he said. "Sylvester didn't have the chance to continue his life, but people should come away from the show knowing they can overcome adversity and achieve anything they want to."
"Mighty Real: A Fabulous Sylvester Musical" plays Atlanta's Variety Playhouse on Sept. 5. Head here for more details. 
Calling all HuffPost superfans!
Sign up for membership to become a founding member and help shape HuffPost's next chapter