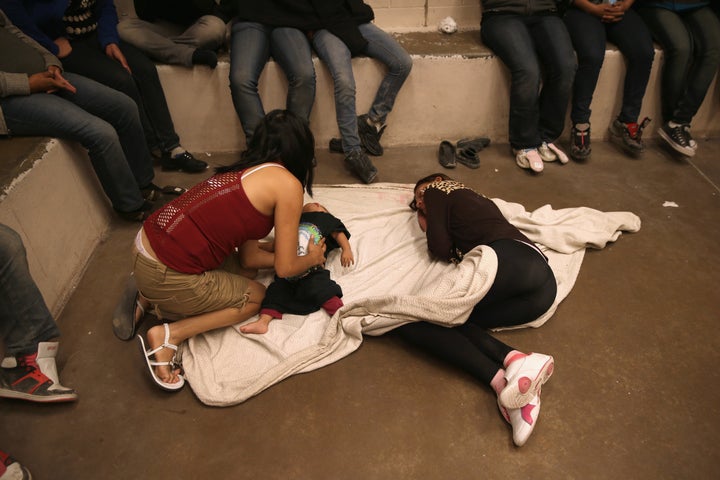 Over the course of four days in June, Keylin says, U.S. Border Patrol guards would kick her body to keep her awake throughout the night. The 16-year-old, whose last name was redacted from court documents, told a lawyer that she would lie in fear on the cement floor of the Border Patrol station in Texas, surrounded by chain-link fence. She was separated from her mother, who had been held at gunpoint three times in Honduras, after they crossed the U.S. border.
According to a court filing, Keylin says the female guards also made girls "strip naked" in front of them before taking a shower, so they could leer at their bodies (her mother, Daise, corroborated her daughter's account in a statement she gave to a lawyer). She adds that guards called the group of migrants "filthy" and "made fun of us."
Keylin barely ate because she says the food was frozen, and she wasn't given a toothbrush or toothpaste. Though she says the cells were so cold that she shivered and developed pain in her leg, the teen kept quiet. The guards said that anyone with an injury would be detained longer, and she couldn't take that chance.
"I was very frightened and depressed the entire time," Keylin told a lawyer on June 29, after she had been transferred to a family detention center and reunited with her mother. "I am still depressed. I also have nightmares and a lot of anxiety because of the separation." At the time of their June 29 declaration, there was no plan for Keylin and her mother's release.
HuffPost learned that the Center for Human Rights and Constitutional Law filed a report in a federal court in Los Angeles on Monday with more than 200 accounts from migrant children and their parents, detailing the horrific conditions they face in Border Patrol stations, Immigration and Customs Enforcement facilities and detention centers. The allegations, which HuffPost reviewed, include physical and verbal assault, untenable sleeping conditions and unsanitary drinking water.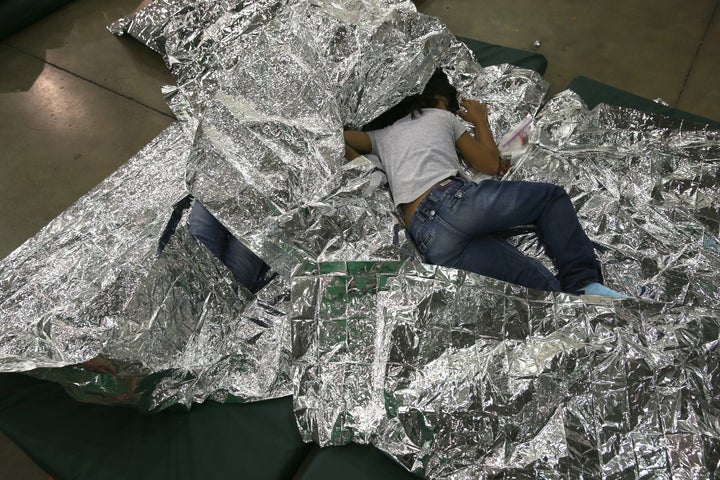 Peter Schey, the executive director of the law center's foundation, wrote in the case filing that roughly 90 percent of the testimony he and a team of about 100 lawyers collected is "shocking and atrocious" and that the children they've spoken to were "crying, trembling, hungry, thirsty, sleepless, sick, and terrified."
"The treatment of these children amounts to torture," Schey told HuffPost, adding that the situation has become worse under the Trump administration. "We see a policy of enforced hunger, enforced dehydration and enforced sleeplessness coupled with routine insults and physical assaults."
ICE and U.S. Customs and Border Protection (CPB) did not return HuffPost's requests for comment.
Over the past two months, Schey and other lawyers have conducted interviews with migrant parents and children, some of whom were separated from one another under Trump's zero tolerance policy, which stepped up the use of criminal prosecutions. The court filing does not include the current status of each child, and most said they were not told of their legal rights, including the right to be speedily released to a legal guardian or relative.
On July 27, the attorney will argue in federal court that the stations and facilities housing children are failing to meet the basic standards for hygiene, food, sleeping conditions and medical care, which are outlined in a 1997 court case called the Flores settlement.
Once migrants cross the border, they are put in short-term Border Patrol stations for a few days before being transferred to detention centers or shelters. While some kids have reported good conditions in longer-term shelters ― friendly staff, movie nights and field trips ― advocates and immigration experts have long considered Border Patrol facilities to be inhumane.
In May, Dixiana, whose last name is edited out along with those of all the other migrants interviewed in the court filing, says she was separated from her mother and taken to a Border Patrol station known as a "hielera" ― Spanish for "ice box" in reference to the cold temperature. The 10-year-old from Honduras told a lawyer her cell was so crowded that she and other girls had to sleep on the floor or while sitting up under bright lights.
She cried at the thought of never seeing her mother again, as did others in her cell.
For breakfast, Dixiana says a guard gave her a frozen ham sandwich but failed to bring her and her cellmates water. "The ham was black," she told a lawyer. "I took one bite, but did not eat the rest because of the taste." (One mother from Honduras said, "You could feel the ice when you bit into the sandwich.")
After 12 hours, Dixiana was transferred to what she calls the "perrera"―Spanish for "dog house," a reference to the chain-link fencing ― where she could see her mom in another cell. At one point when she was half asleep, Dixiana says a male officer kicked her awake while looking for a girl with a similar name to hers. Over the course of the next few days, she sat in a windowless cell with no idea if it was day or night, crying because she missed her mother.
The statements collected by lawyers clearly show that Border Patrol stations are no place for children. One mother, Floridalma, described how she and her 3-year-old were put in a 10-by-10-foot room with three other mothers and their children. Since they had only two mattresses, the group slept with their heads on the padding and their bodies on the cement floor.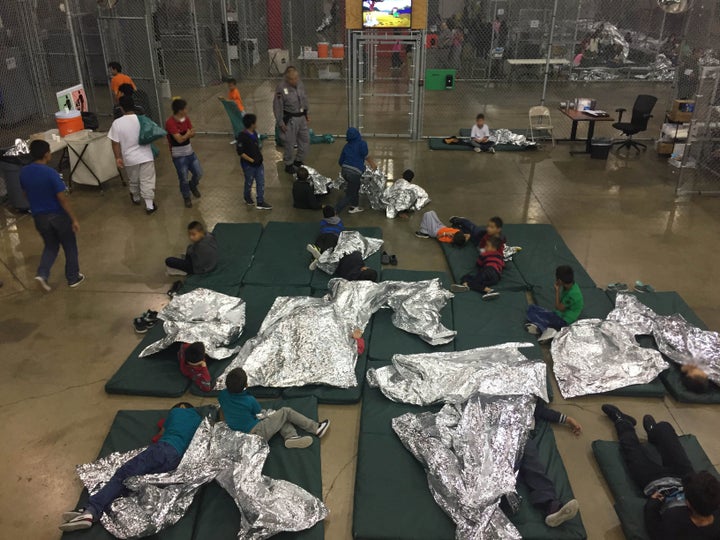 Ruth, the mother of a 7-year-old boy, says the Border Patrol station was so cold that children were crying and getting sick. While she was separated from her son, she watched other women's children get fevers, vomit and cough, while the guards refused to provide medicine.
The Border Patrol stations also fail to meet basic hygiene standards, according to the court filing. Many of the children describe the guards giving them water that tasted like chlorine. "I only drank it twice because I didn't trust it," said Justin, a 13-year-old from El Salvador. "It made me feel funny in my stomach the times I drank it." One mother, named Yojana, said, "We had to drink water from the toilet to keep hydrated."
Children described going more than five days without bathing and having limited access to soap, toothbrushes and toothpaste. Fatima says that her 8-year-old daughter had to wear soiled underwear for two days because the guards wouldn't allow her to use the shower.
Children also spoke to lawyers about issues in family detention centers and Office of Refugee Resettlement shelters, where they are detained for longer periods of time. Since June 8, 15-year-old Elmer has been staying in Casa Padre, America's largest migrant children's shelter, which MSNBC's Jacob Soboroff described as resembling a "prison or jail."
Elmer says that he is always hungry because there's not enough food and that he wasn't allowed to see a doctor when he felt sick. The 16-year-old says he told a lawyer that, although the boys, ages 10 to 17, are allowed outside for two hours a day, it is "unbearable" because there is nothing to protect them from the scorching sun. Elmer says that the guards don't allow him to go to church and that he is rarely given any alone time in his room to process his feelings of loneliness and anxiety.
In addition to the horrible conditions within stations and shelters, children complained about the staff. The case filing contains multiple accounts of kids who say they were kicked by guards while sleeping, as well as instances of verbal abuse. Sixteen-year-old Erick says the guards in a California Border Patrol station call him and the other Guatemalan boys "burros," the Spanish word for "donkey" or "stupid." Another youth, whose name was completely blacked out in the court filing, said to a lawyer: "When I told the CPB officer that my mother was killed they made fun of me and said that I was 'weak.' I did not feel comfortable after that sharing my fear."
While pediatricians and counselors have spoken about the long-term trauma that will result from family separation, children say in the court filing that their guards are less sympathetic.
Since Sergio was separated from his father and taken to Casa Padre in early June, he's become so consumed with worry he can't sleep. The 16-year-old has only been able to speak with his dad for 20 minutes in the last 45 days, and he told a lawyer that his father is getting deported. When a guard found him crying in the bathroom one night, Sergio said the man accused him of being a "crybaby," an insult he followed with an English phrase that another boy translated as "swear words." "The way I have been treated makes me feel like I don't matter," he said, "like I am trash."
Schey, who conducted interviews with children in Casa Padre last week, said the separated kids he spoke with are "traumatized." "They are not getting mental health services. They are experiencing depression and anxiety... and nightmares and sleeplessness."
The law center's court filing, which is more than 1,500 pages long, paints a dark picture of the cruel conditions many migrant children suffer through. On July 27, Schey will present their declarations in federal court and ask U.S. District Judge Dolly Gee to appoint an independent monitor who has the power to make sure facilities are meeting the standards outlined in the Flores settlement.
"This story is more than just separating children from their parents," he told HuffPost. "The bigger picture is forced starvation and sleeplessness and terrorizing these children."
Popular in the Community