Staff working on the behalf of the Office of Refugee Resettlement are routinely drugging detained child migrants with psychotropics without their parents' consent, according to legal filings.
Trump administration officials have repeatedly insisted that the family separation policy they implemented over the last six weeks is humane. But the ongoing lawsuit over the Flores agreement, a 1997 settlement that partly governs the detention of child migrants that the White House hopes to overturn, alleges a litany of wrongdoings at the ORR-contracted facilities.
The drugging allegations are among the most disturbing. One child cited in the lawsuit reported taking up to nine pills in the morning and another seven in the evening, without knowing what the medication was.
"ORR routinely administers children psychotropic drugs without lawful authorization," a memo filed in the lawsuit on April 16 reads. "When youth object to taking such medications, ORR compels them. ORR neither requires nor asks for a parent's consent before medicating a child, nor does it seek lawful authority to consent in parents' stead. Instead, ORR or facility staff sign 'consent' forms anointing themselves with 'authority' to administer psychotropic drugs to confined children."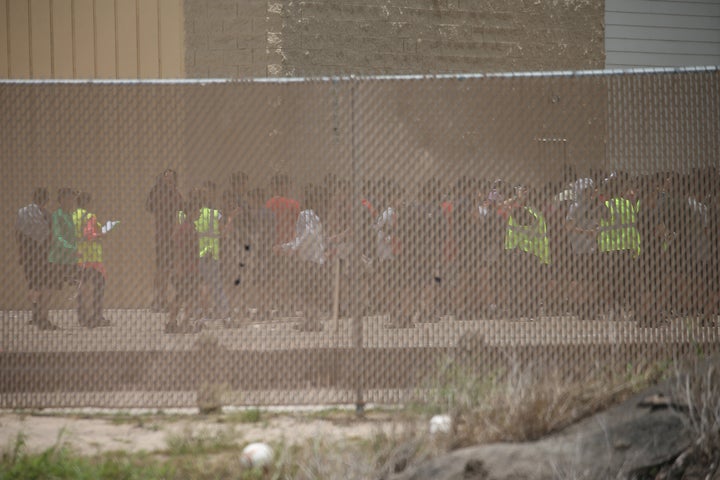 Most of the allegations center on Shiloh Residential Treatment Center, in Manvel, Texas. But lawyers in the Flores case, who have access to the medical records of their clients, say the problem is widespread.
"It's not specific to Shiloh," Holly Cooper, one of the lawyers representing children in the Flores agreement litigation, said of the drugging allegations. The attorneys have seen the use of psychotropic medications at all facilities where the federal government holds unaccompanied minors but noted that the only cases of forced injections they documented occurred at Shiloh.
One child, identified in court records as Julio Z., said staff at Shiloh threw him to the floor and forced him to take medication. He said he witnessed staff pry another child's mouth open to force him to swallow a pill. When Julio Z. attempted to refuse the medication, he said the doctor ignored him.
"They told me that if I did not take the medicine I could not leave," Julio Z. said, according to the court records. "That the only way I could get out of Shiloh was if I took the pills."
"Sometimes they give me forced injections," another child, identified as Rosa L., said. "One or two staff hold my arms, and the nurse gives me an injection."
The medications often come with severe side effects. Julio Z. reported gaining 45 pounds in a matter of two months. A mother of a child identified in court records as Isabella M. said the medications were so powerful that her daughter repeatedly fell because she couldn't walk.
Shiloh Residential Treatment Center declined to comment on the allegations, referring HuffPost to ORR. The agency did not immediately respond to calls or emails requesting comment.
ORR typically releases unaccompanied minors to a sponsor after taking charge of them ― usually a parent or relative. But at any given time in recent years, more than 200 of the children remain in federal custody either because ORR could not locate a sponsor or because the agency chooses to put the children into secured facilities or residential treatment centers.
Children might wind up in residential treatment centers because of either behavioral issues or mental health problems. Some of them suffer from severe trauma or psychiatric disorders requiring medical attention, including problems like post-traumatic stress disorder. Psychotropics may, in fact, be valid responses to those problems, the lawyers in the Flores case wrote in the memo.
But the lawyers also contend that issuing such powerful medications without parental consent violates Texas state law, the terms of the Flores agreement and "common decency." And the conditions of detention likely exacerbate the mental health problems that migrant children suffer from, according to University of Texas Dean of Social Work, Luis Zayas, who has interviewed dozens of children at family detention centers.
He doubted that most kids would need medication but added that it might be warranted after a thorough psychological and pediatric assessment ― and ideally in consultation with the parents. But he noted that both prisons and residential treatment centers have historically used psychotropics to control people's behavior.
"It is truly a sad situation that our government and the agencies that they contract with to take these children have resorted to this," Zayas told HuffPost.
Zayas identified the seven pills named in the court filings ― Clonazepam, Duloxetine, Guanfacine, Geodon, Olanzapine, Latuda and Divalproex ― as medications used to control depression, anxiety, attention deficit disorder, bipolar disorder, mood disorders, schizophrenia and seizures. The injected medications were not identified in court records.
Lorilei Williams, an attorney who worked with more than a dozen children locked up at Shiloh, said her clients routinely received medication without parental consent and often without the children themselves knowing why. The children she worked with often appeared subdued and suffered "immense weight gain in a very short period of time," she said.
"I suspected they were being medicated to make them more subdued and more controlled," Williams told HuffPost, though she noted she could not prove an ulterior motive. "It wasn't something that was really part of my job ― to look at the medications and whether they should be on them, because as an attorney, I have no background on that."
Instead, she focused on securing the children's release.
But ORR's system for letting children out of residential treatment centers or secured facilities is often opaque, according to several lawyers who've represented unaccompanied minors in federal custody.
Williams submitted an affidavit to the judge presiding over the Flores lawsuit, which documented one incident involving a 9-year-old Salvadoran child that Border Patrol apprehended in 2011. Two weeks later, ORR sent the child to Shiloh.
The boy suffered from PTSD, attention-deficit/hyperactivity disorder and bipolar disorder. His psychiatric problems stemmed partly from a horrifically troubled youth ― he was sexually abused in El Salvador as a young child, then abandoned by his extended family and left living on the streets for a year before he came to the United States.
Despite the fact that his parents, who lived a few hours away in Dallas, had wanted to take custody of him, ORR refused to release him without explaining why. After a year and a half detained at Shiloh, the agency suddenly released him, again without explanation.
Lawyers like Williams who want to challenge ORR's opaque determinations have little recourse because their legal work is funded by ORR itself, which is required by federal law to provide legal services to the children in its custody. The agency disburses money to the Vera Institute, which in turn subcontracts with a network of roughly three dozen legal providers.
But three attorneys, including Williams, submitted affidavits to the court saying legal aid groups discouraged them from filing habeas challenges against ORR to win release for their clients. The groups allegedly feared it could jeopardize the funding they needed to represent children. "There was always this looming threat that if you did too much against ORR you would lose your funding, and you wouldn't have access to the children at all," Williams said.
Shiloh Residential Treatment Center has come under fire in the past for allegations of serious misconduct, including forcible medication and unwarranted use of physical restraints ― a problem that Williams said children housed there also complained of. In 2011, state regulators shut down another residential treatment center that businessman and Shiloh President Clay Dean Hill owned after a child died while restrained in a closet, according to a 2014 investigation by the Houston Chronicle.
Two other children died in centers established by Hill after they were restrained, according to a Reveal investigation. The report found that ORR-contracted shelters had serious records of wrongdoing ― including sexual and physical abuse. However, over the last four years, they continued to receive a total of $1.5 billion to house child migrants.
The Chronicle piece also described the forced injections of psychotropic drugs, echoing the allegations in the Flores lawsuit. ORR had exempted Shiloh from its normal requirement to document when they administer emergency medicine, including injections, according to the Chronicle. ORR did not immediately respond to a HuffPost request asking if the exemption remains in effect.
After the article, U.S. Rep. Sheila Jackson Lee (D-Texas) called on the state of Texas to shut down Shiloh. "At a minimum, the Office of Refugee Resettlement (ORR) of the U.S. Department of Health and Human Services should terminate immediately the contract awarded to Shiloh Treatment Center to provide shelter and treatment to unaccompanied children apprehended by the Border Patrol," Jackson wrote in a 2014 statement.
But the for-profit shelter has continued to function and still houses child migrants. Shiloh had 20 unaccompanied minors in its care as of May, according to the Texas Tribune.