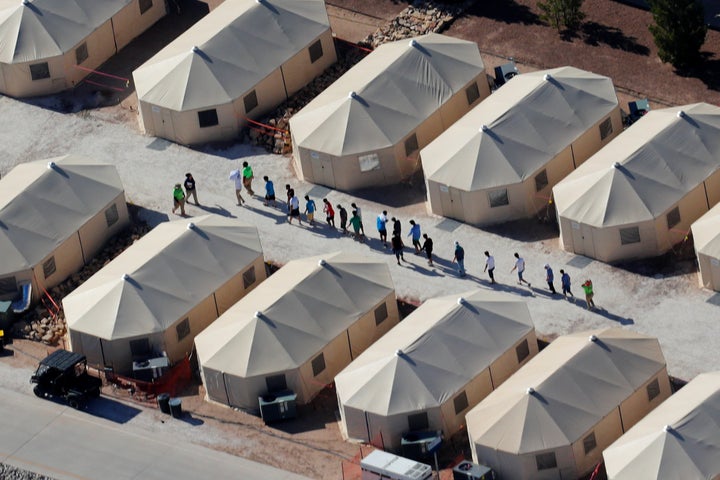 Over the past two weeks, hundreds of migrant children have been sent to a tent city in Tornillo, Texas, according to The New York Times, in what experts are calling a humanitarian crisis of the U.S. government's own making.
Although the Office of Refugee Resettlement (ORR) claims the tent camp is a necessary response to filled shelters, experts say that overcrowding is a result of the Trump administration's recent crackdown on potential sponsors of immigrant children. And that kids are now forced to languish in conditions that harm their physical and mental health. 
The number of border crossings has actually declined over the past few years, yet the number of detained children has increased more than fivefold since just last year. Advocates say the spike is because of a new government strategy to more thoroughly screen every person who offers to care for an immigrant child, by doing background checks and fingerprinting for potential sponsors and their household members.
Although advocates agree it's important to properly vet sponsors, who are usually parents or family members of the children, they say this additional scrutiny has created a backlog in the system and seems more designed to punish illegal immigrants than to protect children. 
In late September, ICE arrested dozens of undocumented immigrants who had applied to be sponsors, though the government has not previously required this group of people to have legal status in the U.S. Jennifer Podkul, the director of policy for Kids in Need of Defense (KIND), said the new vetting system prioritizes "immigration enforcement over child welfare."
"There's not a greater number of kids going into the system but a bottleneck to them leaving," said Podkul. "This is a self-manufactured crisis for political gain, and the losers are the poor children."
 Worrisome Conditions Inside Tent City
While the government initially opened the Texas tent city in June to temporarily accommodate 400 kids, it has since expanded to accommodate 3,800. It's in a remote area on the Mexico border, about 35 miles southeast of El Paso, and consists of tents that each house 20 minors, mostly ages 13 to 17, who sleep in bunk beds.
In an email to HuffPost, a representative of the Department of Health and Human Services wrote: "It is common to use influx shelters as done on military bases in the past, and the intent is to use these temporary facilities only as long as needed. The Trump Administration continues to enforce current laws to address our nation's crisis at the border."  
The government says the children it sends to the tent cities are close to being released to sponsors and that the average stay is 20 days, on top of the time they've already spent detained in other shelters and group homes. 
But advocates are worried that kids are unnecessarily being kept in conditions that don't meet basic child welfare standards and that the tent city is being used as a long-term solution rather than a short-term fix.
Leah Chavla, a human rights lawyer at the Women's Refugee Commission who recently returned from touring the tent city, thinks kids will spend longer periods in this facility as the government continues to target the sponsors. "It's a vicious cycle," she said. "It's something to be concerned about." 
She points out that since the tent city is considered an emergency facility, it's not held to the same child welfare standards as the government-run shelters and groups homes for migrant children.
Chavla says kids don't go to school at the Tornillo facility and have less access to legal and mental health services than they would have in regular shelters. "At regular facilities, there are more check-ins with personnel. At big institutions [like this], kids fall through the cracks, because there's not enough time or capacity to see all those kids on a regular basis."
'They Punished Us'
Advocates say it's traumatizing to force children into crowded tents in the middle of the desert. Taylor Levy, the legal coordinator at Annunciation House, a nonprofit immigrant shelter in El Paso, said she's spoken to kids who say going to the tent city is a "punishment."
"They say, 'They punished us and they put us in the desert,'" she said, explaining that, although group homes and shelters aren't perfect, they at least have "social workers and school and birthday cakes."
"Tornillo is prison-camp like," Levy said.
According to The New York Times article, kids were moved from across the country in the middle of the night, which experts say can be psychologically damaging. Alexandra Pender,  the communications manager at KIND who recently returned from the tent city, said that it's terrifying for children to be taken from shelters where they have formed relationships and go to "the middle of nowhere Texas with hundreds of kids."
"These kids have already been through traumatic experiences, and now they are being put in these types of facilities," Pender said. "The mental health and stability of the kids is concerning."
Podkul says the physical stress of being crammed together in tents only adds to the trauma these kids have already experienced back home, and on their journey to the U.S.
She points out that last month the government announced its plan to withdraw from a court settlement that requires youth shelters to meet minimum standards.
"The reality is we don't have a crisis with the number of kids and families asking for protection at our border," she said. "I'm worried about this as a full-scale attack on the minimum standards of care for children." 
Calling all HuffPost superfans!
Sign up for membership to become a founding member and help shape HuffPost's next chapter