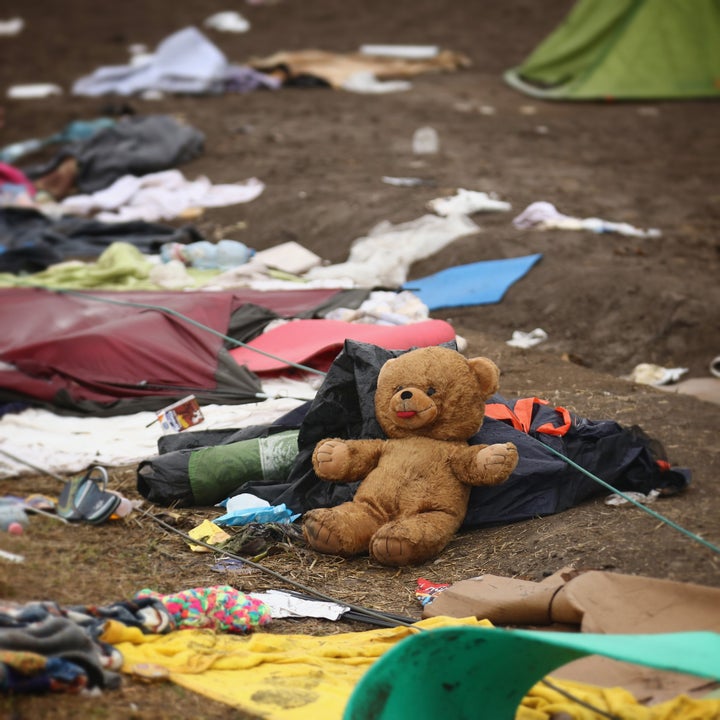 The main gateway to Europe for hundreds of thousands of refugees and migrants was slammed shut on Tuesday when Hungary sealed its southern border.
Hungarian authorities have raced to erect an 108-mile fence along the country's border with Serbia in recent months, after thousands of people fleeing war and extreme poverty sought passage through the country on their journey to northern Europe.
On Monday night, Hungary closed the last remaining gaps in the fence, rolling a razor-wire covered train carriage across a major informal crossing point. The government said it would deploy border guards along the perimeter to enforce the lockdown, and journalists at the scene reported heavily armed military personnel and helicopters patrolling the area.
Lethargic and crying children waited with their families in the no-man's land between the Serbian and Hungarian border crossing points, Save the Children's Francine Uenuma told The WorldPost after returning from handing out food and water at the border zone on Tuesday. As frustration grew among the crowd of refugees and migrants at the border, some held up signs saying "Shame Europe" and "No water, no food," she said.
Anyone caught trying to break through the border now faces up to three years in prison under tough new Hungarian laws that came into effect at midnight Monday. Over 170 people were arrested for trying to cross the fence on Tuesday, according to police. 
The official routes into the country appeared effectively closed as well. Hungary said it would send back to Serbia anyone who had not already applied for asylum there, even as Serbia warned that it could not handle any more asylum claims. "That's no longer our responsibility," Aleksandar Vulin, the Serbian minister in charge of policy on migrants, told the Tanjug state news agency. "They are on Hungarian territory and I expect the Hungarian state to behave accordingly towards them." 
Thousands of people waited outside the small metal containers set up along the Hungarian border to process their claims on Tuesday, but only few were able to enter, the Associated Press reported.
Hungary said 48 asylum claims were submitted, and 16 of them were immediately rejected. A United Nations refugee agency official told Reuters that several Syrians were among those turned away.
A record 9,000 people crossed the border on Monday, as migrants and refugees rushed to pass before the new restrictions came into force. Crowds gathered at the border after midnight to plead with police, like 18-year-old Mohammad Baqer, who told The Washington Post he had walked all day to reach the border but was 20 minutes too late. "Now I need a new plan," he said.
Refugees trying to reach northern Europe might now turn east and try to enter Hungary via Romania, or west, via Croatia and Slovenia. But authorities are moving to shut down those routes too. Hungary said it would extend the border fence to shut off crossing from Romania. Austria, like Germany, Slovakia and the Netherlands, has introduced border controls in recent days and said it would deploy some 2,200 soldiers to its borders.
Hundreds of bewildered and desperate people protested at the border on Tuesday, threatening to go on hunger strike until they were allowed passage into Europe.
"I will sit here until they open the border. I cannot go back to Syria. Life in Syria is finished," a Syrian Kurd, who gave his name as Bawer, told Reuters.
PHOTO GALLERY
People Walking From Hungary To Austria
Calling all HuffPost superfans!
Sign up for membership to become a founding member and help shape HuffPost's next chapter