The images of crazed migrant hordes bursting through the checkpoints of Fortress Europe make for great TV -- but leave the wrong impression. This is mainly a movement of ordinary people, forced by war and poverty into taking extraordinary chances.
In Sicily and coastal Turkey this summer, I interviewed Syrian refugees nervously preparing to board whatever boats they could hire for the dangerous sea crossing into Europe, and Africans who had already survived it.
Here are some of their stories.
'We Will Keep Walking Until We Reach Germany'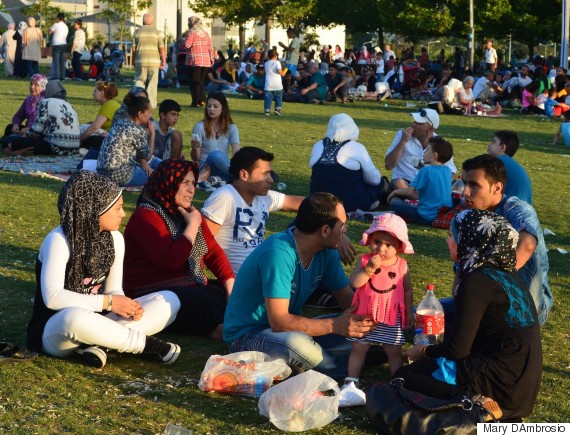 Syrian refugees wait in a park in Izmir, Turkey, for their smuggler's signal to depart.
Family: Traveling with her mother, 14-year-old brother and 12-year-old sister
Work/profession: Law student
Interviewed in: A settlement of transient Syrians in Izmir, Turkey
Goal: To join her father and brother in Germany
On a recent night Hala, the pseudonym of a slim, forthright young woman who asked that I not use her real name, waited with her mother and siblings to be picked up for the journey across the Aegean. Her colorful clothing -- a turquoise polo shirt, and a pink headscarf decorated with silver stars -- made her seem optimistic. Each person carried a daypack and a life jacket. But then came the message: the sea was too rough. Maybe they'd go tonight.
A man approaches us: can I help him get treatment in America for his daughter, who has an ailing leg? The Turkish government, Hala says, doesn't offer them health care.
We friend each other on Facebook. She belongs to the kinds of Facebook groups any college student might. Her university's law club. Groups devoted to shopping bargains in Damascus and favorite recipes. Other groups suggest relocation research: one is devoted to learning Turkish; another to "Syrians in Australia."
Her page is mostly filled with joke videos, flowers and sweets she must miss. But one day she posts a picture of a frowny-faced cartoon character, standing at the foot of a steep hill.
"Long distance ahead," she writes.
That post has attracted 55 likes, from friends who write things like "God bless you and your heart, habibi." Hala and her family have already traveled more than a thousand miles; ahead of them are 1,800 more.
The next day Hala messages me that once again the sea was too rough, and that they have once again been delayed.
I don't hear from her again. She stops posting on Facebook and signing on. And I know she's gone. "Three years ago we saw the explosions and the battles on our street," Hala says. "We left for Turkey, and have been traveling ever since. Our plan was to live and work in Turkey. We spent two months in Ankara. But we couldn't survive there. It's hard to find a job, and even if you do, they try to cheat you. They lower your pay, because they realize you have no choice. You have to take whatever they give you.
Here in Turkey, some people love us and help us; some people hate us. When we first arrived, some Turks we met were afraid we were terrorists; they thought we had a bomb.
My father and brother came this way two months ago. They crossed the sea by boat. They made it, thank God. Now my father is in Germany -- Bonn, I think. He gets 600 euros a month and a house. He is learning the language.
We paid $2,000 each for the journey. We sold all of our jewelry, and took our money with us, wrapped in nylon. We're going on a small boat, with only 40 people. No, no captain. They will push us toward the shore. But Greece is very close; it's right there. It will just take an hour or two; then we will be there. Hala's aiming for the Greek island of Kos. Located just a few miles from the Bodrum peninsula, it's deceptively safe: it's the same crossing on which the toddler Alan Kurdi died.
"We don't have a choice," Hala tells me. "If we live, we live; if we die, we die. After we land, we plan to walk. We will keep walking until we reach Germany."
'The Money Was Running Out'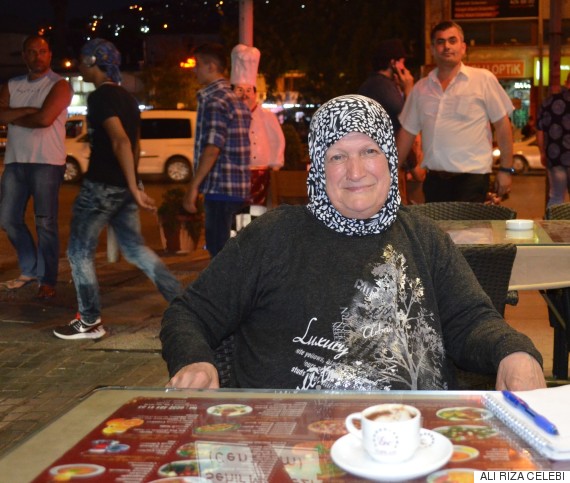 Name: Nadera Kadora Salah
Family: Traveling alone, after her husband was killed in the Syrian civil war. Has two sons in Holland, and a daughter in Germany
Work/profession: Former hospital volunteer
Interviewed in: A neighborhood of transient Syrians in Izmir, Turkey
Goal: To join her children in Holland or Germany
Salah crossed the Syrian-Turkish border on foot, and then traveled alone by bus across Turkey. Here for about 10 days, she is candid and cheerful, in an elegant black silk scarf, and unafraid to wear some of the jewelry she still owns, such as a brilliant turquoise sapphire ring. The local merchants and restaurateurs help support her, inviting her to eat for free, as she waits for her children in Europe to wire money to pay a smuggler who can put her on a boat to Greece.
"Before the war, we were happy and safe," she says. "We could walk freely in the street. But then it all went bad.
I buried my husband. He was in the army; they killed him in front of me. After that, I had no one left in Syria. Because of the war, I could no longer go into the street at night.
At first, I was volunteering in a hospital. I love to help people. When the wounded came in, I would help with blood transfusions.
But the money was running out. I have two sons in Holland. My daughter is in Germany. I decided there was nothing left to do but to try to go to them. I came here by bus, from the [Syrian-Turkish] border. And I have been here for 10 days now, waiting for my children to send me money.
Am I afraid to go in the boats? I have no choice. There is no other way. I will go to Greece, and my son will be waiting for me on the other side."
'After You Finish Your Military Service, They Don't Let You Leave'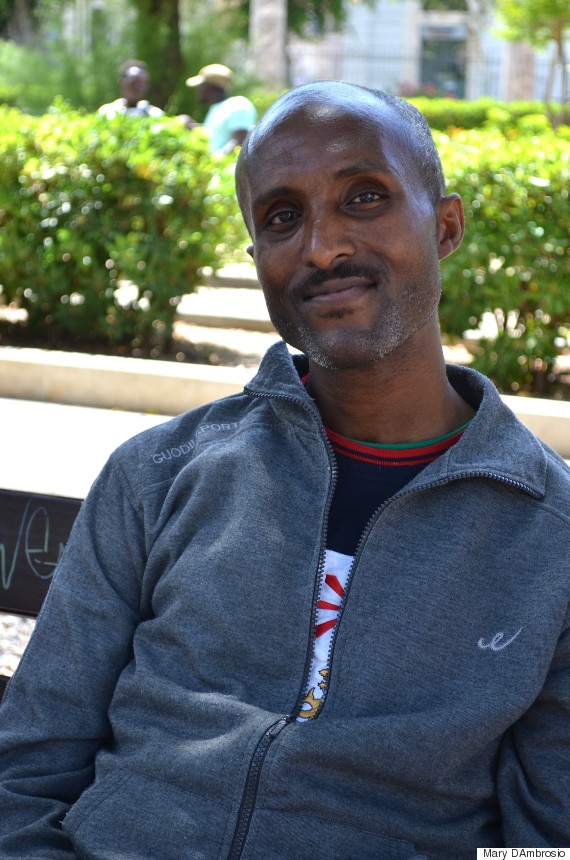 Family: Wife in Eritrea, no children
Work/profession: English teacher, during 10 years of military service
We spoke in a park in Siracusa, Italy, opposite a church that offers migrants meals and showers. There are no sleeping facilities, so guests sleep in the park. Mewael -- a pseudonym; he asked that his real name not be published -- is now out of money, and is waiting for a sister in Saudi Arabia to send him funds.
Goal: To join another sister, who arrived in Holland a year ago and petitioned for political asylum there
"I was an English teacher in the military, teaching children in grades six through nine," he says. "The official term was supposed to be two years. But after you finish your service, they don't let you leave. 'We struggled for 30 years for the freedom of the country,' they tell you. I ended up staying there for 10 years.
Then three years ago, my family arranged a marriage for me. They presented me with a girl, and I accepted. Because of my military assignment, I had no time to meet a wife, and after we were married, I also had no time to see her.
After I was married, everything grew clear. I realized: I am married now, and I have to make my life.
In Eritrea, there's work, but no development. I was earning 500 or 600 nakfa [$33 to $40] a month. That's meaningless money. A house, for example, costs $300,000 or $400,000! I had to do something to help my family. The only way was to escape to another country.
First, I went to Sudan. It was too dangerous to bring my wife, so I went alone. I was three years traveling. And I have not been in contact with my family for all of that time. I did not call my father or mother; I did not speak with my wife. After working in Sudan for those years, I went to Libya, and found a boat. This whole experience, including traveling, including the ship, cost $3,700.
Thank God nothing happened to me. In Libya, they are using girls for sex, and they are hitting the boys. In the houses where they put you to wait for the boats, they kick you if you talk. They treat you like an animal. In the house where I stayed, we were three or four weeks waiting for the person who would take us to the ship. I had no choice by then. The people load you in in any possible way. We had a medium-sized boat, and there were 400 of us in it. I was thinking that the boat was too dangerous.
After 10 hours, someone called an international number. I'm not sure who came for us. But we were picked up by a ship, where I began to hear some English. We were taken to a center in Pozzallo [the Italian government reception center in Pozzallo, Sicily]. I decided not to make an asylum claim, and after five or six days, I left. They don't force you to stay.
I am out of money now, and waiting for my sister to send some from Saudi Arabia. Then I will continue to my other sister in Holland. I have become the leader for these others [he gestures toward a group of a half dozen other Eritrean men and women] I have met here. They don't speak any languages, but now they say they are going to Holland, too. I hope they will be all right. This kind of trip is dangerous, but it is absolutely necessary for people who want to make something of their life.
I would like to study and work in computer science. I think that's something I could do well."
'I've Come To Europe To Get My Ph.D'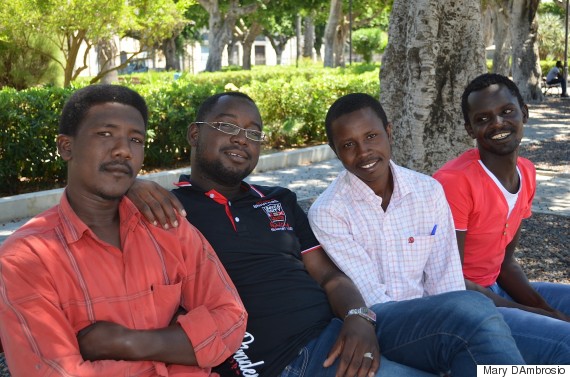 Name: Mohamed Ahmed Ibrahim
Family: Five sisters and four brothers
Profession: Mining engineer
Interviewed in: A park near a church offering meals and showers in Siracusa, Italy
Most of the 75 or so people staying here have been picked up in the Mediterranean by rescue boats in recent days. They've declined to apply for asylum in Italy and are preparing to travel further into Europe, since the word about Sicily is out: here, they'll find only underpaid agricultural work.
"My hope is to get my Ph.D, in any way I can," Ibrahim says. "Anywhere. Even if I lose my life. That's why I have come to Europe.
I worked for a Chinese company, Golden Yacht, after I graduated in mining engineering from the Academy of Sudan [in May 2013]. My family is in Darfur. You understand: my family is Berti; we are an African tribe, and that means there is nothing for us there. Everything is controlled by the Arab tribes, and they give only to their people.
I paid more than $3,000 to cross the sea. First, I went to Cairo. After one week, I went to Libya, where I came together with seven friends. There were 220 people on our boat. We had no captain. Our contact put us on this ship, and said we should aim for that line on the [Italian] coast. He said we should call the Red Cross after four hours. Well, we did call after four hours, but they said we were faraway from international waters -- 109 miles away.
And then we got lost at sea. We all took turns driving. We were out there for 11 days. You know, I was not sorry. I said to myself, 'Maybe we'll arrive, or maybe not. Either we die in Darfur, or we die in the sea.'
Finally we met the Swedish Coast Guard, in international waters. They carried us to Italy, and it took us 28 hours to arrive here.
I kissed the ground! We're celebrating. We made it!
I was born Muslim, but in fact I am not Muslim, or Christian. I believe in better relations between people, and I think it's not useful to say 'Muslim,' and 'Christian.' Like here" -- he gestures toward the church -- "no one asks you why you are here. They don't ask who you are. They say, 'Come eat!"' [And in fact, at noon a messenger on a bike comes to the park to summon the men to lunch.] "The food is pasta, it's pizza. Sure, it is okay. We are happy to have it.
My family are farmers. My oldest brother stayed to help my father. I called home as soon as I arrived. My father said to me: 'Keep going, my son.'
Now I will go to Rome, and from there, let's see. Nobody is staying here; everyone I am talking to has plans. I hope to go to England, to study. That is my dream. When will I go back [to Northern Sudan]? When the government changes, then I will go back."
This series is part of a "humanizing migration" project, funded with the help of a Rutgers University faculty research grant.