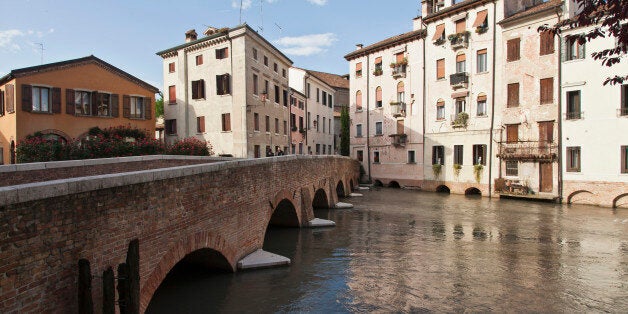 "When my wife Nicoletta and I said we wanted to host refugees in our house, the police in Treviso were shocked. For four days we've been living with six young Africans camped out in our den, and we're happy. Even our Northern League-voting neighbors bring over food and clothing for them." The case of Antonio Silvio Calò, 54, a history and philosophy teacher at the Canova Classico high school in Treviso, is unique. While Italy's national and local officials are busy lamenting how difficult it is to manage the inflow of asylum seekers, Calò and his family decided to do something concrete to help. They opened the doors of their small home in Camalò di Povegliano, in northeast Italy's Veneto region, to six young men who landed in Sicily over the past few weeks: two Nigerians, two Ghanaians and two Gambians. All the refugees are between 19 and 30 years old. This act of generosity prompted a wave of insults on Facebook -- but at the same time brought out unexpected acts of solidarity. In a region where the Northern League -- Italy's right-wing, anti-immigration political party -- garners strong support, none of Calò's neighbors have dared raise their voices against the Calò family. Now the family finds itself managing an unusual cohabitation, with days full of doctors' appointments, massive supermarket bills and an evening reunion during which this newly enlarged family gets a chance to share life stories.
"These are young men who have suffered," Calò said. "One of them told us he doesn't have a single person in the world. He looked at me and said, 'Now you are my father.' Another started Ramadan 10 days early in order to thank Allah for having found him a home in Italy." In Treviso, as in many other Italian cities, it's hard to find places to house people who don't even have so much as a suitcase. Every day dozens of new refugees show up with nowhere else to go. The city's mayor, Giovanni Manildo, together with other mayors around the Veneto region, has requested an urgent meeting with Luca Zaia, the president of Veneto and a member of Italy's Northern League party. Weeks after Calò volunteered with his local government office to house some refugees, he received a phone call: "Listen, Signor Calò, dozens of asylum-seekers have come here. Do you think you can handle a few?"
"To be honest, we asked for women and children, because we know they're the most vulnerable," the teacher said. "But we could see there was a serious need. Lately lots of new refugees have appeared in the neighborhood."
For the moment, Calò is the only citizen who has put forward this kind of request. "I got the idea after I saw the news piece on those 800 refugees drowning on television. I went home and talked to my wife; we immediately got our four children involved, and together we all decided that we needed to provide civil testimony as citizens of a country and as people of faith." While their two oldest children, Elena and Francesco, have already moved out and created lives of their own, the two younger sons, Andrea and Giovanni, suddenly found themselves sharing two bathrooms and the kitchen with young men they'd never met before in their lives. "Andrea has already thanked me for this experience," Calò said.
For the moment, their six refugee guests are living in the family den. "It's very big and very cool," said Calò. He has also given his guests clear instructions: Within one or two weeks they have to decide whether they want to stay in Povegliano or move on to somewhere else.
"It's not an ultimatum, but if their real desire is to go join relatives or friends living elsewhere in Europe, then they should do so quickly so that they can free up this space for new refugees," he said. "We want to keep providing a home for people who land in Italy." Calò is worried not only by the racist comments he's heard from Italy's politicians and online, but especially by the controversy surrounding the money his family receives for hosting these young Africans: 30 euros per day for each refugee. "I want to show you our shopping bill right away: 800 euros just for food, because these boys need to eat a lot and recover their strength. 600 euros for the utility bills," he continued. "Then there are all the doctors' appointments, new clothing to buy, prepaid phone cards and a daily spending allowance of two and a half euro each. And just to silence people who might complain that this money is going to complete foreigners, we hired an unemployed woman from Treviso to take care of domestic affairs and cooking their meals; she'll earn a monthly salary of 1,300 to 1,400 euro. As you can see, this kind of situation can create work as well." Five days aren't enough time to judge how well the initiative is working. Calò and his family are still setting things up for their new houseguests. "We're putting together an additional bedroom, too," he said. And they've turned to a Trevisan-Moroccan association, Hilal, to handle their guests' applications for asylum and other bureaucratic matters. But Calò's thinking remains crystal clear. "They will have to integrate and respect Italian laws," he said. "Little by little we'll insert these boys into the work world through courses and internships. They had jobs in Africa, so we're not starting from zero. Two of them will complete the paperwork to have their wives and children join them here; another one will continue to train as a soccer player."
"It's easy to see that if every single Italian municipality took on five or six refugees, the problem could quickly be resolved," he added. "This isn't an emergency. People will continue to travel here from Africa for another 30 or 40 years." For this reason, Calò said he would like to launch an immigration roundtable -- a committee of experts and politicians tasked with managing, "with common sense," the flow of refugees sailing to Italy.
"Some people have asked me, what if one night one of those Africans wakes up and kills you all in your sleep? I always say, 'If I thought about things that way, I'd never have done anything,'" Calò said. "And my neighbors here in Povegliano don't think that way either. Even those who hang Northern League flags outside their windows have come here to ask if the young men need any clothing or something extra to eat. That's why I've sent Matteo Salvini [the Federal Secretary of Italy's Northern League party] and Luca Zaia [President of Veneto] an invitation: Come to our house for a visit."
This article first appeared in HuffPost Italy and was translated into English.
Popular in the Community