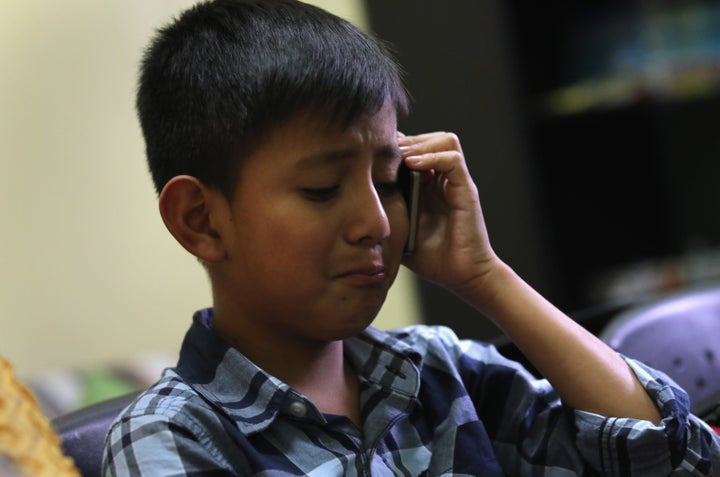 In a shelter on Long Island, Nico has been forced to make a decision much too traumatic for any 14-year-old: return to Guatemala and risk death, or stay in the U.S. to pursue relief and potentially never see his parents again.
After crossing the border a few months ago he was separated from his father, who was then deported in mid-July. Nico, whose name has been changed because he is underage, is now left to make an impossible choice without any parental guidance.
When Alexander Holtzman, an attorney at the Safe Passage Project, talks to his client about his future, the 14-year-old looks at the ground while tears well in his eyes. After discovering his father had been deported, Nico drew stick figures of his parents and himself standing under rain clouds on opposite sides of the page, Holtzman said.
"I think the decision was hard for him to make," said Holtzman. "He's a 14-year-old kid trying to make a very adult decision about what his future will be ... and trying to navigate a complex legal system that doesn't have his or his father's best interest at heart."
Like Nico, most of the 559 children who are still separated from their parents ― the majority of whom have been deported ―will also be forced into this decision. They will need to choose between seeking safety in the U.S. or reuniting with their mother and fathers back home in potentially life-threatening situations.
Though many parents say Immigration and Customs Enforcement officers coerced them into signing deportation forms, the government has no plans to allow them back into America to seek due process. Lawyers and advocates are now scrambling to locate deported parents in Central America to ask if they want their children to stay in the U.S. or return home.
But because of inadequate government contact information, these parents have been extremely difficult to find. And so many children who expected to seek relief alongside their families will have to make a colossal decision about their future by themselves.
Priya Konings, the interim managing attorney at Kids In Need Of Defense (KIND), said it's difficult to help kids make such high-stakes choices. She and other lawyers have been forced to ask children who can barely read questions such as "Do you want to go back to your home country where you expressed a fear of return? Do you want to stay here and be in long-term foster care? Do you want to try and find a relative you've never even met yet and live with them?"
"These are terrible questions to ask kids," she said. "And [it's] really putting them between a rock and hard place," Konings said children want to be with their parents and are scared to live in foster care or with unknown relatives, but many also fear returning to their home countries.
Kaavya Viswanathan, an attorney at The Door, a legal services provider in New York, said it's an almost impossible decision to make.
"I mean it's like a 'Sophie's Choice,'" Viswanathan said, referencing the film in which a Polish mother has to choose which of her two children will die in a Nazi concentration camp.
"You're choosing ... a life free from harm in the U.S., but that option means you're not going to be with your parent. If you choose to reunify with your parent there's just no guarantee. You might be deported to a place where you believe your life is in danger."
Many kids who crossed the border with their parents fled incredibly dangerous situations. In countries that make up Central America's Northern Triangle―Guatemala, Honduras and El Salvador―crimes such as gang and domestic violence are rife and police offer little if any protection.
Konings said that for kids who are recruited by gang members there are two options: Join or die. Immigration lawyer Hope Frye said she recently met a six-year-old girl from Honduras whose wrists were burned by members of a gang her uncle refused to join. An immigrant family in the U.S. told her about a 5-year-old Honduran girl who was shot by gangs in their neighborhood in front of her 3-year-old sister.
While older kids might recognize the danger of returning home, younger ones often don't fully understand or know the horrific details of why they fled. Lawyers say small children are so traumatized from the being forcibly separated from their mothers and fathers that all they can do is cry and ask to see their families again.
"Maybe a teenager can tell you what happened [back home] and form an asylum claim," said Amalie Silverstein, an immigration attorney at Catholic Charities. "[But] kids this small cannot."
"The administration really created this problem. Further traumatizing kids is not what our system should be about."
One of her cases involved a seven-year-old with cerebral palsy who was separated from her father at the border and could barely speak. She answered Silverstein's questions―"Do you want to stay here? Do you want to go home to Guatemala?"―by shaking her head "yes" or "no."
"If she had some kind of immigration relief [case] there would be no way to get that info from her," Silverstein said, adding that the child is now reunited with her father in Guatemala. "By separating them, they really destroyed any chance she would have had of getting any legal remedy."
In other cases, the child isn't sure exactly what they want. Beth Krause, a supervising attorney at the Legal Aid Society's immigration youth project, said one of the organization's 9-year-old clients has flipped back and forth between staying in the U.S. and going home. The child was willing to stay with his uncle in the U.S. but when that sponsorship fell through, he decided he would rather return to Guatemala than stay in foster care. Most recently, Krause said, he expressed a renewed desire to stay in America and go to school.
"It's not for his position and interests to fluctuate," she said, adding that it's been difficult for the 9-year-old to see other shelter children reunited with their parents while he remains separated. "It's not like being faced with the option to be visiting with his parents or something like that. This is an all or nothing sort of situation."
Gui Stampur, the deputy executive director of the Safe Passage Project, said that by separating families, the government is responsible for the fact that children now have to make impossible choices on their own. "The administration really created this problem," he said. "Further traumatizing kids is not what our system should be about."
After some deliberation, Nico has decided to pursue relief in the U.S. while staying with a family member. In Guatemala, his life was in danger due to gang violence in his neighborhood. But he knows choosing safety means saying goodbye to his parents, who he deeply misses.
"In a perfect world he would like to stay in the U.S. and reunite with his father," Holtzman said. "But [the] government has taken that option away from him by deporting his dad."
Popular in the Community