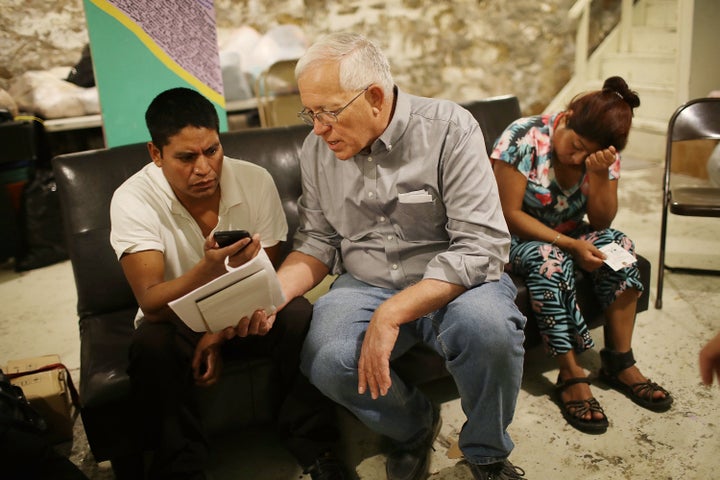 Miriam, a migrant woman from Guatemala, says she wasn't able to say a proper goodbye to her son before authorities took him away at the U.S.-Mexico border.
The mother says her shy 4-year-old boy was asleep when they were separated by U.S. officials after she illegally crossed the border.
On Monday, Miriam says, she was finally able to speak on the phone to a social worker at the New York shelter where her son had been taken. But after days of desperately wanting to speak to her child, she was again left disappointed. Miriam's son refused to speak on the phone, she says. The heartbroken woman now believes her son is angry at her, and feels abandoned.
"I miss him very much," Miriam said, weeping as she spoke during a press conference Monday at Annunciation House, a Catholic charity in El Paso, Texas. "I never imagined that they'd take my son away from me. I thought they'd send me with my son, wherever it might be."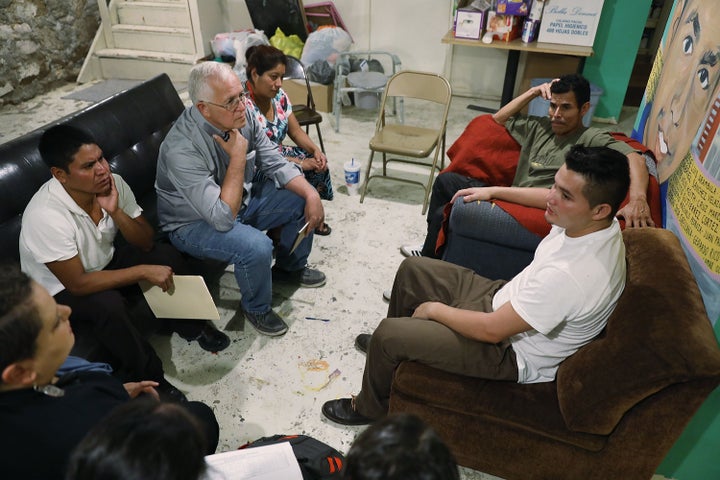 Miriam is part of a group of 32 migrant parents from El Salvador, Guatemala and Honduras who were released from detention and brought to the Annunciation House on Sunday. The charity acts as a shelter for undocumented migrants in the border town.
Watch five migrant parents share their stories in a Facebook Live video from Annunciation House. 
All the parents are wearing ankle bracelets while they await further immigration proceedings, according to Taylor Levy, Annunciation House's legal coordinator. They are reportedly free to travel within the U.S. while they await their court dates. As of the Monday evening press conference, all the parents were still seeking to be reunited with their kids. 
Authorities had given the parents a 1-800 hotline number set up by the federal Office of Refugee Resettlement to help locate their kids, but 29 of the 32 say they haven't spoken to their children since they were separated. Levy said Monday that the migrants have been separated from their children for an average of 25 days. The average age of the migrants' children is 10 years old. One man in the group says he's been separated from his 5-year-old daughter for 40 days. 
Five members of the group agreed to share their stories with reporters Monday evening at Annunciation House. The Catholic charity said that migrants did not wish to provide last names or offer details about their asylum claims, since those court cases are pending.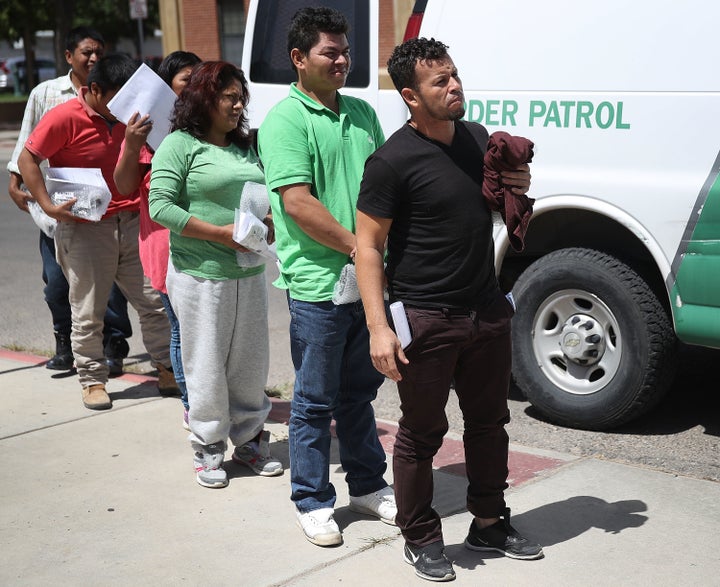 Some parents said their children cried and begged to stay with them while officials were separating the families. The parents spoke about desperately calling the hotline number but never hearing from someone on the other end. Some claimed that U.S. officials had told them they'd be able to find their kids at Annunciation House ― only to realize when they arrived at the shelter that they would have to look for the children themselves. 
"I am so damaged by what has happened to me that it is hard for me to say anything," a migrant named Melvin said during the press conference, according to a translation provided by Garcia. "I haven't heard or spoken to my child."
Melvin said he'd attempted to claim asylum in the U.S. by coming through an official port of entry. This is the route the Trump administration is encouraging asylum seekers to take, even though the administration is also making it harder for Central Americans to legally request asylum. Melvin said he was rejected at the port of entry, so he decided to enter illegally with his 17-year-old son.
Mario, a migrant from Honduras, said he hasn't been able to reach his 10-year-old daughter. He said he tried calling the hotline number while he was detained, but no one picked up. 
"Imagine being locked up and not knowing anything about your kids," Mario said. "You get desperate. You want to do something but you can't."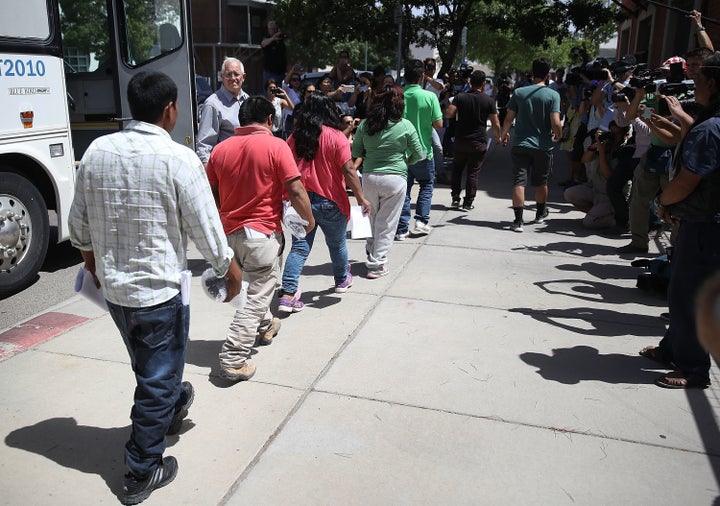 A reporter asked Mario if he thinks his family in Central America would be deterred from coming to the U.S. because of the Trump administration's policies. 
"Yes, the truth is they're realizing what's happening. But you know why we come here. We come more than anything to give a better future to our kids," Mario replied. "We come here more than anything to get security." 
Cristian, a migrant from Honduras, said he and his 5-year-old daughter came to the U.S. in search of a better life. He said the hardest part of the entire ordeal has been being separated from his daughter. He's been able to communicate with her, he said, but she is now in Chicago.
Although Cristian's daughter is young, he said, "she understands a lot." While officials were separating them, Cristian said his daughter was trying to comfort him.
Cristian recalled his daughter saying, "Dad, you're going to jail and I'm going I don't know where." Remembering that moment, the father began to cry.
Iris, a woman who traveled with her 6-year-old son from Honduras, hasn't been able to get in touch with her child. While she was in detention, she said, she tried using the hotline number authorities gave her, but she couldn't get through. She knows her son is now in Arizona, because a social worker helped her out, but she doesn't know the exact address.
Iris said being separated from her son was the most "difficult moment" of her life. She didn't expect it to happen, she said, and she remembers her son trying to hold on to her tightly so he wouldn't have to leave. 
"When they said he was going to be separated from me, he immediately started to cry, and I did, too," Iris said. "We didn't know what to do."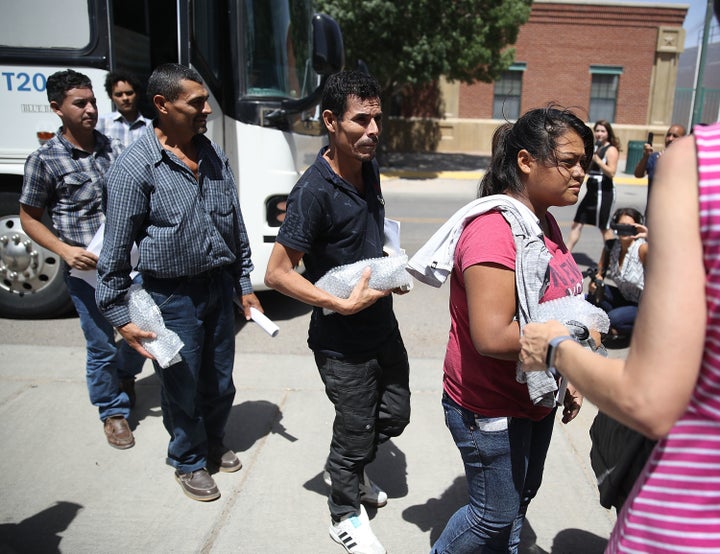 She said she came to America with a dream of working for her family. 
"We aren't criminals," she said. "We're only people with a desire to rise above ourselves. Hardworking, decent people. If we were criminals, we wouldn't bring our children."
Iris said she doesn't think she would have come to the U.S. if she knew she was going to be separated from her child. But she had a message for Trump. 
"May God forgive him for what's he's done to all the parents. It's very cruel," she said. "He had a mother, and he wouldn't have liked to be separated from her."
Mark Weber, spokesman for the U.S. Department of Health and Human Services, told reporters that the agency is "fully aware" of where separated migrant parents and children are, and is aggressively seeking to reunite the families. 
"I will emphasize, we know where their parents are, we have connected with their parents in almost every case," Weber said on Monday in Tornillo, Texas. 
But Garcia, the Annunciation House director, said this hasn't been the experience of the parents under his care. He said the Office of Refugee Resettlement's process for trying to reunite migrant parents with their kids is "utterly, totally, completely, unacceptable." The 32 parents at the Annunciation House are being told to go over "hoops and hurdles" to get their children back, he said, when he believes the ORR should be "tripping over itself" to reunite the families as quickly as possible. 
"The government of the United States takes a child away from these refugees. When they are released it is the burden of the government [to reunite the families]," Garcia said. "How can you say you're concerned about the welfare of the children when you've heard what has happened to these parents, what has happened to these children, when you take them away?"
REAL LIFE. REAL NEWS. REAL VOICES.
Help us tell more of the stories that matter from voices that too often remain unheard.
BEFORE YOU GO
PHOTO GALLERY
Immigrant Families At The U.S.-Mexico Border