Italian prosecutors this week revealed disturbing new allegations about the vast smuggling networks that are responsible for the recent increase in migrant deaths in the Mediterranean Sea.
Thousands of migrants have drowned in recent years trying to get from Africa and the Middle East to Europe. In the single deadliest incident of the crisis to date, over 800 people onboard a capsized cargo ship are believed to have drowned on Sunday.
The tragedy has highlighted the dangerous tactics of the smuggling networks operating in the Mediterranean, as well as the extensive scale of their operations.
Italian authorities announced on Tuesday that they had arrested the captain of the ship that sank on Sunday, whom they named as Mohammed Ali Malek, 27, from Tunisia. A crew member named Mahmud Bikhit, 25, from Syria, was also arrested. Both Malek and Bikhit face charges of aiding illegal immigration, and Malek may also be charged with reckless multiple homicide.
Prosecutors suspect that Malek and Bikhit are linked to "an organized criminal group, engaged in criminal activities in Libya and Italy."
At a preliminary court hearing in Sicily on Friday, both men denied the charges and claimed to have been paying passengers onboard the ship. Prosecutors said the men attempted to blend in with the other 25 shipwreck survivors, but HuffPost Italy reported that they were identified as members of the crew by at least five passengers.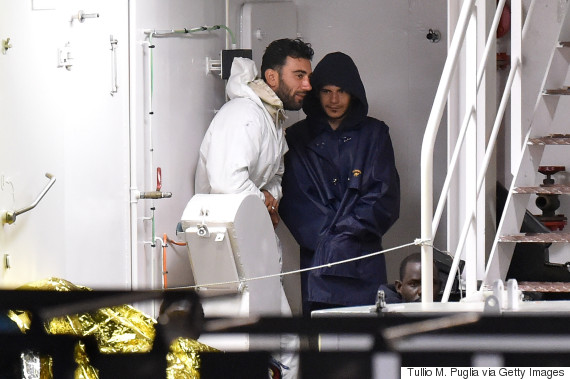 Mohammed Ali Malek and Mahmud Bikhit stand on the deck of the Italian Coast Guard ship Gregretti at Catania port on April 20, 2015 in Catania, Italy. (Tullio M. Puglia/Getty Images)
Prosecutors had previously said that the boat was already overcrowded and unbalanced when it embarked. Once at sea, it collided with a Portuguese-flagged container vessel that had come to the aid of the already flailing boat. Passengers rushed to one side hoping to be rescued, which, along with the collision, led the boat to finally capsize.
Tragically, hundreds of people were locked in the hold and lower levels of the boat, and were unable to escape as the ship sank, prosecutors said.
Survivors told the court that smugglers had beaten them with clubs before the vessel sailed from the Libyan coast.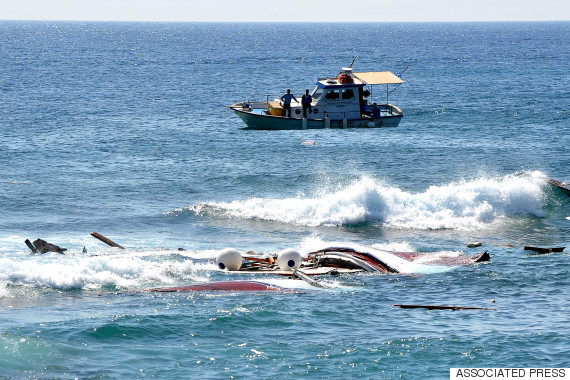 Fishermen look at the wreckage of a boat carrying dozens of immigrants in the eastern Aegean island of Rhodes, Greece, April 20, 2015. (AP Photo//Nikolas Nanev)
A separate case revealed by Italian authorities this week highlighted the vast reach of the migrant smuggling networks operating in the Mediterranean.
On Monday, Sicilian prosecutors said they had busted an international smuggling ring and were issuing arrest warrants for 24 people, including 14 in Italy. They said the group's mastermind is an Ethiopian man, Ermias Ghermay, believed to be currently in Libya. Ghermay has been wanted since the last major migrant tragedy in 2013, when some 366 people died in a shipwreck off Lampedusa.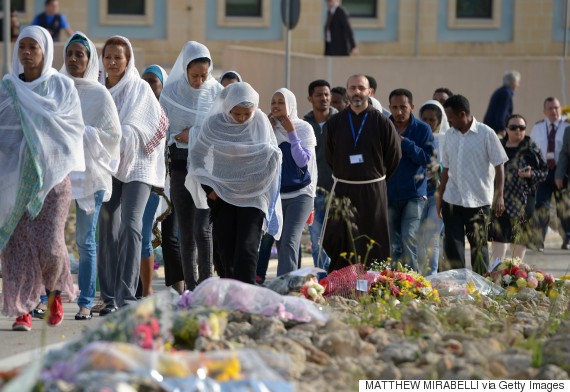 Asylum seekers living in Malta arrive to attend an interfaith funeral ceremony for 24 migrants who died after a fishing boat capsized off the Libyan coast, on the helipad at Mater Dei Hospital in Malta on April 23, 2015. (Matthew Mirabelli/AFP/Getty Images)
Based on intercepted phone calls, the Sicilian prosecutors allege that this network's operations stretch from the Horn of Africa to northern Europe. Smugglers in the network are believed to be charging migrants exorbitant fees for each leg of the journey, including getting them out of migrant holding centers in southern Europe and transporting them to northern countries. Migrant fees often top $6,000, according to the investigation.
The intercepts recorded smugglers cracking jokes and talking about overloading the boats with hundreds of migrants, according to HuffPost Italy.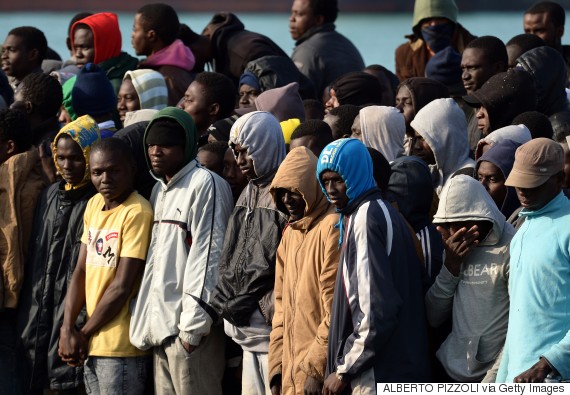 Guardia di Finanza vessel Denaro upon arrival to the Sicilian harbor of Catania on April 23, 2015. (ALBERTO PIZZOLI/AFP/Getty Images)
After last weekend's tragedy, European Union leaders held an emergency summit on Thursday, where they pledged to step up efforts to crack down on smuggling networks, as well as to triple funding for search and rescue operations in the Mediterranean.
"We will take action now. Europe is declaring war on smugglers," the European Union's top migration official, Dimitris Avramopoulos, said ahead of the summit.
Calling all HuffPost superfans!
Sign up for membership to become a founding member and help shape HuffPost's next chapter
BEFORE YOU GO
PHOTO GALLERY
Italy Saves 970 Migrants