GENEVA--Easter tells us of mankind's triumph over injustice; Passover of mankind's liberation from dictatorship.
Both holidays should remind everyone today living in peace and security of the terrible price millions elsewhere are paying to achieve the freedom to live in dignity.
I am speaking of those of our fellow citizens we call migrants, who last year perished at the highest rate since the end of World War II. Most simply were trying to leave one zone of insecurity for safety.
According to the agency I lead, the International Organization for Migration, today's migrants number close to one billion -- roughly one of every seven of us -- an unprecedented degree of mobility in the history of our species.
They are displaced at times by armed conflict and political persecution, at others by hunger, at others simply by a desire for better futures for their families.
A growing number of those men and women (and children) are fleeing imminent danger -- what we call "distress migration."
Yet distress is often what they meet: in the form of criminal smuggling gangs or dangerous routes through unsafe seas, or across burning deserts or after unspeakable torture.
In 2014 IOM's Missing Migrants Project counted more than 5,000 fatalities of migrants in transit. Nearly two-thirds died on the Mediterranean Sea routes linking North Africa and Europe, today the world's deadliest transit route.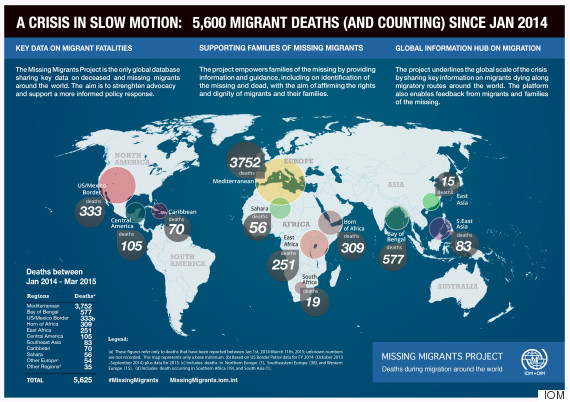 This holiday season we are expecting even more death.
Through March, IOM has counted nearly 500 fatalities of migrants on the Mediterranean Sea, during what usually is a lull in smuggling voyages.
Not anymore. Easter and Passover herald the advent of spring, which in turns triggers smuggling's high season which this year appears to be under way earlier than usual.
IOM now worries that 2015's death toll may top 6,000 before Christmas.
How bad is it? IOM recorded in one week this past month some 4300 migrants leaving Libya for Europe. Happily, all of those arrived safely. Yet, just a week earlier, 300 migrants died making that same voyage, due to rough seas.
No longer can we merely count; we also must act -- no matter how tough the circumstances, or daunting the conditions.
They're tough in Libya, where IOM estimates as many as 300,000 so-called third country nationals are stranded, mainly Syrians and Sub Saharan Africans. These are men and women who must literally dodge bullets to get to the coast, where often they're forced into leaky inflatable boats.
Yet, even in Libya, the situation is not hopeless. In the past four weeks, IOM has rescued in Libya over 400 Senegalese migrants, delivering them into neighboring Tunisia and then flying them home to Dakar, their country's capital.
The stories they tell IOM staffers of their captivity at the hands of traffickers, are among the most heart-rending I've heard in 50 years of foreign service: of men and boys dying of thirst in the desert. Of midnight police raids that roust migrants from their beds -- to be beaten, robbed and dragged off to crowded jails to endure months of deprivation.
Nonetheless, IOM has learned that with sufficient will, such victims are not beyond our reach.
Working together with local authorities, the Libyan Red Crescent and Tunisia's government, IOM did not simply deliver these 400 Senegalese to freedom. The organization was further able to register another 4,000 men and women from a variety of countries whom we will evacuate in coming months.
We've had similar success in Syria, where IOM has brought out more than 2000 stranded migrants since 2012.
Hearing of these statistics does not soften the impact of the continuing news of migrant deaths. But it does give me hope this holiday season.
Related
Popular in the Community